Fig. 6.1
A squamous cell carcinoma of the tongue showing the indurative type of observational findings and the endophytic type of clinical growth pattern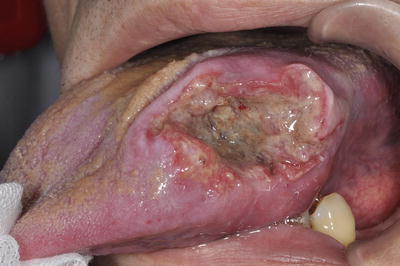 Fig. 6.2
A squamous cell carcinoma of the tongue showing the ulcerative type of observational findings and the endophytic type of clinical growth pattern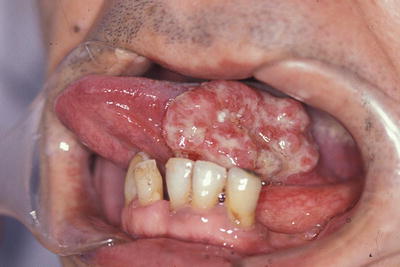 Fig. 6.3
A squamous cell carcinoma of the tongue showing the granular type of observational findings and the exophytic type of clinical growth pattern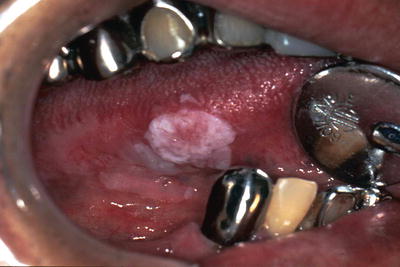 Fig. 6.4
A squamous cell carcinoma of the tongue showing the leukoplakic type of observational findings and the superficial type of clinical growth pattern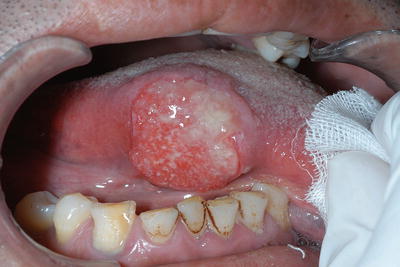 Fig. 6.5
A squamous cell carcinoma of the tongue showing the papillary type of observational findings and the exophytic type of clinical growth pattern
Recently, a more universal and reproducible classification based on clinical growth patterns judged by close inspection and digital palpation has been proposed, which divides oral cancer into three types: superficial, exophytic, and endophytic [
11
]. These superficial, exophytic, and endophytic types are leukoplakic or erythroplakic lesions lacking deep indurations (Fig.
6.4
), granular or papillary lesions with moderately deep indurations (Figs.
6.3
and
6.5
), and indurative or ulcerative lesions with extensive deep indurations (Figs.
6.1
and
6.2
), respectively. Especially in carcinoma of the tongue, the endophytic type is more closely associated with poor prognosis in comparison with the other types. This classification thus provides clinically useful information as a prognostic factor for recurrence, metastasis, and survival rate.
In addition to macroscopic inspection and digital palpation, pathological examination is indispensable for definite and accurate evaluation of lesions. Cancer tissue together with adjacent noncancerous mucosa is generally sampled using wedge resections as biopsy specimens. The objective of a biopsy is not only to make a definitive diagnosis of cancer but also to obtain detailed information concerning the degree of histological malignancy, mode of invasion, stage of invasion, vascular invasion, cellular response, and probability of lymph node metastasis.
Furthermore, oral cancers should be evaluated using imaging with X-ray examinations including pantomography, CT, MR, ultrasonography, and PET. X-ray examinations, CT and MR, are extremely supportive to identify the invasion of adjacent tissues by attaching importance to the evaluation of depth. Furthermore, bone resorption patterns identified using imaging provide clinically useful information to evaluate malignancy of oral cancers. The patterns are usually classified into two types: pressure and moth-eaten types [
11
]. The pressure type shows flat, saucer-shaped, or U-shaped margin and is observed in association with slowly growing and noninvasive lesions (Fig.
6.6
). In contrast, the moth-eaten type is irregular with an indistinct margin and is closely associated with rapidly growing and highly invasive lesions (Fig.
6.7
).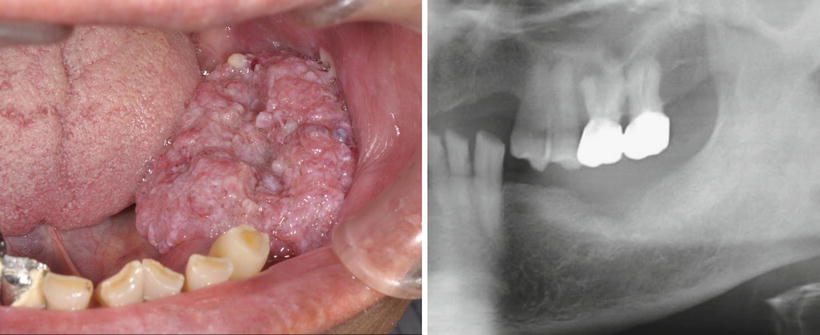 Fig. 6.6
A squamous cell carcinoma of the lower gingiva showing the granular type of observational findings, the exophytic type of clinical growth pattern, and the pressure type of bone resorption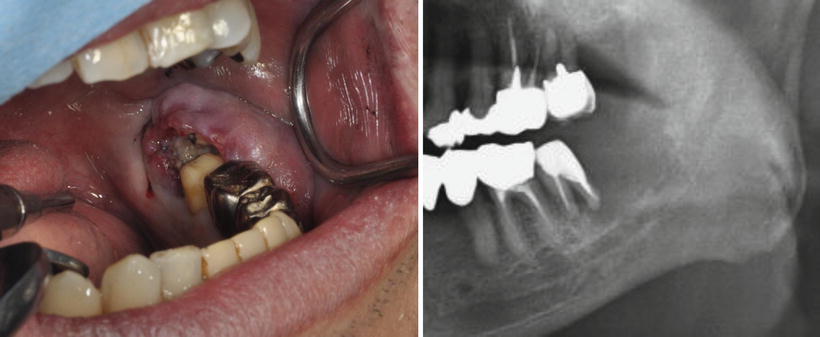 Fig. 6.7
A squamous cell carcinoma of the lower gingiva showing the indurative type of observational findings, the endophytic type of clinical growth pattern, and the moth-eaten type of bone resorption
Cervical lymph node metastasis should be evaluated using CT and ultrasonography, as well as careful digital palpation, since approximately 30 % of oral cancers metastasize to the regional lymph node(s) in the ipsilateral and/or contralateral neck. MR and PET are occasionally supportive. Distant metastasis is identified only in approximately 1 % of oral cancers, but should be routinely evaluated using chest X-ray examination, as lung is one of the most frequent distant organs to which oral cancers metastasize. 67Ga and bone scintigraphies, and recently PET, are useful to identify distant metastasis to other organs.
6.1.1.2

Site-Specific Clinical Characteristics of Oral Cancers