Treatment of an edentulous patient with a severely atrophic mandible
CASE STORY
A 79-year-old male patient presents with the chief complaint of: "I want new dentures. My lower denture is very loose and I can't eat properly." The patient's maxillary and mandibular teeth were extracted when the patient was in his 20's and 30's because he was unable to afford replacement restorations. He became completely edentulous by the age of 36.
He presents with a severely resorbed mandible requesting a more stable mandibular denture. The patient inquired about the possibility of implant placement and fabrication of a mandibular overdenture because several of his friends had been satisfied with this treatment option for themselves.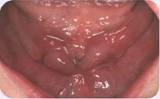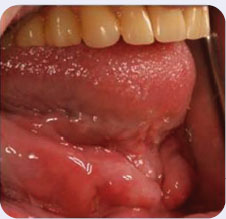 LEARNING GOALS AND OBJECTIVES
Classification of complete edentulism
Management of the severely resorbed mandible
Management of the retracted tongue position
Medical History
Hypertension—controlled with medication
Dental History
Multiple extractions of carious teeth
Medications and Allergies
Atenolol for control of hypertension
Allergic to penicillin
Review of Systems
Vital signs:
Blood pressure: 126/82
Heart rate: 76 beats/minute
Respiration rate: 17 breaths/minute
Social History
No significant social findings
Significant Soft Tissue Examination Findings
Soft tissues appear within normal limits with the exception of the mandible where there is a presence of redundant tissue and epulis fissuratum/inflammatory fibrous hyperplasia (overgrowth of fibrous connective tissue).
Significant Clinical Findings/Problem List
Overgrowth of fibrous connective tissue in the mandible
Severely resorbed mandibular residual ridge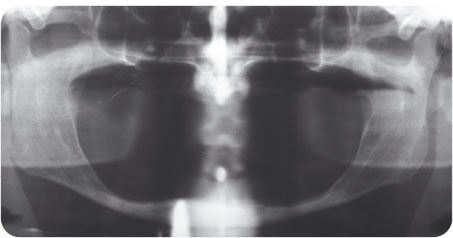 Diagnosis
Complete edentulism
Severely resorbed mandibular residual ridge
Clinical Decision-Making Determining Factors
The American College of Prosthodontists (ACP) classification system for the completely edentulous patient has been developed in order to help with diagnosis and proper treatment planning for the edentulous patient. The classification criteria include (but are not limited to) the following: anatomy, interarch space, and oral manifestation of system disease. The current patient is considered an ACP classification IV patient due to the following findings in the mandibular arch:
Less than 10 mm of mandibular bone height
Attached mucosa only in the posterior mandible
Hyperactive tongue anatomy, with retracted position
Given the severity of this patient's condition, careful consideration should be given to treatment planning. The patient's current amount of bone height will not allow for safe and predictable placement of the traditional (endosseous) two implants for support of a new complete denture because there is a great risk for mandibular fracture. In certain clinical situations, such as the one presented here where the patient is severely lacking in bone for placement of two implants, a single implant can be used instead. This single implant may be placed in the midline where there may be sufficient bone. Although at this time, we do not have extensive evidence evaluating the outcome of this approach, in cases where there are no alternative treatment plans available, a single implant-retained overdenture may help to improve function and quality of life for the patient. A recent study by Walton and Glick demonstrated that with regard to patient satisfaction of treatment with one versus two implant overdentures, there was no difference between the two groups (McGarry, Nimmo et al. 1999; Wolfart, Braasch et al. 2008; Alsabeeha, Payne et al. 2009; Walton, Glick et al. 2009).
The position and activity of the tongue can have a great effect on the stability and retention of a mandibular complete denture. Some have described the ideal position of the tongue as one in which the tip of the tongue just touches the lingual surfaces of the anterior teeth and that the lateral borders touch the posterior teeth (Wright 1966). However, if the patient exhibits a retracted tongue position, the stability provided by the ideal tongue position is lost. Obtaining the proper border seal on the mandibular denture is not truly possible when the patient has a retracted tongue position (Shanahan 1962). With training and proper patient education, even the use of phonetics can help the patient find the correct tongue position and reestablish a more stable denture position (Bohnenkamp and Garcia 2007).
According to Wright, the retracted tongue position (also known as the retruded tongue position or the awkward tongue position) is characterized by the following:
The tongue appears to be pulled to the ba/>