Full mouth rehabilitation—combination of implant and tooth-supported fixed and removable prostheses
The rehabilitation of the edentulous maxilla with a good long-term prognosis requires planning with a thorough consideration of the biologic limitations such as poor bone quality and volume. Final determination of the proper treatment plan decision involving number of implants, implant type, implant distribution, and prosthesis design should be based on the available scientific evidence.
CASE STORY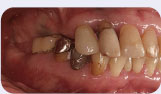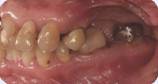 A 52-year-old patient with a long history of previous dental treatment presents with a chief complaint of "I've had recurrent infections associated with my teeth. I've fallen into a pattern of 'fix it and then pull it.' I can't bite and I'm ready to make a commitment to fix it."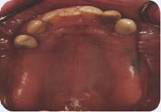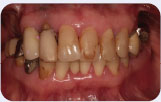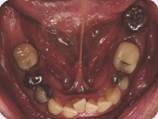 LEARNING GOALS AND OBJECTIVES
Understand the biological limitations of the maxillary edentulous arch.
Understand the factors influencing the determination of treatment for the edentulous maxilla.
Understand the required space for the milled- bar retained implant-supported prosthesis.
Medical History
Dental History
The patient was treated with a removable partial denture (RPD) and restorations. However, the patient did not wear her RPD and functioned without posterior teeth for many years.
Clinical Findings/Problem List
Caries on the mandibular left first and third molars (17 and 19)
Diastema between the maxillary left canine and premolar (11 and 12)
Mesial drift of the mandibular left first and third molars (17 and 19)
Crowding of anterior mandibular teeth
Missing maxillary and mandibular posterior teeth
Class 2+ mobility for the remaining maxillary teeth
Class 2 furcation involvement for the mandibular right first molar (30)
Class 3 furcation involvement for the mandibular left first molar (19)
Radiographic Findings
Periapical radiolucency of the maxillary right and left lateral incisors, mandibular left third molar and mandibular right first molar (7, 10, 17, and 30)
Generalized moderate/severe horizontal bone loss with severe localized angular bone loss
Maxillary sinus pneumatization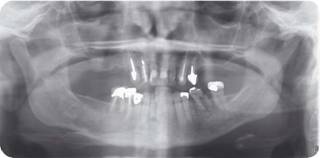 Diagnosis
Partial edentulism
Caries
Chronic irreversible periradicular periodontitis
Moderate to severe chronic periodontitis of maxillary teeth
Moderate chronic periodontitis of mandibular teeth
Defective restorations
Overcontoured restorations
Occlusal plane discrepancy
Mandibular posterior segmental alveolar growth
Clinical Decision-Making Determining Factors
Success of implant-supported prosthesis restorations/prostheses is largely influenced by bone quality, systemic condition of a patient, implant length, implant type, implant distribution, implant number, and prosthesis design (Goodacre, Kan et al. 1999; Goodacre, Bernal et al. 2003; Lambert, Weber et al. 2009).
Type III and IV bone are often seen in the maxilla (Jaffin and Berman 1991; Goodacre, Bernal et al. 2003; Jemt and Johansson 2006).
I mplant losses in the maxilla have been shown to be higher than that in the mandible (Zarb and Zarb 1985; Goodacre, Bernal et al. 2003).
The survival rates for implants placed in edentulous max/>