Management of the consequences of partial edentulism
CASE STORY
A 46-year-old male patient presents with the chief complaint of "I need some teeth in the lower right side, and I was also told I need a crown on a tooth that had a root canal." About 5 years ago, the patient had first and second molars on his mandibular right side (30 and 31) removed due to extensive decay. Endodontic therapy was completed on his maxillary left first molar (14) at that time; however, no definitive restoration was placed on the tooth. The patient also expresses interest in a more aesthetic smile.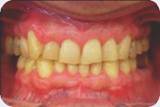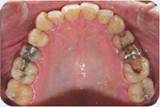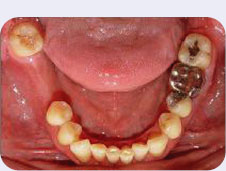 Radiographic Findings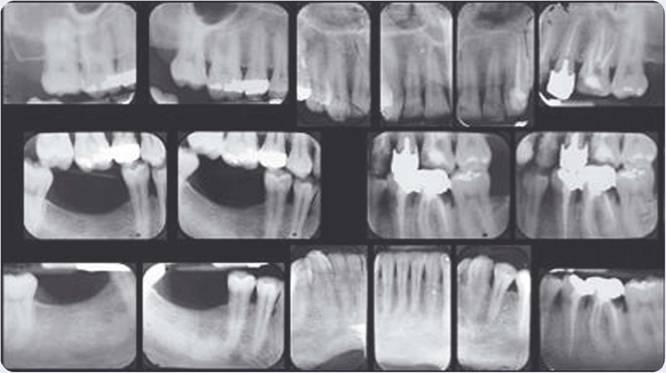 LEARNING GOALS AND OBJECTIVES
Understanding the sequelae of excessive tooth wear
Evaluation of treatment options for nonrestorable teeth
Evaluation and planning for correction of supraeruption of teeth
Evaluation of aesthetics
Medical History
Dental History
Patient received regular dental care until about 5 years ago.
History of restorative and endodontic therapy and extractions
No history of orthodontic or periodontic therapy
Patient brushes only before sleep and does not floss.
Medications and Allergies
No medications
No known drug allergies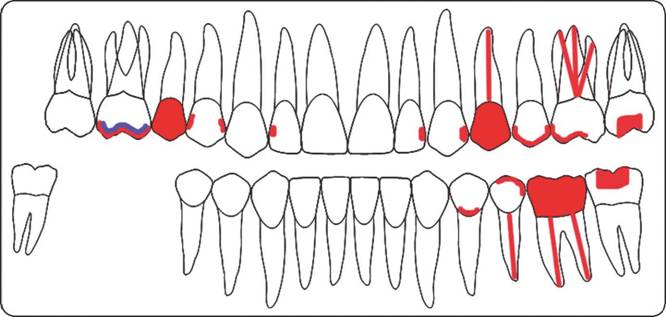 Charting
Significant Clinical Findings/Problem List
Plaque-induced gingivitis
Missing teeth: maxillary third molars (1, 16), mandibular left third molar (17), mandibular right first and second molars (30, 31)
Maxillary right first molar—3MOD
Maxillary right second premolar—4 open margin
Maxillary right first premolar—5MD
Maxillary right lateral incisor—7D
Maxillary left lateral incisor—10M
Maxillary left canine—11D
Maxillary left first premolar—12MOD
Maxillary left second premolar—13MOD
Maxillary left first molar—14MO
Maxillary left second molar—15OL
Mandibular left second molar—18OB
Mandibular left first molar—19DO
Mandibular left second premolar—20D0
Mandibular left first premolar—21B
Inadequate endodontic therapy: maxillary left first premolar and first molar (12, 14) and mandibular left first molar and second premolar (19, 20)
Diagnosis
Partial edentulism
Plaque-induced gingivitis
Caries
Inadequate restorations
Inadequate endodontic therapy
Clinical Decision-Making Determining Factors
In determining restorability of a single tooth, several prognostic factors must be considered. These factors include endodontic retreatment, periodontal procedures, and amount of remaining tooth structure after caries excavation. The overall dental treatment of the patient also should be taken into consideration (Torabinejad, Anderson et al. 2007; Salinas and Eckert 2007; Balevi 2008).
In considering the prognosis and restorability of teeth, several factors have to be considered:
Prognosis of endodontic retreatment of a tooth without apical periodontitis—studies have shown more than 90% survival rate of these teeth after a 4-6-year follow-up.
Whether the tooth will require a crown- lengthening procedure for placement of restoration without violation of the biologic width.
Prognosis of the tooth following exposure of the furcation area after crown-lengthening procedure—teeth with furcation involvement are difficult to maintain by the patient and the dental professional because />