Treatment of a patient with combination syndrome
CASE STORY
A 58-year-old African American male presents with maxillary complete edentulism and mandibular partial edentulism, with remaining mandibular anterior teeth. His chief complaint is: "I need teeth to look better and to be able to chew my food." The patient had an ill-fitting denture that is now lost. The patient has existing crowns on mandibular right and left canines and right first premolar (22, 27, 28), which were placed simultaneously with the removable partial denture approximately 6 years ago. The abutment teeth are now failing due to recurrent decay. He now presents with bone loss accompanied with excessive and hyperplastic (flabby) tissues in the maxillary anterior region. These tissues are especially sore as his mandibular teeth occlude and traumatize the area.
The patient requires soft tissue treatment in the maxilla as well as a new complete denture. He also requires new prosthetic reconstruction in the mandible, which includes survey crowns and a new removable partial denture, to restore form, function, and aesthetics.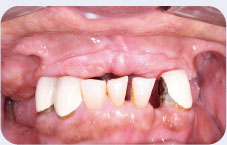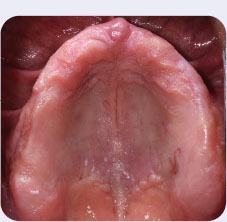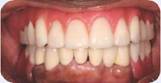 LEARNING GOALS AND OBJECTIVES
Diagnose and manage combination syndrome.
Select proper impression techniques.
Establish an appropriate occlusal scheme.
Manage and maintain patients with partial edentulism.
Medical History
Physical exam 3 years ago: diagnosed with elevated blood pressure
Patient reports he has not taken his blood pressure medication for about 1 year.
Dental History
Multiple extractions due to caries, periodontal disease, and failed endodontic treatment
Loss of maxillary complete denture 4 months ago; patient reports that he wore the denture only a few hours per day because it was loose and uncomfortable.
Patient received regular dental care prior to retirement about 20 years ago; since then, patient has received only sporadic care with inadequate maintenance/follow-up visits.
Last dental visit approximately 6 years ago when crowns in the mandible were delivered, but due to financial constraints, patient was unable to finish the planned dental work
Medications and Allergies
Norvasc 10 mg/daily—patient has not taken this medication in over a year
No known drug allergies
Review of Systems
History of elevated blood pressure, which is controlled by diet and exercise only, since the patient has discontinued his medication
Vital signs:
Blood pressure: 140/90
Heart rate: 68 beats/minute
Respiratory rate: 18 breaths/minute
Social History
Presently receives a modest retirement check from the U.S. Army and has basic medical and dental benefits
Divorced and lives with a friend
Smoking: 1 pack per day for the last 44 years
Alcohol: 1 case of beer per week
Recreational drugs: denies ever using
Significant Soft Tissue Examination Findings
Lips: appear dry
Mucosa: epulis fissuratum present in anterior maxilla
Hard palate: Nicotinic stomatitis
Charting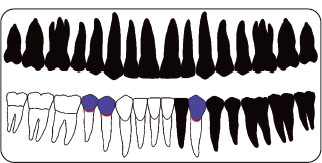 Clinical Findings/Problem List
Edentulous maxillary arch with no prosthesis
Partially edentulous mandibular arch
Recurrent decay on teeth with existing crowns
Inadequate oral hygiene
Poor masticatory function
Poorly controlled high blood pressure
Heavy smoker
Moderate alcohol consumption
Diagnosis
Combination Syndrome
Epulis fissuratum
Nicotinic stomatitis
Improper vertical dimension of occlusion
Generalized moderate chronic periodontitis
Caries
Clinical Decision-Making Determining Factors
Combination Syndrome is a series of five findings described by Kelly in 1972 in pat/>