Full mouth rehabilitation—implant-supported prostheses I
Restoration of a completely edentulous maxilla requires a comprehensive evaluation of soft and hard tissues in order to determine the appropriate treatment modality for replacement of missing structures with the best functional and aesthetic result.
CASE STORY
A 57-year-old female with failing extensive previous dental restorations presents to restore function and aesthetics. She complains of tooth sensitivity and aesthetic concerns of the existing restorations.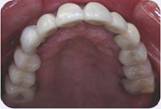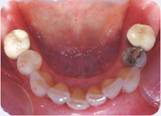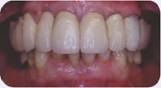 LEARNING GOALS AND OBJECTIVES
Longevity of fixed restorations
Advantages and disadvantages of implant- supported fixed detachable prostheses
Significance of posterior support
Implant therapy success in the maxillary region
Number of implants desired for maxillary implant-supported restoration
Anterior-posterior spread for implant-supported prosthesis
Evaluation of soft and hard tissue volume to support a prosthesis
Medical History
No significant contributory findings
Dental History
Maxillary long-span fixed partial denture, inserted 7 years ago
Mandibular single-unit restorations, inserted 7 years ago
Patient is experiencing tooth sensitivity and is dissatisfied with function and aesthetics.
Clinical Findings/Problem List
Caries
Partial edentulism
Multiple defective restorations
Fair oral hygiene with presence of mobility on existing maxillary prostheses
Radiographic Findings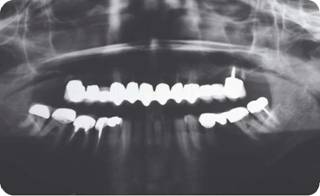 Diagnosis
Defective restorations
Maxillary and mandibular partial edentulism
Generalized moderate periodontitis
Caries
Clinical Decision-Making Determining Factors
In restoring the edentulous maxilla, several prosthesis designs, such as implant-supported fixed restorations, implant-supported fixed complete denture prosthesis, and implant-retained removable prosthesis should be considered. The amount of soft and hard tissue loss and position, distribution, and number of implants play important roles in determining definitive prosthesis design. The ultimate goal of the proposed treatment plan should be to restore the biological architectures while achieving optimal oral function and aesthetic outcome without overloading the prosthesis (Zitzmann 1999):
When considering the length of cantilever distal to the most posterior implants, a minimum anterior- posterior spread (AP) of 10 mm has been suggested to provide a biomechanically acceptable cantilever length (Ranger 1989).
Maximum cantilever length includes use of anterior-posterior spread (AP) greater than 10 mm, or 1.5-2 times the AP (McAlarney and Stavropoulos 2000).
For 5 and 6 implants, the resultant cantilever length-anterior-posterior spread, an average of 1.5 ratio is recommended (McAlarney and Stavropoulos 2000).
Determination of maxillary incisor plane/aesthetic plane of the planned prosthesis relative to the maxillary alveolar ridge position is a critical step in selecting definitive prosthesis design:
After the extraction of teeth, the alveolar ridges undergo a continuous resorption. The resorption pattern in the maxilla is cranially and medially directed. This results in a palatal position of the anterior maxilla (Atwood 1979; Desjardins 1992).
Facial parameters such as facial support, lip support, smile line, and upper lip length should be assessed during the extraoral examination phase (Zitzmann 1999).
The desired maxillary incisal plane should not infringe on the closest speaking space.
The principles of complete denture prosthesis fabrication are applied in determining the appropriate vertical dimension required for restorative space and in preparing the diagnostic setup.
When evaluating a patient's aesthetics, certain parameters help guide the position of maxillary anterior teeth. In patients with short upper lips, up to 4 mm of the maxillary central incisors can be visible with lips at rest. Average maxillary lip lengths of 21-25 mm can lead to a display of up to 2.2 mm of teeth. Extremely long upper lips (3135 mm) can cover almost the entire length of the incisor/>