Implant therapy versus endodontic therapy
The questions deliberated by many clinicians and researchers in efforts to determine treatment modalities that will provide an acceptable long-term prognosis may include the following: 1) Do endodontically treated teeth and restorations have poor long-term prognoses when compared to the implant therapy? 2) What is the longevity of fixed partial dentures versus an implant- supported single crown? 3) Is tooth replacement necessary following the extraction? Clinical analysis based on the available scientific evidence surrounding these questions will help clinicians to decide whether to retain or to extract the remaining dentition.
CASE STORY
A 52-year-old male presents with dislodged provisional restorations in his hand. The patient stated that he cannot chew anymore and that he is seeking help.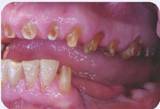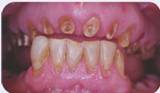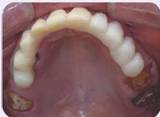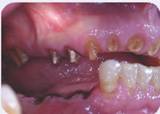 LEARNING GOALS AND OBJECTIVES
Comparison of Implant therapy versus endodontically treated teeth with restorations
Define ferrule.
Understand the factors influencing prognosis of endodontically treated teeth.
Understand clinical parameters influencing fracture resistance of endodontically treated teeth.
Medical History
Dental History
The patient began his initial dental treatments about 4 years ago due to extensive carious lesions on his remaining teeth.
He was unable to complete the treatment and developed further carious lesions on mandibular posterior teeth.
The patient was recently treated with extractions of mandibular posterior teeth through a dental emergency clinic and was advised to seek definitive care.
Clinical Findings/Problem List
Dislodged maxillary provisional restorations
Furcation caries on maxillary right second molar (3) and left first and second molars (14 and 15)
Fractured maxillary right central and lateral incisors (7 and 8); fractured maxillary left central and lateral incisors (7, 9, and 10)
Recurrent caries on maxillary left premolars (12 and 13)
Recurrent caries on maxillary canines (6 and 11)
Generalized mobility of the maxillary teeth
Missing maxillary right first molar
Missing mandibular posterior teeth
Radiographic Findings
(See Fig. 5.)
Diagnosis
Recurrent caries
Fractured maxillary teeth
Defective post and core restorations
Maxillary and mandibular partial edentulism
Generalized moderate to severe periodontitis on maxillary remaining dentition
Clinical Decision-Making Determining Factors
Determination of an appropriate treatment modality for structurally compromised teeth requires analytic assessment of factors related to the long-term prognosis.
Direct comparison of the replacement of a single tooth with implants and initial nonsurgical endodontic treatment showed successes of 73.5% and 82.1%, respectively, suggesting that restored endodontically treated teeth and single-tooth implant restorations have similar failure rates. However, the implant group showed a longer average and median time of function (Doyle, Hodges et al. 2006).
I nitial endodontic treatment showed high long-term survival rate for periodontally sound teeth with pulpal and/or periapical pathosis. Equivalent long-term survival rates have also been reported for extraction and replacement of the missing tooth with an implant-supported restoration. Substantially lower long-term sur/>