Treatment of an edentulous patient with conventional complete denture prostheses
CASE STORY
A 62-year-old completely edentulous Caucasian male presents requiring maxillary and mandibular complete dentures to restore form, function, and aesthetics. He has been edentulous in the maxilla for the past 15 years and had his mandibular anterior incisors extracted about 8 months ago. He presents with a chief complaint of: "I need new teeth (dentures)." The patient states that his present dentures are ill-fitting and they move when he eats and speaks. Intraoral examination reveals moderately inflamed oral tissues, consistent with an ill-fitting denture; however, the amount of alveolar bone present is adequate for denture support.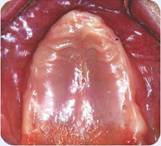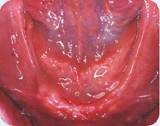 LEARNING GOALS AND OBJECTIVES
Manage soft tissues prior to prostheses fabrication.
Determine and reestablish proper vertical dimension of occlusion (VDO).
Assess anterior artificial tooth arrangement.
Recognize and treat common postinsertion sequelae.
Medical History
Diabetes: diagnosed at the age of 17, well controlled with medication
Dental History
Extraction of maxillary teeth 15 years ago and the remaining mandibular anterior teeth 8 months ago; patient states that all extractions were due to "gum disease."
The patient soaks his dentures at night in water but does not brush them; however, he does rinse his mouth with mouthwash daily before reinserting the dentures.
His diet is described as normal, but lately consisting of softer food.
Medications and Allergies
Metformin (Glucophage) 500 mg twice daily
Multivitamin daily
Review of Systems
Diabetes mellitus type ll
Vital signs:
Blood pressure: 129/78
Heart rate: 72 beats/minute
Respiratory rate: 16 breaths/minute
Social History
Smoking: cigarettes, one pack per day since the age of 15
Alcohol: 2-3 pints of beer daily
Recreational drugs: denies having ever used them
Extraoral Examination
Head: normocephalic, symmetrical, no masses or scars
Neck: within normal limits
Muscles: within normal limits
Lymph nodes: within normal limits
TMJ: no clicks, pops, or tenderness; normal range of motion; no deviation on opening or closing
Soft Tissue Examination
Lips: moist; symmetrical; normal shape, size, and color, with mild angular cheilitis present
Mucosa: mildly inflamed; patent Stenson's duct; no masses, scars, or lesions
Hard palate: normal size and shape with nicotinic stomatitis present
Soft palate: slightly erythematous, normal size and shape
Tongue: normal size and shape; no masses, scars, or lesions; candida overgrowth present leaving erythematous palatal mucosa when rubbed off
Saliva: appears to be of normal flow and consistency (Examination of soft tissues and salivary flow rate are important considerations when planning for and constructing a new complete denture.)
Floor of mouth: Patent Wharton's duct; no masses, scars, or lesions. (Examination of soft tissues and salivary flow rate are important considerations when planning for and constructing a new complete denture.)
Oral cancer screen: negative for clinical signs of oral cancer. (Examination important because of history of smoking and alcohol consumption.)
Clinical Findings/Problem List
Complete edentulism
Inadequate oral hygiene
Inadequate existing complete dentures
Poor masticatory function
Diagnosis
Complete edentulism
Angular cheilitis
Candidiasis
Nicotinic stomatitis
Insufficient vertical dimension of occlusion (VDO)
Clinical Decision-Making Determining Factors
Edentulism is defined as having no teeth and is usually the result of dental caries and/or periodontal disease. The remaining residual ridge can undergo remodeling and resorption often with an unpredictable pattern. This can result in the instability of the complete dentures. Adequate ridge height and width must be carefully evaluated in the fabrication of complete dentures (Slagter, Olthoff et al. 1992; Eklund and Burt 1994; Carlsson 2004).
Denture retention and comfort are directly related to the supporting tissues of the residual ridge. Sufficient vestibular depth/>