Case
•

 

55. A lump in the palate
A 32-year-old lady is referred to your hospital oral and maxillofacial surgery department by her general dental practitioner because of a swelling in her palate. What is the cause and what treatment is appropriate?
History
Complaint
The patient has noticed a lump but has experienced no pain.
History of complaint
The patient thinks that the lump has been present for at least a year, possibly two. It has enlarged slowly and is now starting to be a nuisance.
Medical history
Her medical history reveals no illness. She has recently given up smoking but previously smoked two or three cigarettes a day.
Examination
Extraoral examination
She is a fit and well-looking woman. No cervical lymph nodes are palpable and the temporomandibular joints appear normal. There in no facial asymmetry.
Intraoral examination
The appearance of the palate is shown in
Figure 55.1
. There is a swelling of the right side of the palate and maxillary alveolus. There is no caries and only a few relatively small amalgam restorations.
▪ What are the features of the swelling?
The swelling has the following characteristics:
Site
Molar to central incisor region
Size
2 × 3 cm approximately
Shape
Oval
Surface
No ulceration
Colour

Overlying mucosa normal. Has a slight blue tinge

No evidence of inflammation, not pointing

Contour
Regular, rounded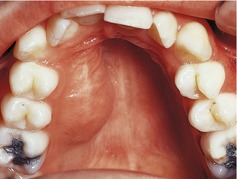 Fig. 55.1
If you were able to palpate the lesion and the patient's neck you would discover the following:
| | |
| --- | --- |
| Lesion consistency | Firm, not fluctuant |
| Lesion mobility | Fixed |
| Cervical lymph nodes | No submandibular or cervical lymph nodes palpable |
Differential diagnosis
▪
On the basis of what you know so far, what types of lesion would you include in your differential diagnosis?
1. Benign neoplasm of palatal salivary gland, most probably a pleomorphic adenoma
2. Malignant salivary tumour, and if so:
— most probably a mucoepidermoid carcinoma, or
— polymorphous low grade adenocarcinoma,
— but possibly an adenoid cystic carcinoma
3. Odontogenic causes:
— or an odontogenic cyst, probably a radicular cyst
5. Antral or nasal lesion bulging into the mouth (e.g. a carcinoma)
6. Miscellaneous other possibilities including lymphoma.
▪ Which of these possibilities are the most likely? Explain why.