Case
•

 

1. A high caries rate
A 17-year-old sixth-form college student presents at your general dental surgery with several carious lesions, one of which is very large. How should you stabilize his condition?
History
Complaint
He complains that a filling has fallen out of a tooth on the lower right side and has left a sharp edge that irritates his tongue. He is otherwise asymptomatic.
History of complaint
The filling was placed about a year ago at a casual visit to the dentist precipitated by acute toothache triggered by hot and cold food and drink. He did not return to complete a course of treatment. He lost contact when he moved house and is not registered with a dental practitioner.
Medical history
The patient is otherwise fit and well.
Examination
Extraoral examination
He is a fit and healthy-looking adolescent. No submental, submandibular or other cervical lymph nodes are palpable and the temporomandibular joints appear normal.
Intraoral examination
The lower right quadrant is shown in
Figure 1.1
. The oral mucosa is healthy and the oral hygiene is reasonable. There is gingivitis in areas but no calculus is visible and probing depths are 3 mm or less. The mandibular right first molar is grossly carious and a sinus is discharging buccally. There are no other restorations in any teeth. No teeth have been extracted and the third molars are not visible. A small cavity is present on the occlusal surface of the mandibular right second molar.
▪ What further examination would you carry out?
Test of tooth vitality of the teeth in the region of the sinus. Even though the first molar is the most likely cause, the adjacent teeth should be tested because more than one tooth might be nonvital. The results should be compared with those of the teeth on the opposite side. Both hot/cold methods and electric pulp testing could be used because extensive reactionary dentine may moderate the response.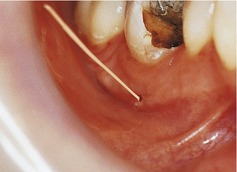 Fig. 1.1
The first molar fails to respond to any test. All other teeth appear vital.
Diagnosis
▪ What is your diagnosis?
The patient has a nonvital lower first molar with a periapical abscess. In addition he has a very high caries rate in a previously almost caries-free dentition.
Treatment
The patient is horrified to discover that his dentition is in such a poor state, having experienced only one episode of toothache in the past. He is keen to do all that can be done to save all teeth and a decision is made to try to restore the lower molar.