Fig. 11.1
Facial hematoma following endodontic surgery of the mandibular premolar
Ecchymosis is an extravasation of blood into subcutaneous tissue or mucosa (Fig.
11.2
) [
11
–
13
].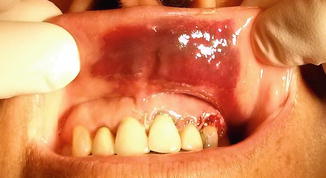 Fig. 11.2
Ecchymosis of the oral mucosa at the upper lip region following endodontic surgery of the maxillary incisors
Ecchymosis
or
mucosal petechiae
are quite unpredictable. The inflammatory reaction after surgery and subsequent fragility of the capillaries may be a major contributor to ecchymosis and petechiae development [
11
]. Although both are transient symptoms, skin ecchymosis is unaesthetic. Therefore, its prevention is useful [
12
]. Skin ecchymosis can be induced by a problem in the production of coagulation factors by the liver, inadequate reticuloendothelial clearance of fibrin degradation products, and decreased production of platelets, which promote secondary fibrinolysis [
13
]. Ecchymosis can last for up to 2 weeks presenting an esthetic problem and generally requires no treatment.
Mild hemorrhage is relatively common during endodontic surgery, and although it is usually not life threatening, it may cause complications during the surgical procedure and may even jeopardize the prognosis of the treatment [
4
]. Adequate bleeding control is essential for the success of periapical surgery, since it improves visualization of the surgical site, minimizes the operating time, and enables the dry field for retrograde filling material placement [
4
,
7
].
This chapter will discuss the local and systemic considerations of the prevention, diagnosis, and management of bleeding-related complications in endodontic surgery.
Systemic Considerations
Hemostasis may be defined as the process whereby bleeding is controlled [
14
]. Biologically, hemostasis is a tightly regulated process that maintains the blood flow through the vasculature simultaneously as a thrombotic response to tissue damage occurs [
6
,
7
]. The hemostatic process is extremely complex and for simplicity may be classified to a primary phase, initiated at time of injury and ends with the formation of an unstable soft plug, and an ensuing secondary phase that starts by the initiation of the full-scale coagulation cascade that ends in the formation of a stable fibrin clot [
6
,
7
]. Impairment in one or more of the hemostasis cascade components may lead to bleeding disorder and an increased potential for bleeding-related complications during surgery [
3
–
7
,
15
,
16
].
Bleeding during or following minor surgical procedures of the oral cavity is not rare and fortunately, in healthy patients, is usually self-limiting and manageable [
3
]. However, a small sector of the general population has an increased risk of bleeding due to inherited bleeding disorders, and even more common are patients with hemostatic impairments that are secondary to underlying disease or medication [
3
]. In those population groups, even a relatively minor surgical procedure may precipitate an excessive and prolonged bleeding incident [
3
], impaired wound healing, and increase risk of infection [
3
]. It has been reported that while the incidence of postoperative bleeding following minor oral surgical procedures is within the range of 0.2 and 3.3 %, in patients under chronic anticoagulation therapy, the occurrence of postoperative bleedings is much more prevalent and ranges between 8.6 and 32.1 % [
5
].
Identification of patients with bleeding disorder is a key objective of the preoperative anamnesis and evaluation, in order to prevent surgical complications. The practitioner needs to be familiar with the different categories of bleeding disorders, their clinical manifestation, and most importantly, their clinical relevance to the planned surgical procedure [
3
,
5
–
7
]. In general, bleeding disorders may be divided for simplicity to platelets disorders, inherited coagulation disorders, and acquired coagulation abnormalities.
Platelet Disorders
There is a number of platelet-related defects, both inherited and acquired, that may be grossly divided as defects in the number of platelets (i.e., "thrombocytopenia") or of platelet function, though some platelet disorders are characterized by both decreased number and impaired platelet function [
3
,
5
].
Normal blood platelet levels are usually within the range of 150–400 × 10
9
/L, and thrombocytopenia leading to increased bleeding is rarely clinically significant unless platelet counts are less than 50 × 10
9
/L [
3
,
5
]. On the other hand, platelet function disorders, such as adhesion or aggregation defects, may lead to surgical bleeding and may require preparation prior to surgery, such as platelet transfusion [
3
,
5
].
Inherited Coagulation Disorders
Von Willebrand disease (VWD
) results from quantitative or qualitative defects in VW factor, a key protein in hemostasis, and is the most common inherited bleeding disorder, affecting up to 1 % of the general population [
3
]. The clinical manifestations of VWD are easy bruising, epistaxis, menorrhagia, and operative bleeding [
3
].
Hemophilia
is an inherited bleeding disorder caused by deficiencies of either factor VIII (termed: "hemophilia A") or factor IX ("hemophilia B") [
3
,
5
]; both types are not clinically distinguishable [
3
,
5
]. The prevalence of hemophilia is 1 in 5,000 males [
3
,
5
]. Hemophilia patients are characterized by easy bruising, excessive post-trauma bleeding, spontaneous muscle and joint hemorrhage, and excessive bleeding following surgical procedures [
3
,
5
].
Additional congenital coagulation deficiencies are extremely rare [
3
,
5
]. Thus, although factor XI deficiency in the Ashkenazi Jewish population has a prevalence of 1 in 1,000, the prevalence of other factors deficiencies is in the range of 1 in 0.5–1 per million [
3
,
5
]. Usually, with possible some exceptions, the bleeding manifestations in these disorders are less severe than in hemophilia patients [
3
,
5
].
Acquired Coagulation Abnormalities
Local Considerations