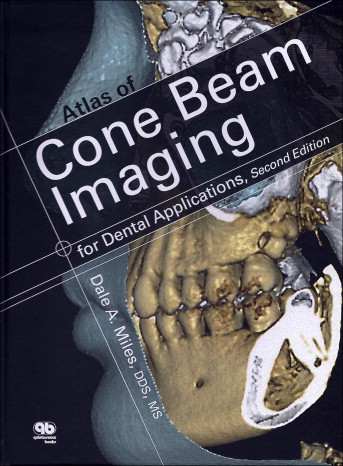 Dale Miles is a well-known and well-published oral and maxillofacial radiologist as well as a diplomate of the American Board of Oral and Maxillofacial Radiology and the American Board of Oral Medicine. He has recently released the second edition of this book to help us all learn more about cone-beam computed tomography (CBCT) and the volume images we acquire and view.
As the book's title suggests, this is an atlas and not a textbook. As such, it is filled with images and 3-dimensional renderings from actual CBCT scans with relatively little text. It does provide an introduction and summary of the basic principles of CBCT that are textual, but quite short. An extensive chapter on anatomic structures is completely image-based and is followed by many specific topics including airway, teeth and associated pathology, paranasal sinuses, and temporomandibular joints. Of specific interest to orthodontists is a chapter dedicated to orthodontic assessment; it does not include any quantitative 3-dimensional analyses but, rather, demonstrates a qualitative analysis of dental and skeletal abnormalities. Also of interest are chapters demonstrating the use of CBCT in orthognathic surgery, images relating to systemic findings, and a review of unusual cases from Dr Miles' practice. At the end of the book, he discusses the important issues of risk and liability.
As with all Quintessence books, the printing and images are high quality. The images are large, usually just 1 or 2 to a page; this makes them essentially life size. The heavy glossy paper will allow this book to stand up as a reference without falling apart over time.
There are a limited number of references in the book, reflecting the fact that it is an atlas and not a textbook. The atlas does not generally deal with any treatment recommendations but focuses on the correct interpretation of CBCT images.
I believe that this atlas would be an excellent reference for any orthodontist or graduate student using CBCT as a tool in clinical practice. The many images demonstrating normal anatomy and common pathologies are instructive, and having them readily available on the shelf is worth the cost of this book.