8
Fixation Techniques
Introduction
The most commonly used fixation methods for orthognathic surgery are the following.
External Fixation.
Fixed orthodontic appliances, with occlusal wafers.
Fixed orthodontic appliances with supplementary arch wires and tubes.
Arch bars—either prefabricated flexible, wrought wire, or cast cobalt chromium.
Cortical screws and intermaxillary fixation.
Eyelet wires.
Cast metal splints.
Internal Fixation.
Miniature titanium bone plates and cortical screws.
Bicortical screws.
Bioresorbable fixation plates and screws.
Most surgeons find orthodontic fixed appliance archwires with or without the addition of hooks are the most versatile and reliable method for intra-and postoperative fixation, especially when used with carefully constructed occlusal wafers. Where there has been no recent orthodontic treatment, a cortical screw placed in the buccal alveolus in each quadrant or some form of arch bar is essential for intraoperative fixation. Eyelet wires are a simple substitute but are less convenient to work with. Cast metal splints have become less popular because of the clinical and laboratory complexity and are usually confined to the unstable components of a cleft case.
With the use of miniature titanium plates and screws, wire osteosynthesis is almost outdated except where plate systems are not available. However precise temporary intermaxillary fixation (IMF) is very important to secure the mobilised segments of the maxilla and the mandible whilst applying the internal fixation plates and screws.
Bicortical bone screws or buccal plates in mandibular procedures have totally revolutionised postoperative rehabilitation by dispensing with prolonged intermaxillary fixation. Whatever the method of fixation, it should be decided upon early so that there is adequate time for fixation appliances to be carefully designed, made and if appropriate, tried for accuracy of fit. If the arch bars are the method of choice, theatre time may be saved by fixation on the teeth preoperatively under local anaesthesia, with or without intravenous sedation.
The material and design of the fixation appliance must be capable of maintaining the bone fragments in the planned position until union has occurred. This is particularly important in a cleft osteotomy.
Fixed Orthodontic Appliances
Most patients require presurgical fixed appliance orthodontic treatment, these may be modified for intermaxillary fixation and segmental stabilisation with the help of rectangular wire attachments and hooks (Figure 8.1).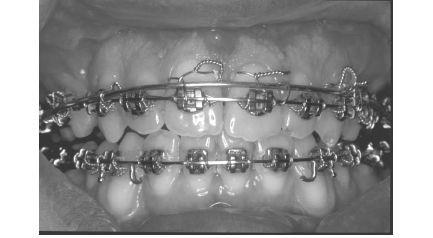 Figure 8.1 Orthodontic brackets, wires and hooks for fixation. Note the 1 mm maxillary supplemental arch wire to augment the internal fixation used to localise a divided dentoalveolar segment.
The attachment must fit well and be cemented securely to avoid dislodgement during surgery and intermaxillary fixation. The heavy rectangular wire in Edgewise brackets gives good stabilisation for fixation, and if required can be improved with the addition of crimpable steel hooks or soldered brass wires. Unfortunately it can be tedious when the hooks ensnare swabs. With segmental surgery, intra-and postoperative dentoalveolar stabilisation is essential to avoid any rotation around the internal plate fixation. Although this can be an archwire shaped on the sectioned and repositioned model used for surgical planning and which can be fitted intraoperatively by an orthodontist, it is more convenient to:
section the arch wire at operation to facilitate the osteotomy,
localise the segments with a wafer, and then
stabilise them by ligation to a heavy 1 mm supplemental arch wire inserted into tubes fitted on the molar bands (Figure 8.1). On the upper molars these can be the headgear tubes but in the lower arch bands with double tubes are required.
Advantages
Orthodontic fixation does not require laboratory facilities.
With a rectangular arch wire every type of movement can be controlled.
It is invaluable for intraoperative immobilisation whilst applying the plates and screws for "rigid fixation".
Disadvantages
Direct bonded attachments are occasionally lost because the cementation fails.
It is advisable to remove any lingual attachments which may have been present during the orthodontic treatment.
Cortical Screws
These may be specifically designed for IMF and are inserted through a stab wound into the dense basal bone between the canine and first premolars. Either wire or postoperative elastics may be applied to immobilise the occlusion.
This technique is only applicable when both arches are intact.
Arch Bars
Prefabricated Flexible
A prefabricated form (Erich — Dentaurum, Pforzheim, FRG) is made of semi-rigid stainless steel (Figure 8.2). It can be easily contoured to the arch form and ligated with stainless steel wires passed around the arch bar and the necks of the adjacent teeth. Cleats for intermaxillary fixation are also an integral part of the design. Stainless steel wire (0.5 mm) which has been prestretched by 10% is used to ligate the arch bar to the teeth, starting in the midline and working backwards.
Figure 8.2 Prefabricated Erich arch bar and wrought wire used for making custom-made arch bars.
Advantages
These are useful where orthodontic treatment has not been used.
No technical assistance is required for this type of fixation, and the bars can be easily adapted into the desired shape.
Arch bars can be placed before the operation, under local anaesthesia supplemented with intravenous sedation. This reduces the time spent in the operating room.
The occlusion can always be checked and at the end of the fixation period the arch bars can easily be removed without an anaesthetic.
Disadvantages
An adequate number of suitable teeth are required to get rigid and reliable fixation.
They may not be suitable in osteotomies where there are many crowns and bridges.
Wrought Wire Arch Bar
These arch bars are a very satisfactory method of fixation, especially in segmental procedures.
Casts of the patient's teeth are obtained. If any segmental movement of the jaws is involved, the segments are sectioned and reassembled in the required position. The arch bar is constructed from nickel silver 1/8 inch (3.00 mm x 1.5 mm diameter) oval or 2 mm half-round wire and is shaped to fit as close as possible to the tooth surfaces and into the interdental spaces (Figures 8.3 a and 8.3b).
The extreme ends of the bar are bent to fit around the distal aspect of the last tooth on each side. Cleats (hooks), tubes and locking plate attachments, if required, can be soldered to the bar. The bar is trimmed and polished in the usual way. Notches or grooves are made to stop ligature wires slipping. These arch bars are ligated to the teeth with 0.5 mm stainless steel wire which has been prestretched by 10% of its original length. If no segmental movement is involved, the arch bars can be wired to the dental arch preoperatively.