Chapter 8
Conscious Sedation 2: Preparing the Parent and Child
Aim
The aim of this chapter is to demonstrate how to prepare both the child and his or her parent for conscious sedation.
Outcomes
After reading this chapter the practitioner will
be able to select those children who are most likely to accept treatment using sedation, particularly inhalation sedation

confidently assess the child's dental needs

recognise the role of good communication to ensure a successful outcome through parent and child participation

obtain informed consent

give appropriate pre- and postoperative instructions.
Introduction
The preparation of parent and child for conscious sedation is much more complex than a novice dental sedation team might at first have envisaged. However, time spent in this preparation will help make successful operative dental treatment under conscious sedation a reality for the anxious child and their family. The step-wise preparation outlined in this chapter also guarantees compliance with contemporary guidance in respect of safe sedation practice. Good preparation helps to avoid failed sedation visits, through better patient selection and parent engagement, and so saves time in the long run (Fig 8-1). These preparatory steps can be incorporated into the sequential treatment plan outlined in Chapter 6.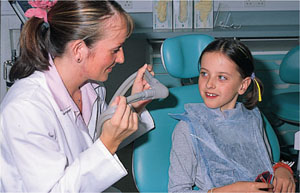 Preparing the parent and child includes
Assessing the dental needs of the child.

Assessing the medical health of the child.

Assessing the potential cooperation of the child.

The dentist parent child conference.

Gaining informed consent.

Psychological preparation of the child.

Fasting instructions, where relevant.

Parental instructions prior to sedation visit.

Compiling appropriate records.
Assessing the dental needs of the child
A full dental history and examination are essential parts of the assessment prior to sedation. Of particular importance is the dental and medical history as it is necessary to identify anxiety-provoking stimuli. This enables them to be avoided, where possible, and helps to tailor the dental management to limit the child's anxiety where it cannot. Once a specific stimulus is identified their likely reaction to that stimulus can be anticipated in advance of treatment.
Common anxiety-provoking stimuli in children are fear of the unknown and lack of control. Some children may remember unpleasant medical procedures – for example, giving blood samples or a recent school vaccination. There is also evidence to suggest that previous general anaesthetic extractions may cause dental anxiety. Some children associate "the mask" with their dental fear, so identify this if nitrous oxide inhalation sedation (IS) is being considered. Its introduction in such cases must include an assurance that it is "not like being put to sleep": a different thing entirely (Fig 8-2).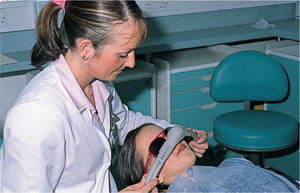 A complete and accurate diagnosis of a child's dental disease is also essential. In the case of dental caries both enamel and dentinal lesions need to be identified. Only 40% of dental caries is diagnosed clinically, so a radiographic examination is essential accurately to treatment plan appropriate preventive and restorative care. The child must feel that he or she has completed treatment as they will lose confidence in the dentist should further treatment be required at every future recall. This can easily happen if enamel lesions are not identified and preventive therapy instituted. A holistic approach to the dental care of the child has to be adopted whilst the treatment plan is determined. This should include a caries risk assessment, sequential treatment planning, when to introduce local anaesthesia and how to interleaf prevention into the overall plan.
Assessing the Medical Health of the Child
We have already learned in Chapter 7 that the anatomy and physiology of a child differs from those of an adult and how easily children can become hypoxic. A full and up-to-date medical history is always relevant to every aspect of the practice of dentistry but there are some specific areas that need to be explored in greater detail whenever conscious sedation is considered. Dentists must ensure that a parent or guardian who is fully conversant with the child's health provides the medical history. Indeed, the complete assessment may have to be postponed if another close relative – for example, grandparent or aunt – has accompanied the child.
The medical history must include:
cardiac defect, murmurs

drug allergy

respiratory diseases, including recent colds

bleeding disorders

immune compromising conditions

previous problems with general anaesthesia or sedation

a history of family problems with general anaesthesia or sedation

current medication

any other involvement with another dental or medical specialist.
Fitness for conscious sedation, or general anaesthesia
Fitness for conscious sedation, or general anaesthesia, is usually described in relation to the American Society of Anesthesiologists (ASA) Classification (Table 8-1). Generally, patients who can be categorised as ASA I and ASA II can be considered for conscious sedation in a primary care environment. Patients whose ASA categorisation is beyond this should be referred to specialist centres.
Table 8-1 American Society of Anesthesiologists (ASA) classification
Class I
A normally healthy patient
Class II
A patient with mild systemic disease
Premium Wordpress Themes by UFO Themes

WordPress theme by UFO themes