Chapter 7
Clinical Records
Many lawsuits are won or lost based on the quantity and quality of the documentation in the dental record.
When faced with adverse clinical outcomes and the threat of litigation, the clinical record becomes the subject of intense and expansive scrutiny. It is, as we suggested in Chapter 3, the equivalent of the black box in the aviation industry. Unlike the black box, which records all events, experience suggests that clinical records are often lacking in extent and accuracy of clinical information.
Evidence from studies carried out in the United States, Australia and Scandinavia show that record keeping often falls well below accepted standards. For example, Rasmusson et al. (1994) evaluated Swedish dental patient records and found that 40% of a random sample were not satisfactorily completed.
In one UK study, Morgan (2001) observed that "The quality of record keeping was poor and that fundamental entries were missing from many records". The study also noted that the frequency of recording for patients whose treatment was funded under NHS regulations was significantly worse than for patients whose treatment was privately funded.
It is a well-known adage that "good records facilitate good defence, poor records a poor defence and no records no defence". The quality of record keeping can also be used to assess the quality of patient care. Keith Marshall, a highly respected clinician in England, as part of his PhD thesis (1995) evaluated quality through records and radiographs and concluded that quality of care could be evaluated through audit of records. He concluded that consensus standards may be one way forward towards effective quality assurance. His work has provided the backbone of a number of quality initiatives which will be the subject of a future title in this series.
From a different perspective, the dental record is also of value as an ante-mortem record in forensic dentistry (Rene et al. 1994).
What Constitutes a Clinical Record?
Clinical records comprise all information relating to the care and treatment of the patient. They include:
dental, medical and social histories

clinical data

study casts

radiographs

laboratory instructions

correspondence with hospitals and specialists

results of special investigations

copies of correspondence between the dentist and patient.
What Information Should be Included in the Record?
Guidance on what information should be included in the clinical records is available from a number of sources.
The guidance issued by the Faculty of General Dental Practitioners in the UK is summarised in Fig 7-1. Guidance on what is an acceptable standard is summarised in Fig 7-2. In the US, The American Dental Association's Risk Management Series, Even Good Guys Get Sued, sets out what it considers to be essential requirements (Table 7-1).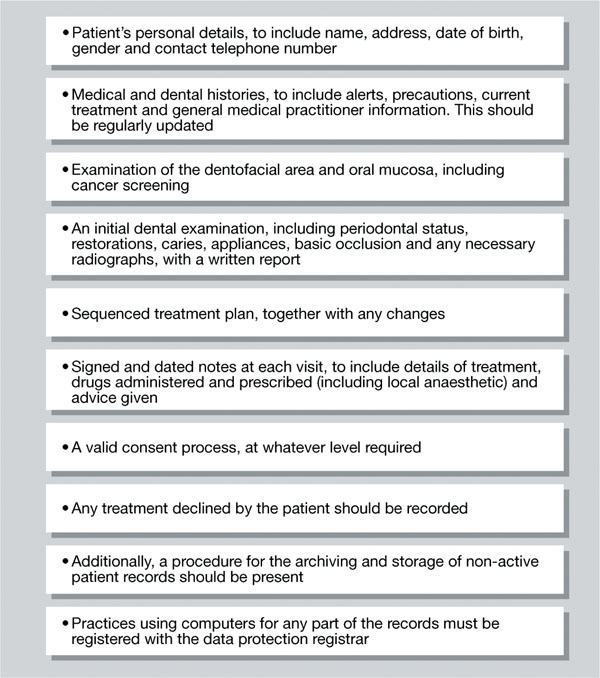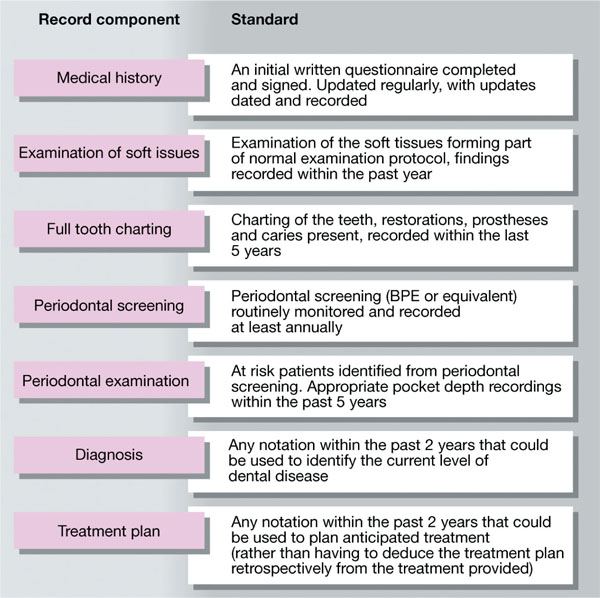 Anyone looking at the record should be able to answer the following questions:
Who was present?

What was said (communication)?

What was done (treatment)?

Why is it being done (treatment plan)?

How is it being done (technique/explanations)?

What is planned for the future (treatment plans)?
The design and layout of the record will play an important part in how easily this information can be gleaned. It should provide "at a glance" information. This has been confirmed by Holt (1998) who reported, through an audit, on the effectiveness of "at a glance" information on a new dental chart. Similar findings have been reported by a team at Bristol Dental School who conducted an audit into record cards between 1994 and 1999. The failings were addressed by a number of changes, which included the redesign of the record card. The re-audit in 1999 confirmed that use of the new cards had maintained a high standard of record keeping achieved after the first audit.
How Much Detail Should be Included?
The most common failing in clinical record keeping is a lack of detail.
Many dentists do not record "custom and practice" (e.g. we tell every patient to avoid biting their lip after a local anaesthetic so there is no need to record it in the notes). That may be accepted until there is a significant injury and the patient sues the practitioner on the basis that they were not given such a warning. A dentist is exposed to a line of questioning that may suggest that despite it being his/her custom and practice, the dentist might not have told the patient in that particular case.
A way around the "custom and practice" issue is to have a range of information sheets about the warnings and advice that are given to all patients. This can be easily achieved with the use of computers and/or word processors. The advantage is that a copy of the instructions can be placed into the patient's notes, thus saving time and acts as a very accurate record of the exact instructions and wording given to the patient. There are a number of stages in good record keeping.
Table 7-1Ten essential requirements in clinical record keeping. (Based on the ADA Risk Management Series)

| | |
| --- | --- |
| Identification Data | This includes name, address, telephone numbers and persons to call in an emergency. Some dentists also use photographs for instant identification and attach them to the record. |
| Medical History | This component of the record includes the comprehensive review and evaluation of the patient's general health. |
| Dental History | The dental history provides opportunity for the dentist to learn about the patient's complaint/the reason for their visit. Information concerning past dental visits and treatments including phobias, family history, and dental awareness and attitudes may also be obtained in this section of the record. |
| Clinical Examination | Every patient should have a clinical examination performed at the first visit. This should include an extraoral assessment including head and neck and TMJ, and an intraoral assessment to include status of hard and soft tissues – including cancer screening, missing teeth, caries activity, and an evaluation of pre-existing restorations, endodontic therapy, periodontal status, and an occlusal assessment. |
| Radiographic Examination | The clinical justification for radiographs, the type of radiograph taken, and the findings must be clearly shown on the clinical notes. |
| Diagnosis | The diagnosis is an essential feature of the record because it justifies the treatment. A common failing in record cards is the absence of a diagnosis. |
| Treatment Plan | This is a written statement of clinical procedures to be undertaken. It should include any procedures that are to be undertaken by referral to a professional colleague. There should be notes about treatment options along with a summary of the risks and benefits of treatment and the likely costs – important from a risk management perspective because litigation may be avoided by making certain that the patient understands why a particular treatment is advised and the risks and benefits associated with that treatment. |
| Reference to Consent | Patients should be informed about the nature of the proposed treatment, the risks, the alternatives and the consequences of no treatment. The record card should reflect these discussions (see Chapter 5). |
| Progress Notes | These are treatment and advice notes recorded in visit sequence – usually the most extensive section of the patient's clinical record. It should include the date of the visit, procedures undertaken, type(s) of materials used, details of local anesthetic and/or other anxiety control agents including dosages, adverse reactions, and outcomes of treatment and postoperative instructions. |
| | The notes should demonstrate management of problems, patient's questions and answers given, any unusual circumstances, any revisions to the treatment plan in the light of a secondary diagnosis. A record of post treatment phone calls by dentist or patient or team members, prescriptions to a dental laboratory, referrals and their follow-up, missed or cancelled appointments, and all other information that may be relevant to the patient's treatment or outcome. |
| Exit Notes | When a patient leaves a practice and informs the practice of their intention, there should be a note to indicate any known reasons for their departure and any advice that was given to them at the time. |
Benchmarking
When you first see a patient it is important to take a detailed record so that you can recollect: