CHAPTER 6. Major infections of the mouth, jaws and perioral tissues
Syphilitic, actinomycotic and tuberculous osteomyelitis of the jaws are recognised entities, but largely of historical interest.
ACUTE OSTEOMYELITIS OF THE JAWS → Summaries pp. 66, 190, 448
Osteomyelitis of the jaws is mainly a disease of adults with several potential sources of infection (
Box 6.1
).
Box 6.1
• A periodontal pocket involved in a fracture
• Acute necrotising gingivitis or pericoronitis (even more rarely)
• Penetrating, contaminated injuries (open fractures or gunshot wounds)
Many patients have a predisposing cause and the most important are summarised in
Box 6.2
. Rare causes include osteopetrosis (
Ch. 10
). The effect of immunodeficiency is variable and acute osteomyelitis of the jaw is uncommon in HIV infection.
Box 6.2
Local damage to or disease of the jaws
• Fractures including gunshot wounds
• Causes of osteosclerosis
Late stages of fibro-osseous lesions
Impaired immune defences
• Poorly controlled diabetes mellitus
• Chronic alcoholism or malnutrition
CHRONIC OSTEOMYELITIS → Summaries pp. 66, 190, 448
Rarely, inadequately treated acute osteomyelitis may lead to chronic suppurative osteomyelitis, which may also be a complication of irradiation (
Fig. 6.4
). Persistent low-grade infection is associated with bone destruction and granulation tissue formation, but little suppuration.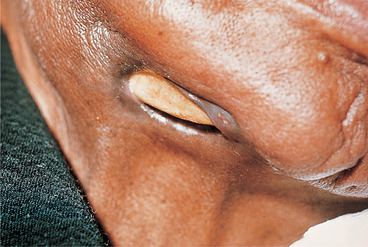 Fig. 6.4
Chronic osteomyelitis more frequently arises de novo as a result of infection by weakly virulent bacteria or in avascular bone.
Chronic osteomyelitis is commoner than acute osteomyelitis. Like the acute condition, there are usually predisposing factors such as those in
Box 6.2
. However, local bone sclerosis is a much more likely predisposing factor for chronic osteomyelitis than acute.
Clinically, the picture is often dominated by persistent ache or pain with exposed bone and radiographic changes rather than florid infection. Radiographic appearances are variable but sometimes distinctive (
Fig. 6.5
). Sequestra will usually separate spontaneously or may occasionally reincorporate into healing bone after effective antibiotic treatment. Chronic osteomyelitis must be treated aggressively. Infection may spread widely through abnormal bone or in a debilitated host (
Fig. 6.6
). Low-virulence organisms or repeated inadequate antibiotic treatment may lead to longstanding osteomyelitis with extensive
sclerosis of the remaining viable bone, in so-called diffuse sclerosing osteomyelitis (
Box 6.5
).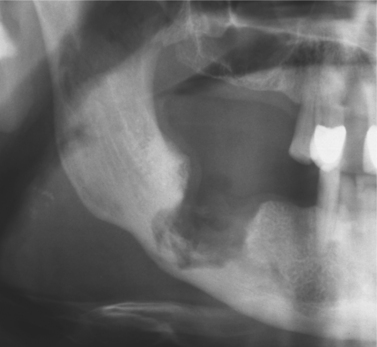 Fig. 6.5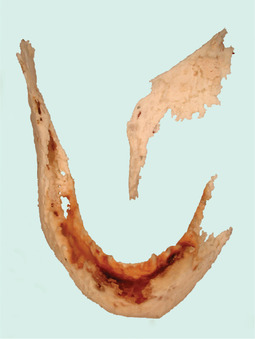 Fig. 6.6
Box 6.5
• Sclerosis round site of periapical or periodontal chronic inflammation
• Persistent ache or pain but no swelling
• Radiographically resembles but is distinct from florid cemento-osseous dysplasia
Pathology
• Bone sclerosis and remodelling
• Scanty marrow spaces and little or no inflammatory infiltrate, though adjacent to areas of inflammation
Treatment
• Elimination of originating source of inflammation, but sclerotic areas remain radiographically
CHRONIC LOW-GRADE OSTEOMYELITIS AND OSTEITIS → Summaries pp. 173, 190
In some cases, a focus of osteomyelitis is so small or caused by such low-virulence organisms that the clinical presentation is dominated by the local bone reaction to the infection rather than the infection itself. Suppuration and infiltration of marrow spaces by inflammatory cells are absent and bacteria are not readily cultivable. Diffuse sclerosing osteomyelitis (see
Box 6.5
) was noted above. Other examples of such conditions are focal sclerosing osteomyelitis and proliferative periostitis.
Focal sclerosing osteomyelitis (
Box 6.6
) is characterised by sclerosis of the surrounding bone and is commoner in the young and in very longstanding infection.
Box 6.6
• Bony reaction to low-grade periapical infection or unusually strong host defensive response
• Children and young adults affected
• Premolar or molar region of mandible affected
• Bone sclerosis associated with a non-vital or pulpitic tooth
• Localised but uniform radiodensity related to tooth with widened periodontal ligament space or periapical area
• No expansion of the jaw
Pathology
• Dense sclerotic bone with scanty connective tissue or inflammatory cells
Treatment
• Elimination of the source of inflammation by extraction or endodontic treatment
Chronic osteomyelitis in children and adolescents is unusual, but often elicits florid proliferative periostitis as a healing response (
Box 6.7
). Layers of periosteal new bone formation may expand the cortex by up to a centimetre or more in thickness. Vague pain and prominent bony enlargement are the main features and computerised tomography is useful to identify a small focus of chronic infection or sequestration in the expanded bone.
Box 6.7
• Adolescents mainly affected
• Usually associated with periapical but sometimes other inflammatory foci
• Periosteal reaction affecting lower border of mandible causing 'onion skin' thickening and swelling of bone
Pathology
• Parallel layers of highly cellular woven bone interspersed with scantily inflamed connective tissue
• Small sequestra if present
Treatment
• Eliminate focus of infection
• Bone gradually remodels after 6 to 12 months
*Garrè's osteomyelitis is a misnomer. In his original description he made no mention of proliferative changes in the lesion, X-rays had not then been invented and he provided no histological back-up.
Sclerosing osteitis is a term given to a localised area of sclerosis without evidence of infection. These are probably a reaction to inflammation rather than infection and are frequently seen around the roots of non-vital teeth (
Fig. 6.7
) resembling lesions of cemento-osseous dysplasia. No treatment is required other than to remove the causative tooth.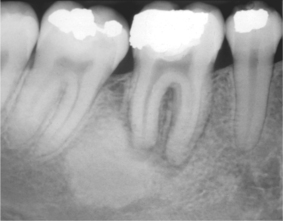 Fig. 6.7
Courtesy of Mr EJ Whaites.
BISPHOSPHONATE-INDUCED OSTEONECROSIS
However, treatment with high-potency bisphosphonates such as alendronate, pamidronate and zoledronate, especially when administered long term and in high doses intravenously, can lead to osteonecrosis.
1
Occasional cases have also been reported following oral administration. Osteonecrosis affects primarily the jaws, usually the mandible.
The mechanisms of necrosis are unclear, but bisphosphonates reduce vascularity as well as inhibiting oseoclasts. It is not known whether the bone becomes necrotic before infection is introduced or whether necrosis results from infection. Typical presenting lesions are either non-healing extraction sockets or exposed bone; they are refractory to conservative treatment and antibiotic therapy. In many patients, dental surgery, particularly extractions, within the previous year appeared to be the precipitating factor. A striking presentation is also painless exposed bone; some patients may develop no acute symptoms or infection for prolonged periods.
Once infection is introduced, the condition develops into acute or chronic osteomyelitis depending on the virulence of the organism and resistance of the patient. The drugs cause reduced bone turnover so that sequestra of necrotic bone separate very slowly and large areas of exposed bone result (
Figs 6.8
and
6.9
). Later complications can include oroantral and cutaneous fistulas with suppuration. Surgical treatment is often not possible; the whole bone is involved.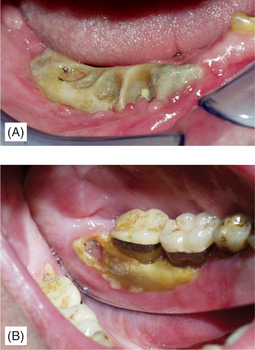 Fig. 6.8
Courtesy Dr J Fantasia. Published in Oral Surgery, Oral Medicine, Oral Pathology, Oral Radiology and Endontology, Vol 102, Ruggiero SL et al, Bisphosphonate-related osteonecrosis of the jaw, pp 433–41, © Elsevier, 2006.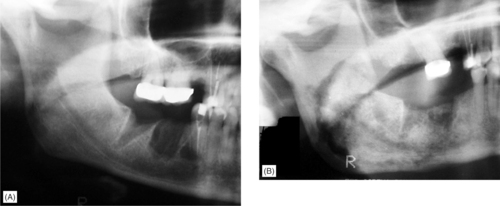 Fig. 6.9
Courtesy Dr J Fantasia. Published in Oral Surgery, Oral Medicine, Oral Pathology, Oral Radiology and Endontology, Vol 102, Ruggiero SL et al, Bisphosphonate-related osteonecrosis of the jaw, pp 433–41, © Elsevier, 2006.
Bisphosphonate osteonecrosis is a recently recognised condition and treatment guidelines are not yet evidence-based. Discontinuation of the bisphosphonates does not appear to help because their effects last at least a year after administration and may be permanent.
First principles dictate that prevention of infection is paramount. Potential problems should be eliminated before bisphosphonate treatment. After administration of bisphosphonates, patients at risk must be identified by medical history and additional predisposing factors sought (
Box 6.8
). Caries and periodontitis must be controlled. Ideally, all surgical dentistry should be avoided for as long as possible after drug administration and there is a role for temporary restorations and interim endodontics. If extractions cannot be delayed, they are probably best followed by postoperative antibiotics and chlorhexidine rinses until the sockets are fully epithelialised. Unfortunately, these precautions are not always successful.
Box 6.8
• Intravenous high-dose bisphosphonate treatment usually for bone metastases or hypercalcaemia of malignancy
• Radiotherapy to head and neck
• Immunosuppression from chemotherapy or steroids
• Dental surgery or sepsis, ill-fitting dentures and poor oral hygiene
When bone is exposed but symptoms are minimal, chlorhexidine mouth rinses reduce pain and the risk of infection. If there is infection or soft tissue swelling, aggressive and long-term antibiotic therapy based on the results of antibiotic culture and sensitivity is required. Sev/>