Chapter 5
Marketing
The Institute of marketing defines marketing as "the management process responsible for identifying, anticipating and satisfying customers' requirements profitably". Dun and Bradstreet claim that 48% of businesses fail because of ineffective marketing.
It is known that some dentists view the application of marketing techniques in their practice as an activity perilously close to breaching professional ethics. One major concern is that marketing involves "hard selling" and involves forms of "persuasion" and "coercion". This misinterpretation of the meaning of marketing is not restricted to the professions. Hugh Davidson, author and a visiting professor at Cranfield School of Management, writing in the magazine Marketing, expressed the view that the "m" word should be replaced because of its "deeply confusing double meaning". He argues that the word fails to distinguish between "the substance of marketing, and its abuse, which stems from its association with spin doctoring, manipulation and the flashier end of selling". His solution is to use the phrase "demand management". It may be that dentists uncomfortable with the "m" word will find its replacement more acceptable. Whatever the choice of phrase, the core principles of marketing remain and their effective application is essential for success in the business of dentistry.
There are a number of ways in which marketing principles can be applied successfully in the business of dentistry.
Word-of-mouth Marketing
In Liberation Management, Tom Peters describes word-of-mouth marketing as "the most powerful force in marketing". He writes that the statement is as true for Boeing as it is for The Body Shop, and the business of dentistry is no different.
Word of mouth marketing is the only promotional method that is of patients, by patients, and for patients. It is the quintessential sign of success. It works for the simple reason that the sender has nothing to gain from the receiver's subsequent actions; it has been determined that 70% of people rely on the advice of others when selecting their doctor or dentist.
It is inevitable that some people will be better positioned to recommend your services than others. They are sometimes referred to as network hubs – researchers like to call them "opinion leaders"; industry calls them "influ-encers". They are individuals who
Have accurate information about your practice.

Receive added value that they attend.

Receive excellent service from you and your team.

Are in a position where others may ask them for advice.

Have direct experience of your responsiveness to their problems.

Believe that you are able to exceed their positive expectations.

Are proud to be associated with your practice.
From a marketing point of view, it is important to try and identify these individuals because they are key players in the grapevine that is word-of-mouth marketing.
Michael Cafferky's belief in word-of-mouth marketing is absolute. Author of Patients Build Your Practice: Word-of-mouth Marketing for Healthcare Practitioners, he makes some interesting observations about the concept:
People like to talk. They talk because they feel.

People like to talk about things of mutual interest.

Some people get listened to more than others.

Word-of-mouth communication is the primary means by which your reputation is spread.

Word-of-mouth is regarded as the best method to signal value to patients.

Word-of-mouth is controlled by your patients.

Patients who spread your reputation can expand and exaggerate your virtues or faults when you cannot.

The central figure in word-of-mouth communication is the "opinion leader". Cafferky suggests that 20–40% of the population are perceived as opinion leaders.

Word of mouth covers the largest proportion of the population compared with any other promotional method.

Negative word of mouth travels faster than positive word of mouth and helps potential patients to discriminate on one or more product/service attributes.
Internal Marketing
Internal marketing consists of those activities in your practice involving the existing patient base that enhance your image and set you apart as being uniquely attractive. Properly executed internal marketing lays the ground for effective word-of-mouth marketing. It compels your patients to tell their family members and friends about your unique and special practice. Here are some internal marketing ideas used in many practices that are said to deliver positive outcomes:
Make follow-up telephone calls in the evening to each patient who has experienced a difficult procedure.

Provide warm towels to start and/or finish each visit. (Clearly an idea borrowed from the airline industry.)

Prepare a practice portfolio in the reception area containing letters of appreciation and "thank you" notes from your patients. (Ask their permission for inclusion first to avoid a breach in confidentiality.)

Prepare a photo portfolio of clinical cases showing "before" and "after" images.

Acknowledge special events in the lives of your patients by appropriate gestures of goodwill – cards or "gifts" which will remind them.

Issue a welcome pack to all new patients.
External Marketing
External marketing includes the range of activities you undertake which are targeted to potential new patients outside your practice. It also includes a range of promotional initiatives that are discussed later in this chapter.
Marketing Strategy
The marketing strategy particularly relevant to the business of dentistry includes:
The SWOT analysis
Any organisation must have an understanding of its strengths and weakness and a sense of direction and purpose if it is survive in business. The business of dentistry is no exception. The practice image and its strengths and weaknesses must be carefully studied. Objective assessments can be made using the SWOT analysis, a tool for marketing audit. This analysis helps to identify the strengths and weaknesses of the practice and its team as well as possible opportunities and threats. A typical SWOT analysis should answer some key questions (see Fig 5-1).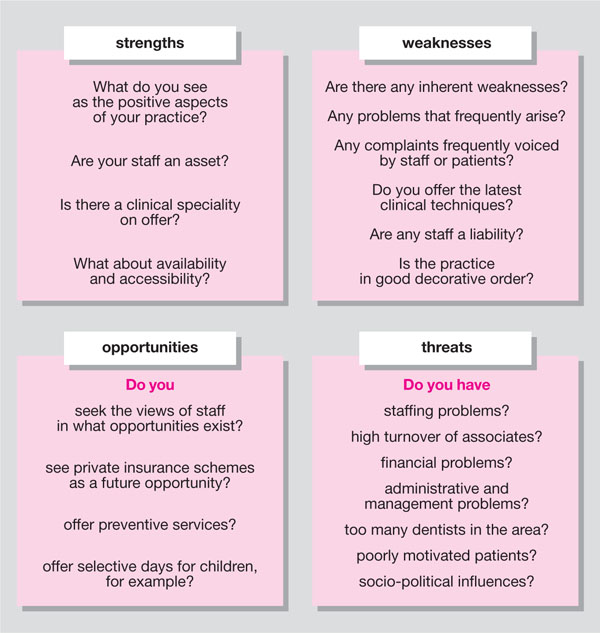 When considering opportunities and threats, your analysis of the situation can be helped by trying to order your thoughts in a meaningful way. One way to do this is to use a matrix format (see Figs 5-2 and 5-3). The threat matrix is a reminder that we should not focus on concerns that fall into quadrant 4 – those that pose little threat and are unlikely to occur. In contrast, threats in quadrant 1 demand a strategic approach to include an element of contingency planning.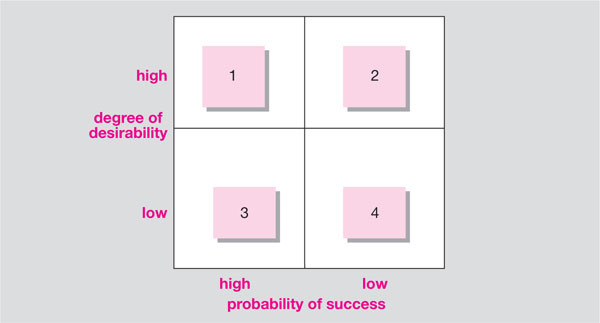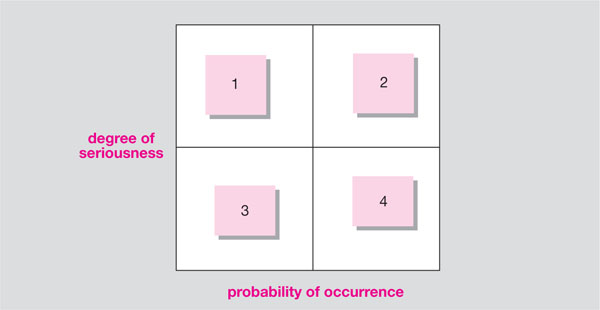 The PEST analysis
This is a tool for analysing the likely impact of environmental change on the organisation. PEST stands for:
Political/legal

Economic/competitive

Social/cultural

Technological.
The PEST analysis can be used to identify any factors under each of the four headings that may have an impact on your practice and the significance of those factors. For example, changes in government policy may affect the extent and nature of the range of treatments that may be available under, for example, the NHS.
Changes in the economic climate can have a direct impact on spending power amongst patients. The extent of the impact will vary from one part of the country to another and can also vary within a local community. The so-called "feel-good factor" amongst home owners when interest rates are low and house price inflation is high is one example of how the state of the economy affects the mood of consumers.
Social changes can also affect your practice. More women now go out to work and people are tending to work longer hours. This could have an affect on when your practice is open. It is known that couples are waiting longer before they start a family and in some areas the role of the extended family is greater than in others. For example, in one practice limited to orthodontics, the dentist made the observation that almost 30% of the private fee income for the practice was derived not from the parents of the children he treated, but the grandparents. Local factors can be very important and it is important to be aware of the social trends in your area.
Technology has made a huge impact on our lives and you should be aware what impact the age of information technology and the Internet will have on your practice. Does your practice reflect this modern age or do you need to invest to deliver the increase in expectations from your patients?
The marketing mix
The marketing mix concept is long established. It consists of a range of ingredients that can be blended to create a unique mix for your practice. The mix should be unique to the practice and its environment and help achieve your vision for your business. In other words, the ingredients should be blended to suit your objectives and priorities in much the same way as a chef blends ingredients to achieve the desired result. The ingredients of the marketing mix are shown in Fig 5-4.

The product
The products and services offered by your practice should aim to satisfy patient needs. The quality of the products of dentistry (restorations, root canal treatments, for example) may not be always obvious to patients. The same is true of some clinical outcomes. For example, a patient may fail to recognise the quality of treatment where there has been resolution of an apical area following root canal treatment unless the patient has been equipped with the necessary information to make that judgement. What is tangible to the dentist may therefore be intangible to the patient. The patient will, however, demand elements of quality in the manner in which the treatment was provided.
The product in the business of dentistry comprises three elements. These are the product's attributes, its benefits and the service elements related to its delivery. They are shown in Fig 5-5./>