43
Luting Agents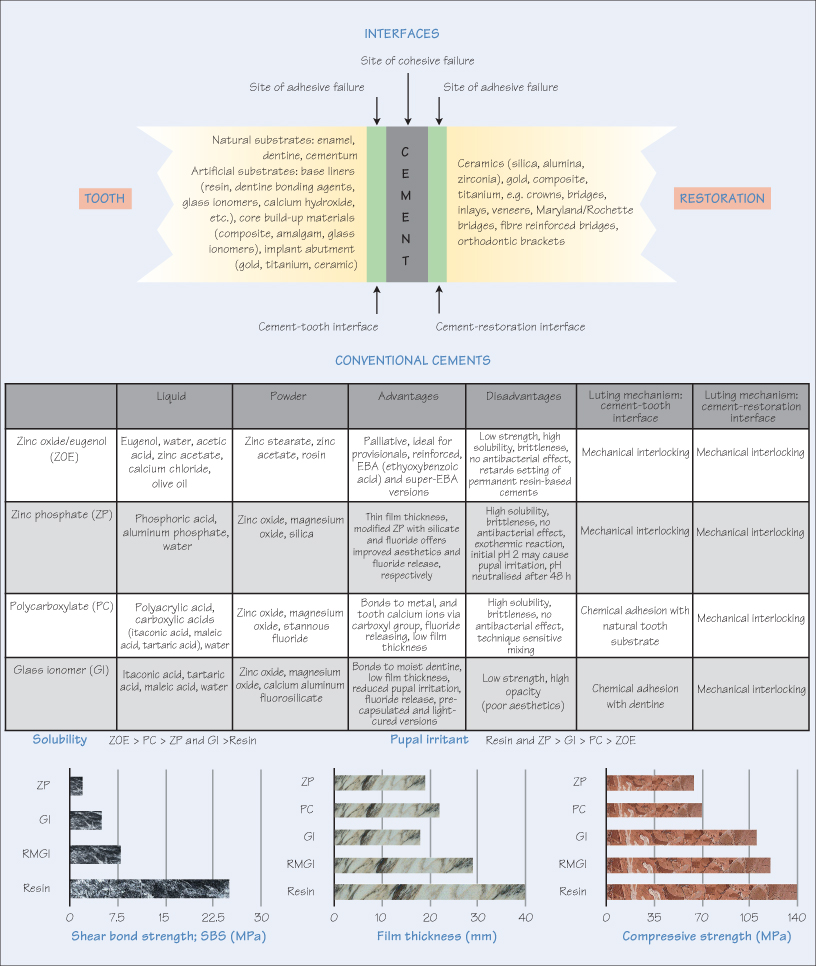 Luting agents or cements are used for retaining indirect restorations on teeth or implant abutments. The functions of a luting agent are:
Retention

for preventing dislodgement of the restoration. However, retention alone is insufficient for success. A restoration may be in situ but, if microleakage is present, this may lead to pulpal and gingival irritation, requiring removal of the offending restoration;

Hermetic seal

between the tooth and restoration to minimise

microleakage

, prevent secondary caries and pulpal and gingival inflammation. In addition, an efficacious seal retards

dentinal fluid movement

, mitigating hypersensitivity;

Resist oral functional

and

parafunctional forces

, which are particularly significant for tooth preparations with inadequate resistance form.
Mechanism
The cementation mechanism of cements is classified as:
Non-adhesive

or

mechanical interlocking

retention by engaging tooth surface and restoration intaglio surface irregularities, measuring

20–100 µm

. This mechanism is applicable for all dental cements;

Micromechanical

'adhesion' is engaging finer surface irregularities of <

2 µm

created by etching, air abrasion, and usually in combination with a dentine bonding agent (

DBA

), to form a

hybrid layer (0.5–10µm)

– discussed in Chapter 45;

Chemical (molecular) adhesion

by

bipolar

,

Van der Waals forces

and

chemical bonds

, which is the ideal adhesion, and contemporary cements strive to achieve this ideal.
Interfaces
The mechanism of retention by cements can broadly be termed luting or bonding. Luting provides non-adhesive retention, while bonding implies a closer approximation of the cement with the tooth and restoration, which includes micromechanical and