34
Surgical techniques: implants placed in postextraction sites
The standard dental implant protocol corresponds to a late implantation, i.e. implant placement after complete bone healing of the extraction site. This means that the postextractional phase is no less than 24 weeks in standard clinical situations. Surgical alternatives have been explored to reduce the length of the treatment, leading to immediate, immediate-delayed and delayed implantation procedures, whose background is now documented (Chen & Buser, 2008). All the postextraction procedures shorten the treatment time. In addition, the immediate implantation procedure improves patient comfort because only one surgical procedure is required for both tooth extraction and implant placement.
Definitions
(Figure 34.1 indicates the time of implant placement (Esposito et al., 2010))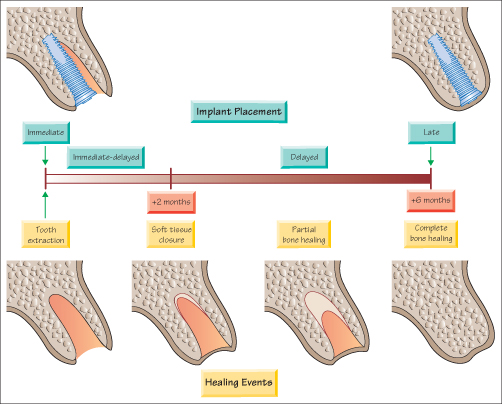 Immediate implantation: implant placement within the extraction socket at the time of the extraction.
Immediate-delayed implantation: any implant placed in an extraction socket within 8 weeks after tooth extraction, i.e. after soft tissue closure of the extraction site.
Delayed implantation: implant placement at least 2 months after tooth extraction, i.e. after soft tissue closure and partial bone healing.
Outcomes
It has been shown that the ISRs with postextraction procedures are comparable to those of the standard procedure (Chen & Buser, 2009). Immediate and immediate-delayed implants may be at higher risk for implant failures and complications than delayed implants (Esposito et al., 2010).
Rationale
From a biological point of view, the fresh extraction socket does not preclude the osseointegration process. However, following implant installation in fresh extraction sockets, the resorption process of the buccal and lingual bony walls still continues to a level similar to that of an edentulous site (Botticelli et al., 2004; Araujo et al., 2006; Sanz et al., 2010).