37
Bone augmentation: guided bone regeneration
Rationale
Membrane barriers are employed to create sufficient bone availability for dental implant placement. It has been shown that ingrowth of soft tissue may disturb or totally prevent osteogenesis in a defect or wound. Guided bone regeneration (GBR) procedures allow spaces maintained by barrier membranes to be filled with bone.
The procedure aims to:
stabilize the blood clot
prevent growth of soft tissue cells (connective tissue and epithelium) into the bone defect
allow spaces maintained over the defect to be filled with bone progenitor cells that may develop bone uninhibited.
Products and Devices
A wide range of non-resorbable and resorbable membrane materials has been used (Fig. 37.1). There is no evidence to support or refute the superiority of a specific membrane (Klinge & Flemmig, 2009). The membranes have different advantages and disadvantages depending on whether they are resorbable or not (see Appendix N, Table N.1).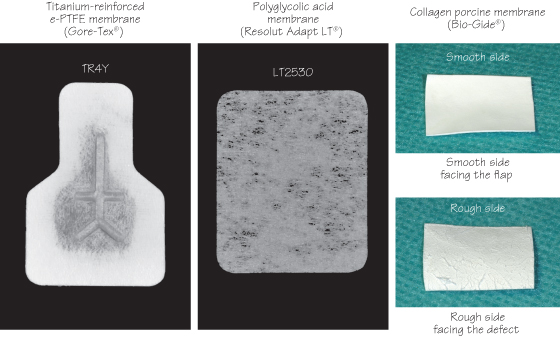 Non-Resorbable Membranes
Titanium-reinforced e-PTFE membranes (Gore-Tex®) are the gold standard. They are space-maintaining membranes, i.e. they do not require the use of a supportive material.
Resorbable Membranes (Syn. Bioresorbable or Bio-Absorbable Membrane)
Xenogenic collagen membranes (Bio-Gide®) and polyglycolic acid membranes (Resolut®) have been used extensively. They are not space-maintaining membranes and cannot be used without a supportive material, except when the defect is space making by itself.
The majority of the membranes remain substantially intact for 8–24 weeks depending on the product. The membranes are available in different sizes.
Technical Procedures
Guided bone regeneration procedures are difficult to perform. The skills and experience of the clinician ar/>