33
Hypodontia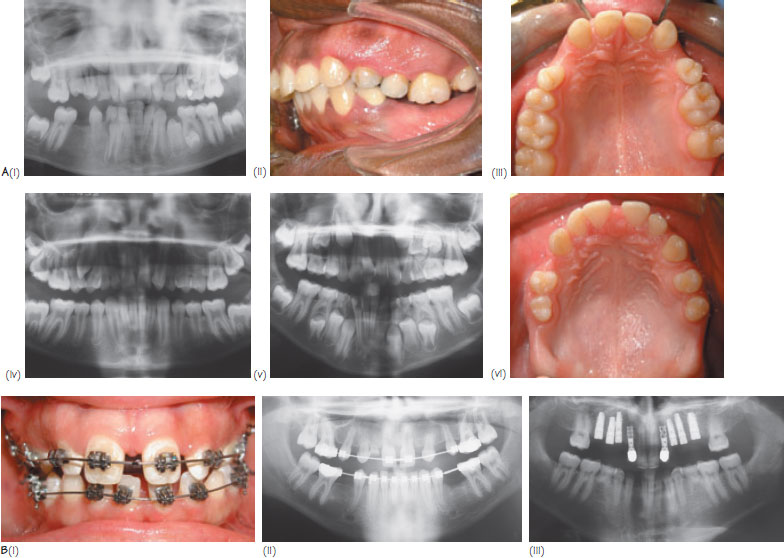 Hypodontia is the term used to describe the developmental absence of one or more primary or secondary teeth, excluding third molars. The third molars are excluded as they are commonly missing to varying degrees in 20–25% of people. Hypodontia can be associated with a number of dental anomalies and some medical conditions. It may be classified, according to its severity as:
Mild (1–2 missing teeth)
Moderate (3–5 missing teeth)
Severe (≥6 missing teeth)
More than 80% have mild, ≤10% moderate and ≤1% severe hypodontia. The prevalence of hypodontia in the primary dentition is 0.3–0.9% with the maxillary and mandibular lateral incisors being most commonly missing. The absence of a deciduous tooth increases the likelihood of the permanent successor also being absent. The prevalence of hypodontia in the permanent dentition is between 3.5% and 6.5%. Ethnic variation exists, with the common missing tooth types in Caucasians being lower second premolars > upper lateral incisors > upper second premolars > lower central incisors. In some Asian populations, the lower central incisors are reported to be most commonly missing. Overall, females are more commonly affected by hypodontia than males (F:M = 3:2).
Aetiology of hypodontia
The aetiology of hypodontia is multifactorial with both genetic and environmental influences. Genetics is important as there is often a family history of hypodontia. An example of an environmental factor is the absence of a maxillary lateral incisor associated with a cleft palate where the cleft causes a localised disruption of the dental lamina.
Oral anomalies associated with hypodontia
Features often associated with hypodontia include:
A skeletal III pattern, due to a retrusive maxilla, and a reduced lower anterior face height (LAFH). The likelihood of this in/>