30
Cast Metal Alloys, Titanium and Resin-Based Composites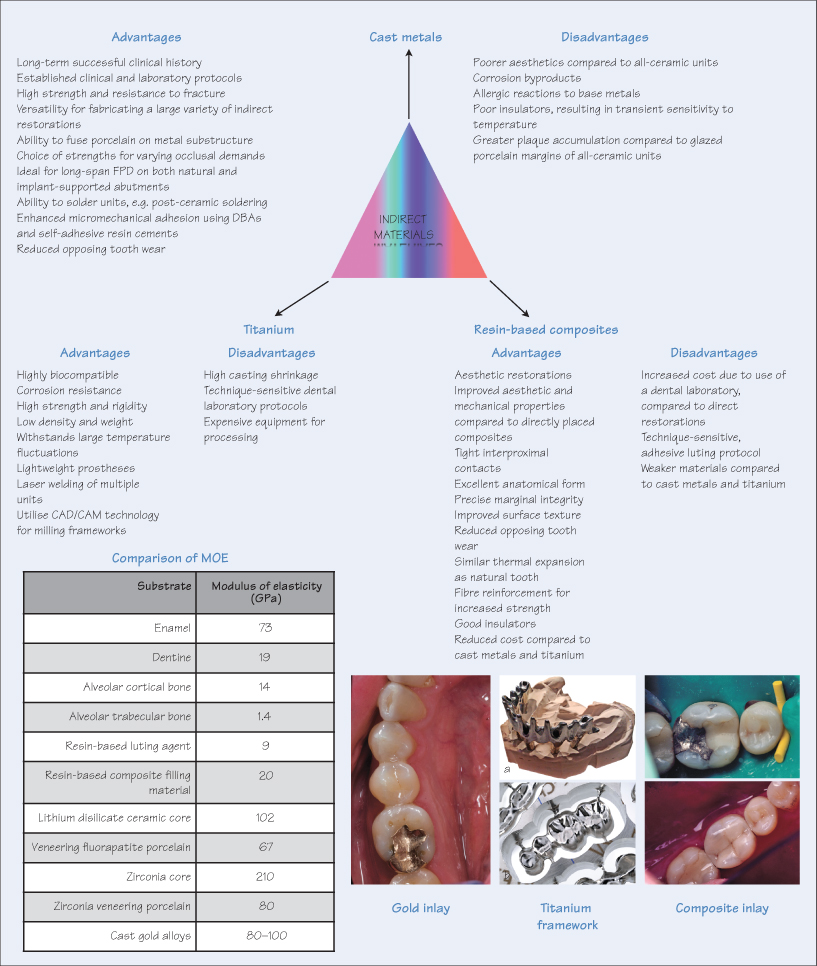 Several materials are available for indirect restorations including cast metal alloys, titanium, resin-based composites and ceramics. Traditionally, metal alloys were the ideal choice for indirect restorations, but recent material advances are rapidly changing this paradigm, making composites and ceramics formidable contenders for clinical suitability and longevity. This chapter discusses cast metal alloys, titanium and resin-based composites, while Chapter 31 elaborates on ceramics.
The success and longevity of any restorative materials depends on:
Patient factors

– oral hygiene, patient constitution and medical history;

Material properties

– strength, wear, biocompatibility, marginal integrity, physical and chromatic stability, resilience for resisting occlusal forces and retaining anatomical form, and prevention of secondary caries;

Clinical technique

– material manipulation, placement and maintenance.
Strength of Restorative Materials
Ideally, a restorative material should mimic the physical, mechanical and optical properties of the tissue it is replacing. The modulus of elasticity (MOE) plays a pivotal role in determining the success or failure of a material, and the surrounding or underlying natural tooth substrate. Restorative materials with similar MOE to dentine, such as resin-based composites, absorb stresses, allowing dissipation by dentine, the periodontal ligament and surrounding alveolar bone. Conversely, rigid material with an MOE similar to enamel, such as ceramics, are more stress-resistant and transfer forces to the weaker material, i.e. dentine, making the tooth more susceptible to root fracture.
Cast Metal Alloys
The most frequently used cast metals in dentistry are high noble content gold alloys, which can be classified as:
Type I
– low strength for small inlays and intraradicular posts;
Type II
– medium strength for large inlays and onlays;