22
Coronal Support: Core Build-Up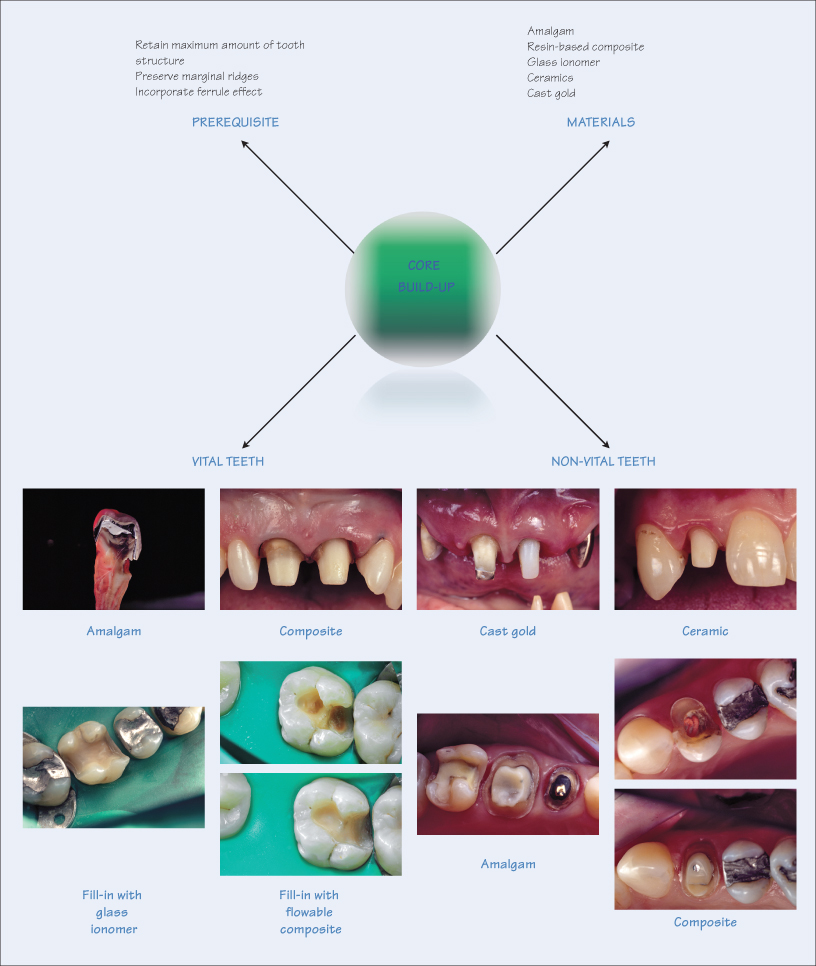 The purpose of a core build-up is to provide retention and resistance for definitive, usually extracoronal, restorations. The final restoration can be partial or full coverage depending on the amount of residual tooth substrate. Cores can be built up on either vital or non-vital teeth, which have previously received a post to gain additional intraradicular support from the endodontically treated root.
Ideal Properties of a Core Build-Up Material
At present, a single restorative material does not offer all the ideal properties of a core build-up material, which are:
Adequate

physical properties (flexural and compressive strength)

to resist intra-oral forces;

Non-allergenic

;

Biocompatible

;

Preventing microleakage

of oral fluids at core-tooth interface;

Chemical adhesion or bonding

to tooth substrate, both enamel and dentine;
Similar

thermal properties

to natural teeth (

coefficient of thermal expansion

and

contraction

);
Minimum

water absorption

;

Dimensionally stabl

e;

Cariostatic

;

Ease of manipulation

.
Materials for Core Build-Up
The essential factor for a successful and long-lasting core, irrespective of the material used, is ensuring that at least 1.5 mm of dentine is present for the ferrule effect. The most popular materials for core build-ups are amalgam, resin-based composite, glass ionomer, ceramics and cast alloys.
Amalgam has traditionally been used as a build-up material, offering excellent strength, low solubility and bonding by micro-mechanical retention to dentine using dentine bonding agents (