21
Visitors, Locums and Contractors
Principles of Safe Working Practices
As discussed throughout this manual, the health and safety of anyone entering the premises must be managed 'so far as is reasonably practicable'. You will already have systems and procedures in place to safeguard and therefore protect your permanent employees and your patients. However, there are additional factors to consider for visitors, locums (temporary staff) and contractors.
Health and Safety at Work etc. Act 1974:

Employers and controllers of premises are required to ensure, so far as is reasonably practicable, the health, safety and welfare of all employees and protecting persons other than those at work against risks to health and safety arising out of or in connection with the activities of persons at work.

Management of Health and Safety at Work Regulations 1999:

Employers to make suitable and sufficient assessments of risks to health and safety of employees and persons not in his employment to identify the measures needed to remove the risks or reduce to an acceptable level and set up effective management systems to prevent and protect all those who may be affected.

The Occupiers' Liability Act 1957 and 1984:

The Act places a duty on occupiers, in terms of civil liability, to take reasonable care of visitors who are invited to or permitted on their premises. Visiting children should be expected to be less careful than adults. This duty extends to unlawful visitors, for example trespassers if the occupier is aware of the danger.

Conduct of Employment Agencies and Employment Businesses Regulations 2003:

The 'hirer', person/host organisation who the temporary worker is supplied to, should take into consideration that the locum will be unfamiliar with the premises and safety procedures within the organisation.

Construction (Design and Management) Regulations 2007 (CDM 2007):

The employer referred to as the Client, should ensure that construction work does not start until the competency of those involved has been assessed and a health and safety plan is in place.
Individuals have a common duty of care to protect those who may be affected by their activities. It is essential people understand their shared duties and are made aware of their responsibilities at the start of the visit or prior to commencement of any work. Cooperation between all parties is an essential aspect of health and safety management and should be a two-way process. In this chapter, we will address the health and safety management and shared responsibilities of all parties concerned.
This section does not relate to patients as you will already have a system in place to keep track of who is attending for dental treatment and when they arrive and leave. If your practice is safe for employees then it should be safe for visitors. However, there are separate arrangements that should be in place for visitors as they will be unfamiliar with the workplace and emergency procedures. The following procedure should be carried out from the start of the visit until they leave your premises.
Establish identity of person, who they are representing and ask for identification.
Confirm purpose of visit and person they are visiting.
Ask them to complete a visitors' book or issue a visitors' pass (Figure 21.1).

Please note that a visitors' book does not ensure confidentiality of information; therefore, a visitors' pass may be more appropriate.

Provide a safety card (Figure 21.2).
Briefly inform them of safety arrangements (reinforce contents of Figures 21.1 and 21.2).
Tell them about restricted areas and what amenities are available, for example, toilets.
Inform them of any 'special arrangements' applicable to the purpose of their visit.
Assign someone to be responsible for the visitor.
Supervise/accompany visitors at all times for their safety.
Inform and train staff routinely on how to manage the evacuation of visitors (consider people with special needs, e.g. disabled visitors) and how to deal with those who enter restricted or prohibited areas.
If construction work is taking place at the time of the visit, provide the visitor with the necessary personal protective equipment (PPE) as identified in the risk assessment.
Ensure visitors 'sign out' or return the visitors' pass to reception before leaving.
All of the above should be an arrangement in Part 3 of your Health and Safety Policy.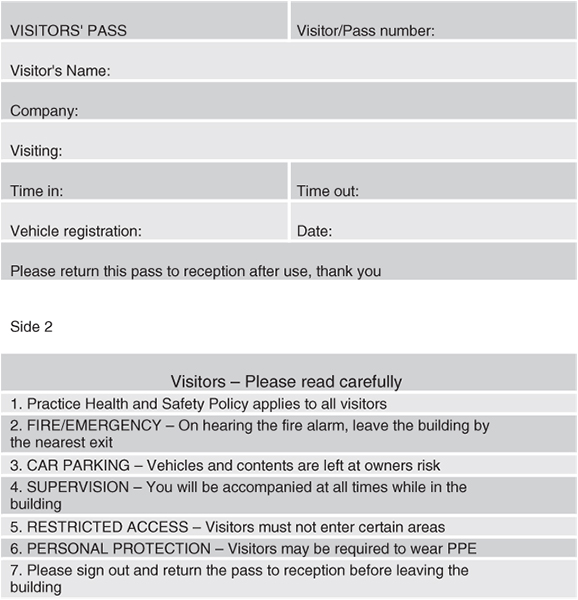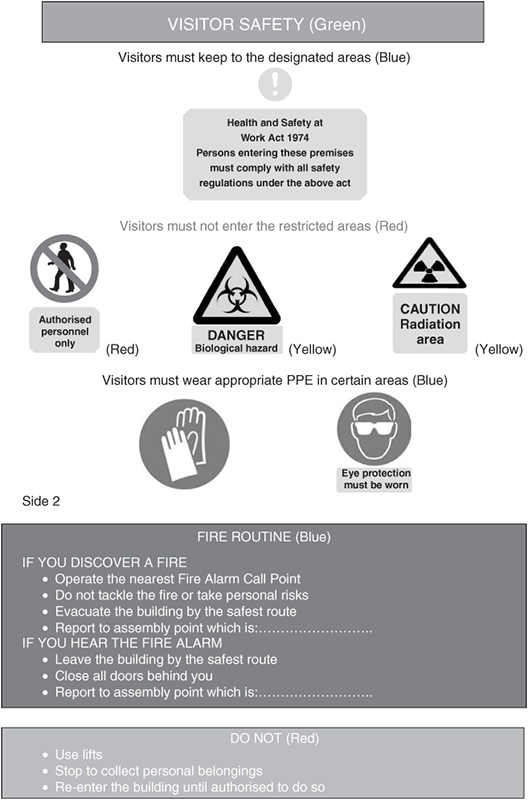 Visitors should be provided with information on any health and safety risks and the control measures designed to protect them, and should be informed about emergency procedures. Signs and notices should be displayed in prominent places so that they are clearly visible to visitors.
Locums are those who are/>