11
Lone Working
The way dental settings operate and the demands placed on service providers have changed considerably over the last few years. This has led to an increasing number of dental professionals working alone. Working alone can create additional health and safety risks and employers are required to manage the risks that lone workers may be exposed to, just as they manage risks for all other employees. There are no legal duties to prohibit lone working; however, an appropriate safe system of work must be determined and communicated to the person/s who are working alone.
The Working Time Regulations 1998 (WTR) (as amended):

Employers have a general duty to ensure that people who are working alone work appropriate hours with adequate rest and keep records to show that the regulations are being complied with.

Health and Safety at Work etc. Act 1974:

Employers must provide and maintain safe systems of work, which are, so far as is reasonably practicable, without risks to health, this covers the safety of lone workers. In addition employees must take reasonable care of themselves when working alone and not knowingly do anything that could put them at risk.

Management of Health and Safety at Work Regulations 1999:

Employers must undertake suitable and sufficient assessments of risks to the health and safety of employees and implement reasonable controls. The risk could be increased because the person is working alone.

Health and Safety (First Aid) Regulations 1981:

Employers should make an assessment of first-aid needs appropriate to the circumstances of the workplace and make available equipment and facilities enabling first-aid to be rendered. Lone workers may require first-aid training to satisfy this need.
Working alone refers to people who work by themselves without the support of their colleagues or without the direct supervision of their manager for a period of time. In a dental environment, this is most likely to include the following:
Cleaners who carry out their duties either before the practice opens or after it has closed
Practice managers who often arrive early and leave later than others because of business demands
Peripatetic staff who are mobile and travel to different sites
Personnel who work from home periodically
Domiciliary staff who work in someone else's residence
Dental technicians who often work in a laboratory on their own
Dental professionals who work on-site on their own, that is, access centre staff
Under the Management of Health and Safety at Work Regulations there is a general duty to assess risks to which employees may be exposed. In the case of lone workers the risks may differ in nature. This involves identifying hazards associated with the work, considering the risk factors, assessing the level of risk and determining safety measures aimed at removing or controlling the risk (Figure 11.1). While it may be considered that lone working is a relatively low-risk situation for the dental team, risk assessments should be conducted in order to ensure the health, safety and welfare of the lone worker and to put reasonable and appropriate controls in place.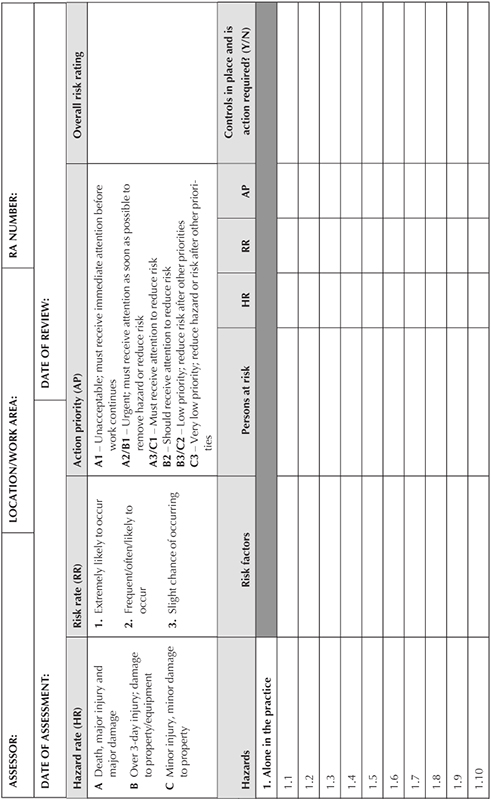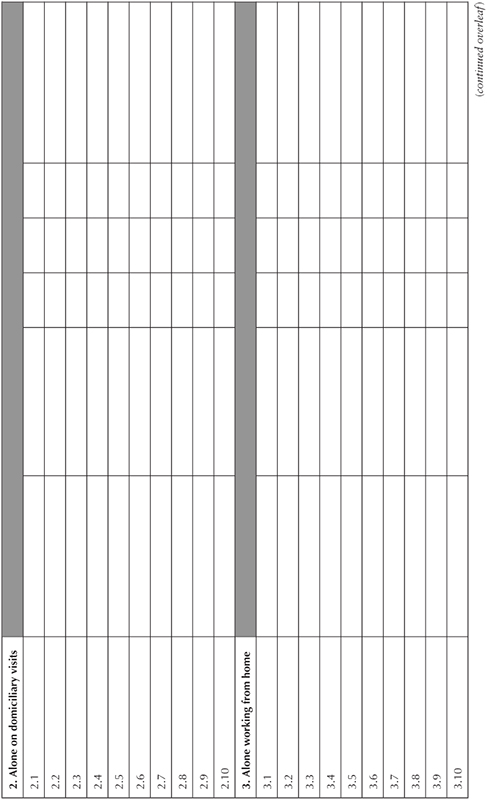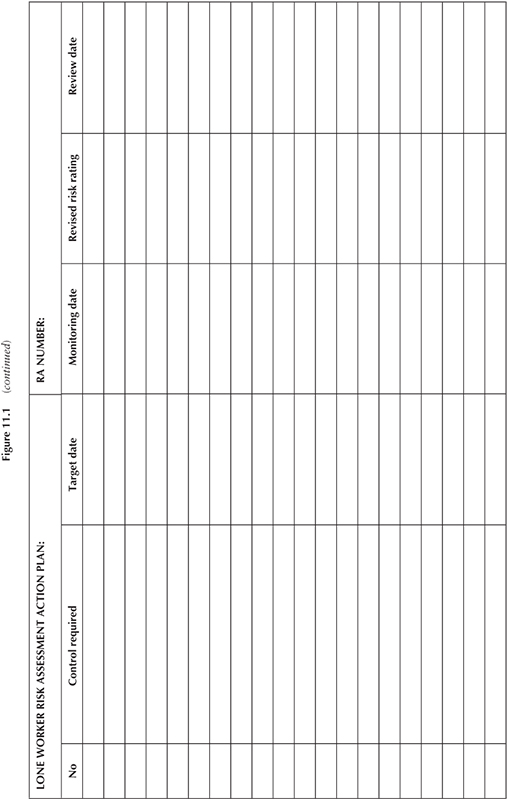 Hazards to Lone Workers
The following points describe those situations which have the potential to cause harm in a lone working situation:
Personal security
Theft
Criminal damage to equipment/vehicles
Working in domestic/home premises
Environmental issues