CHAPTER 2. Disorders of development of the teeth and related tissues
Box 2.1
• Formation of a full complement of teeth
• Normal structural development of the dental tissues
• Eruption of each group of teeth at the appropriate time into an adequate space
• Normal development of jaw size and relationship
• Eruption of teeth into correct relationship to occlude with their opposite numbers
Significant structural defects of teeth are uncommon, but disorders of occlusion due to irregularities of the teeth in the arch or abnormal relationship of the arches to each other are so common that their treatment has become a specialty in its own right. The main groups of disorders affecting development of the dentition are summarised in
Box 2.2
and
Summary chart 2.1
and
Summary chart 2.2
.
Box 2.2
• Abnormalities in number
Additional teeth (hyperdontia)
• Developmental anomalies of several dental tissues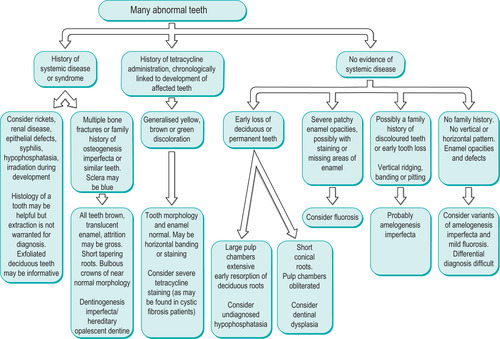 Summary chart 2.1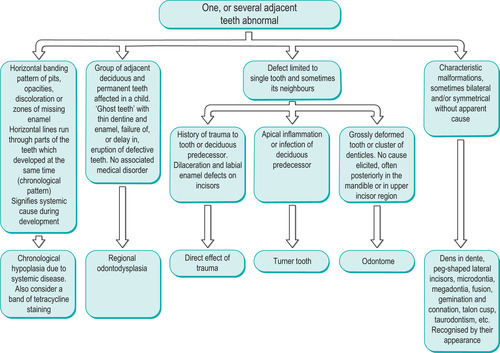 Summary chart 2.2
ABNORMALITIES IN THE NUMBER OF TEETH
Isolated hypodontia or anodontia
Failure of development of one or two teeth is relatively common and often hereditary. The teeth most frequently missing are third molars, second premolars or maxillary second incisors (
Fig. 2.1
). Absence of third molars can be a disadvantage if first or second molars, or both, have been lost. The absence of lower premolars worsens malocclusion if there is already disparity between an underdeveloped mandible and a normal upper arch. Otherwise, absence of these teeth may have little or no noticeable effect.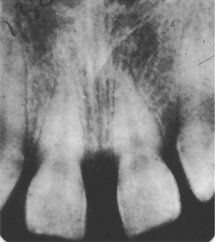 Fig. 2.1
Absence of lateral incisors can sometimes be conspicuous because the large, pointed canines erupt in the front of the mouth beside the central incisors. It is usually impossible to prevent the canine from erupting into this empty space, even if the patient is seen early. It is also very difficult to make room between the centrals and canines by orthodontic means to replace the laterals. An attempt has often therefore to be made to disguise the shape of the canines.
Total failure of development of a complete dentition (anodontia) is exceedingly rare. If the permanent dentition fails to form, the deciduous dentition is retained for many years but, when these deciduous teeth become excessively worn or too much damaged by caries, then they must be replaced by dentures or implants.
Hypodontia or anodontia with systemic defects