17
Radiographic Consideration for Endodontic Teaching
Preclinical Exercises
Tell me and I'll forget;
Show me and I may remember;
Involve me and I'll understand.
Chinese proverb
Preclinical Endodontics
Preclinical exercises increase the knowledge of endodontic procedures. Therefore, enough time should be provided for this part of the student's education. The knowledge and understanding of the "hidden" view in endodontics will increase confidence of the dental students. With the use of the operative microscope, cone beam computed tomography (CBCT), and micro computed tomography (CT) scan, the complex dental anatomy can be predictably evaluated. Unfortunately, these sophisticated technologies are not universally available in all teaching facilities.
One of the challenges in contemporary dental education is to achieve a smooth transition from preclinical teaching environments to patient-care clinics in a cost-effective manner. Preclinical endodontic courses should provide a unique learning environment that enables the student to perform endodontic treatment on extracted teeth, mounted in a typodont, and to be involved in diagnosis and treatment-planning discussions. The typodonts should have a special design to allow radiographic examination, rubber dam placement, endodontic instrumentation, and obturation (Pileggi and Glickman, 2004).
Initially, the student should become familiarized with endodontic treatment by first working in transparent teeth and then extracted natural teeth.
The student should then progress using the typodont and simulating the clinical environment (Basrani, 1988).
Internal Anatomy
One way to understand the internal anatomy of teeth is by taking radiographs of the extracted teeth with two different angulations (buccal-lingual and mesial-distal) and then seeing the discrepancies that exist with these two views. If conventional radiographs are used, it is possible to take the two views in one film. The technique allows two images of the same tooth. The technique uses a conventional film which is folded in two with lead foil secured between the two halves. The extracted tooth is placed on the film and the radiograph is taken. With careful positioning of the film and thoughtful beam angulation, the first image is exposed, and the film is then turned so that the unexposed side is adjacent to the tooth and a second exposure is taken at a different angulation. Following conventional processing, the two images of the same tooth appear side by side on the same film (Figure 17.1).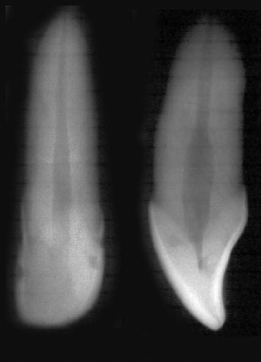 Radiographic Series of Endodontic Treatment in a Preclinical Setting
1.
Preoperative radiograph
:
The preoperative radiograph in a preclinical setting will help in identifying the outline of the roots, studying the anatomical structures of the pulp chamber and the root canals, and calculating the estimated working length.
2.
Trial file or working length radiograph and post access radiograph
:
This is taken to confirm the estimated working length. It is recommended that for optimal visualization and identification, files # 15 or higher should be used inside the canals. This radiograph with the two views will also help to define the access as well (
Figure 17.2
).When rectification of the a/>