17
Policy
It is strongly advised that you read this chapter in conjunction with Chapter 12 in order to develop the Health and Safety Policy.
All dental establishments, regardless of the size or number of people employed, must have a policy for managing health and safety. Where five or more people are employed at any one time, the policy must be in writing. The policy must be brought to the attention of all employees and reviewed and revised as and when necessary. A clearly defined policy that is used in the day-to-day operations of the organisation assists employers in complying with legislation and maintaining workplace standards. In addition, it demonstrates the commitment of the employer to the health, safety and welfare of all persons who might be affected. Employers are required to consult with their staff prior to implementing or revising a policy; this provides the opportunity for people to discuss, seek advice and take an active part in ensuring that the policy is workable.
Health and Safety at Work etc. Act 1974:

Requires employers, who employ 5 or more people, to prepare and as often as may be appropriate, revise their written health and safety policy and bring the statement and any revisions to the notice of all employees.

Employers Health and Safety Policy Statement (Exception) Regulations 1975:

Employers who employ less than 5 people at any one time are exempt from the requirement to have a written health and safety policy.

Management of Health and Safety at Work Regulations 1999:

Requires employers to arrange for the effective planning, organisation, control, monitoring and review of health and safety measures. Where 5 or more are employed these must be documented.

The Health and Safety (Consultation with Employees Regulations) 1996:

Requires employers to consult with employees when health and safety arrangements are formulated, implemented, monitored and reviewed.

The Information and Consultation of Employees Regulations 2004:

Requires employers of larger organisations, where more than 50 people are employed, to make or amend arrangements to inform and consult the workforce on issues which affect them.
Health and safety in the dental practice needs to be managed, and the process must be structured, factual and tangible. The policy should influence all activities, including recruitment and selection of staff and all working methods. It should be reviewed and revised as and when appropriate and the revisions brought to the attention of all employees and other interested parties. The policy should consist of a series of documents that clearly state what the practice's aim is and how the practice intends to achieve the aim. This should be done through a series of objectives, to ensure the health, safety and welfare of all employees and non-employees. These documents should be 'user friendly', practical and specifically tailored to your practice needs; the individual documents will formulate the practice's Health and Safety Policy.
Step 1
When preparing your Health and Safety Policy for the first time, it is helpful to reflect on the working arrangements and procedures that you already have in place. This will help you determine if they are being carried out to an acceptable professional standard (Figure 17.1).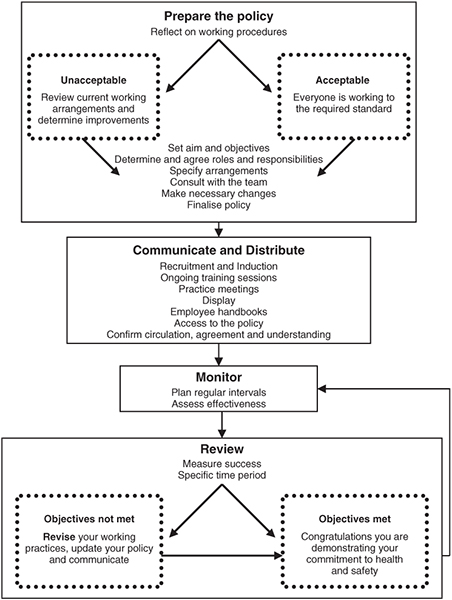 Step 2
The next stage is to set a clear aim and a series of objectives, covering the working arrangements and procedures, which state your commitment to health, safety and welfare. You will need to decide and agree on individual roles and responsibilities – everyone must have a responsibility; however, this will vary throughout the organisation and is usually dependent on seniority and competence. When deciding on who is going to do what, you must ensure that the person is trained and competent to fulfil that role and that he/she is in agreement with undertaking that role and you may need to provide training. The practice owner/most senior person will have overall responsibility. The day-to-day implementation of the policy could be delegated to the practice manager but accountabilities cannot be deleg/>