13
Treatment Planning: Decision-Making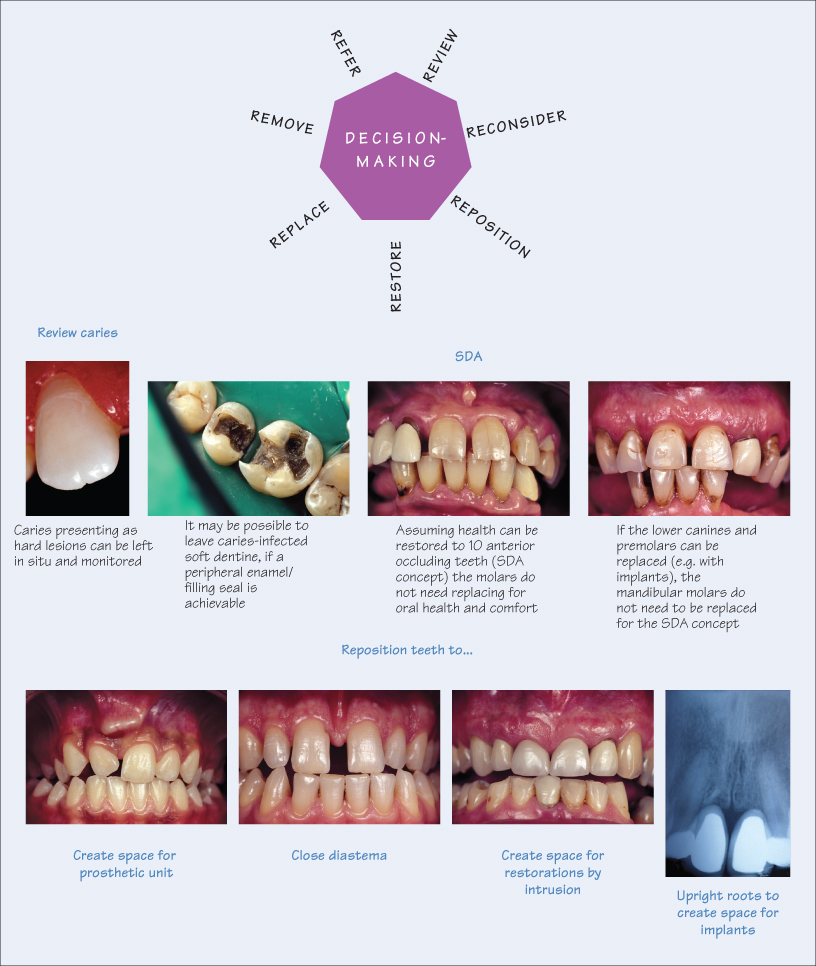 Decision-making is crucial at the treatment planning stage. When presented with oral disease (of the hard or soft tissues), the options available are:
Review

– e.g. caries or periodontal disease;

Reconsider

– e.g. retain edentulous spaces (

shortened dental arch

concept);

Reposition

– orthodontic appliances for realignment, closing or gaining space;

Restore

– with direct or indirect restorations, root canal therapy, etc.;

Replace

– replace existing restorations, or close edentulous space(s) with removable, fixed or implant-supported prostheses;

Remove

– extract, with or without bone and soft tissue grafting;

Refer

– to specialist for advice or treatment.
Very often, a combination of the above is indicated to arrive at a treatment plan with a multidisciplinary approach. Many of the options listed above are discussed in subsequent chapters. This chapter concentrates on a few issues that should be addressed during the planning process.
Review (Monitor) Caries
Traditional teaching is dogmatic about removing all carious lesions, whether they present as hard or soft enamel/dentine lesions. However, research has shown that hard lesions can be left in situ and monitored for progression before considering a filling. For example, non-cavitated occlusal caries can either be fissure sealed, or periodically coated with chlorhexidine/fluoride varnish to arrest the lesion or allow remineralisation.
Similarly, a shift in attitude is beginning to emerge regarding caries that presents as soft dentine lesions. The conventional approach is that caries-infested soft dentine be 'completely' removed until sound or hard dentine is reached, and restored with a suitable filling. The new approach is that infected soft dentine can be left, and the cavity restored with a filling. The rationale for this is that it is impossible to remove all bacteria from a lesion, and attempting to do so may result in pulpal exposure. So long as the cavity margins have intact enamel (decay-fre/>