11
Plaster Casts and Additive Diagnostics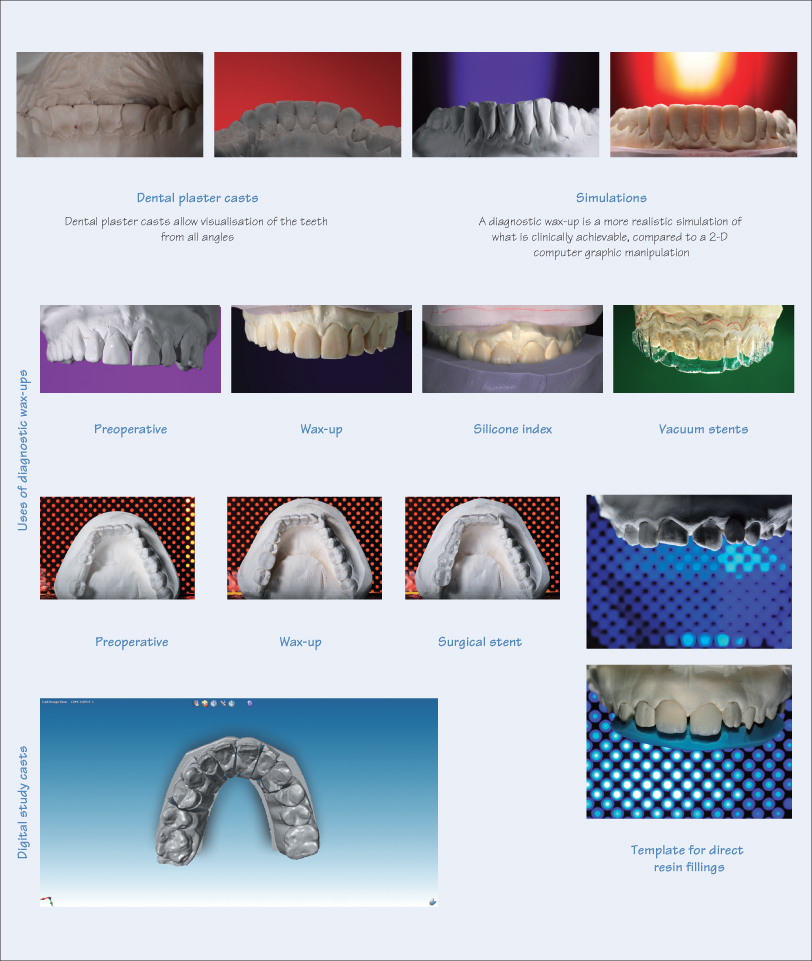 Dental casts, often referred to as study models, are pivotal for diagnosis and prosthodontic treatment planning. They provide essential information regarding tooth number, alignment and morphology as well as arch form and relation of the dentition to adjacent soft tissues and the jaws.
Dental Casts
Dental casts are produced by making an impression and pouring plaster to recreate the dental arches and surrounding anatomy. It is customary to incorporate bases for ease of manipulation and storage.
Unmounted casts (without an articulator) serve as essential pretreatment documentation. In addition, teeth can be visualised from all angles, which is usually difficult during an intra-oral examination. Hand-held pairing of the maxillary and mandibular casts permits a limited assessment of occlusion, and a thorough analysis is only possible when the casts are mounted on a dental articulator.
Mounted casts are an ideal method for carrying out a detailed analysis of static occlusion, and dynamic occlusion by simulating mandibular movements in various excursions. The type of articulator on which to mount the casts depends on the extent of analysis and complexity of the treatment. For most purposes, a semi-adjustable articular is the recommended choice.
Diagnostic Wax-Ups
After performing an occlusal and aesthetic analysis, treatment options can be prepared and discussed with the patient. A useful method for visualising proposed restorative prostheses is simulation in wax or composite, referred to as additive diagnostics (wax-up or composite-up), depending on the material used. Waxes are available in various colours, and tooth-coloured varieties are ideal for anterior teeth simulations, which are useful for communicating with and educating the patient, emphasising the improvements possible with contemporary dental treatment modalities.
For aes/>