CHAPTER 10. Genetic, metabolic and other non-neoplastic bone diseases
METABOLIC BONE DISEASE
Rickets
Vitamin D is essential for the absorption and metabolism of calcium and phosphorus. Deficiency during the period of bone development causes rickets with defective calcification and development of the skeleton, but rarely of the teeth (
Ch. 30
).
Defective calcium and phosphorus metabolism may also result from chronic renal disease (either hereditary or inflammatory) causing abnormal excretion of these minerals. Defective development of bone (renal rickets) can result.
The onset of rickets is usually in infancy. The main defects are broadening of the growing ends of bones and prominent costochondral junctions due to the epiphyseal defects (
Fig. 10.13
). The weakened bones bend readily. Typical changes in the skulls are wide fontanelles, bossing of the frontal and parietal eminences and thinning of the back of the skull. Radiographs show the wide, thick epiphyses and deformities (
Fig. 10.13
). There are usually normal serum calcium but low phosphorus levels, or either may be depressed. The alkaline phosphatase level is raised.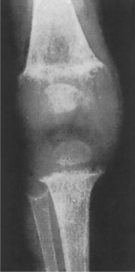 Fig. 10.13
Pathology
Throughout the bone, but especially at the ends of the shafts, trabeculae become surrounded by newly formed, uncalcified osteoid matrix. In the zone of provisional calcification, mineralisation of cartilage fails and the cartilage cells continue to proliferate until the epiphyseal plate becomes greatly thickened, wide and highly cellular (
Fig. 10.14
). Blood vessels invade and branch irregularly among the proliferating cartilage cells. They are accompanied by connective tissue which further disorganises the epiphysis.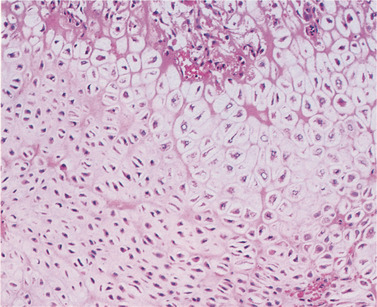 Fig. 10.14
Dental aspects
Teeth have priority over the skeleton for minerals and dental defects rarely result from rickets. Hypocalcification of dentine, with a wide band of predentine and excessive interglobular spaces, may be seen in unusually severe rickets. Eruption of teeth may also be delayed in such cases. Rachitic children are not abnormally susceptible to dental caries and 'shortage of calcium' as a cause of dental caries is a myth.
Treatment
Vitamin D, the equivalent of 2000 to 3000 i.u. daily, should be given. The diet should also be adequate in other components. Orthopaedic treatment may be needed to correct deformities.
Vitamin D-resistant rickets
Scurvy
Scurvy, caused by vitamin C deficiency, leads to defective formation of collagen and osteoid matrix; such matrix as forms is well calcified. Infantile scurvy, with skeletal defects, is largely of historical interest in Britain but has been described, for instance, in an infant whose mother had eccentric ideas about diet. A case with gingival bleeding was described in 2000.
The amount of osteoid matrix formed is small but highly calcified so that the ends of the long bones are sharply defined radiologically. Weakness of the connective tissue and the haemorrhagic tendency (purpura) cause detachment of the periosteum by bleeding and bone pain. The haematoma becomes calcified as shown in the radiograph (
Fig. 10.15
).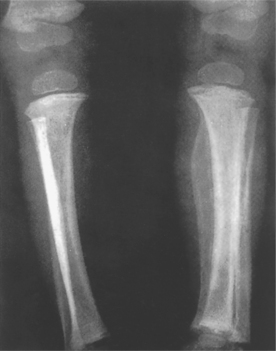 Fig. 10.15