Transcutaneous Approaches Through the Lower Eyelid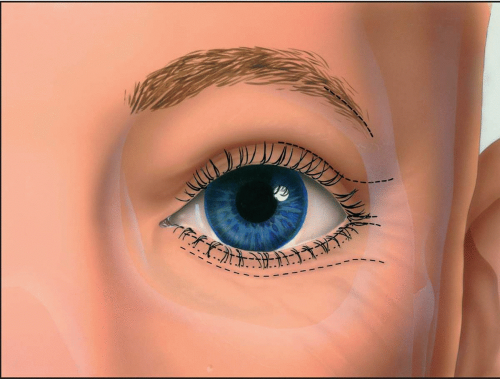 A standard series of incisions have been used extensively to approach the inferior, lateral, and medial orbital rims. Properly placed incisions offer excellent access with minimal morbidity and scarring. The most commonly used approaches are those made on the external surface of the lower eyelid, the conjunctival side of the lower eyelid, the skin of the lateral brow, and the skin of the upper eyelid. This section describes these approaches. Other periorbital approaches exist and can be useful. Existing lacerations of 2 cm or longer may also be used or extended to access the orbit.
Approaches through the external side of the lower eyelid offer superb exposure to the inferior orbital rim, the floor of the orbit, the lateral orbit, and the inferior portion of the medial orbital rim and wall. These approaches are given many names in the literature (e.g., blepharoplasty, subciliary, lower- or mid-eyelid, subtarsal, infraorbital rim), based primarily on the position of the skin incision in the lower eyelid. Because of the natural skin creases in the lower eyelid and the thinness of eyelid skin, scars become inconspicuous with time and do not form keloids. The infraorbital incision, however, is almost always noticeable to some degree (see
Fig 2.1
).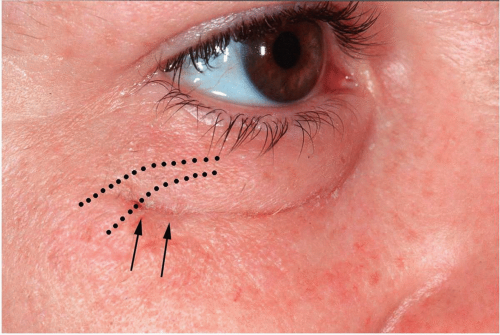 Figure 2.1
Photograph showing poor cosmetic result from the use of an infraorbital incision. Incisions placed at this level often heal poorly for two reasons: (a) the lateral extension of the incision usually crosses the resting skin tension lines (
dots
) that cause widening of the scar (
arrows
) and (b) the incision is in the thicker skin of the cheek rather than the thin skin of the eyelid.
TECHNIQUES
Several external incisions of the lower eyelid to allow access to the infraorbital rim and orbital floor have been described. The major difference between these incisions is the level at which they are placed on the skin of the eyelid and the level at which the muscle is transected to expose the orbital septum/periosteum. Each incision has advantages and disadvantages.
The two approaches and one modification are illustrated in the following text. The first is most commonly called the
subciliary incision
, also known as the
infraciliary
or
blepharoplasty incision.
This incision is made just below the eyelashes. The advantages of this incision are the imperceptible scar and the ease of extending laterally for additional exposure of the entire lateral orbital rim. The second approach is usually known as the
subtarsal
, also known as the
mid-eyelid
or
skin crease approach,
because the incision is made lower than that in the subciliary approach, often 4 to 7 mm below the eyelid margin. The subciliary approach will be shown in great detail. The subtarsal approach will be contrasted to the subciliary approach. In addition to these approaches, a modification of the subciliary approach, which can provide access to the entire lateral rim and internal wall of the orbit, will also be illustrated.