Tom Graber was a researcher, clinician, author, educator, philanthropist, editor, and mentor to many. He was best known for his undergraduate and graduate orthodontic textbooks and as a long-time editor of the American Journal of Orthodontics and Dentofacial Orthopedics ( AJO-DO ), with a career in dentistry spanning over 60 years ( Fig 1 ).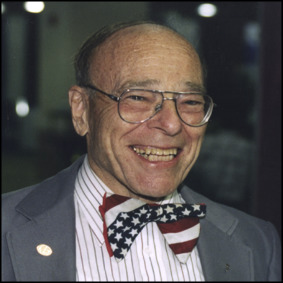 Most people are recognized and celebrated after they die. Tom Graber had the privilege of working in a specialty where he was celebrated by his colleagues for almost his entire professional life. He received his first special recognition in the late 1940s and eventually received every major orthodontic award given in the United States and abroad. His curriculum vitae lists over 65 awards, and honorary and keynote lectures. He has spoken at more American Association of Orthodontists (AAO) meetings than anybody in our history and has given every major honorary lecture proffered by the world's major orthodontic societies.
Tom had a long list of "firsts." He was the first dentist to receive a PhD degree from the medical school at Northwestern University, where he performed groundbreaking work on cleft lip and palate repair ( Fig 2 ). He was the first dentist to receive an honorary doctorate degree from the University of Michigan and the same distinction from Washington University. In addition to degrees awarded in Sweden, Greece, and China, he held honorary memberships in 22 international orthodontic associations and received citations and certificates from an equal number. He was a prodigious author, a consummate editor, and a very good clinician with great acumen in the application of new science to old problems. Above all, he had a willingness to be open-minded to new ideas and open-armed to those with whom he worked.
How did this all happen to a young dentist from a small town in Missouri? Tom said, "I was in the right place at the right time to meet the right people—I was just lucky." As part of this country's "Greatest Generation," he volunteered for service on December 8, 1941, the day after the United States entered World War II. Six months after his marriage and just recently graduated from dental school, he was placed in the Army Dental Corps and was stationed as a medical plans and training officer. He found this first encounter of working with and teaching other health care professionals exciting and felt that this wartime experience triggered his lifelong interest in teaching and education.
The motivation to enter the orthodontic specialty was unique. Tom always had poor eyesight with a need for strong corrective lenses. One of his mentors in school told him to go into orthodontics because it was not as stressful on "weak eyes." He had been told by his dental school mentor that Northwestern University in Chicago had a good orthodontic specialty program, then chaired by a pediatrician/orthodontist. On a lark, he called the Northwestern Dental School and got the last remaining space in the orthodontic program when a previously accepted candidate cancelled his spot in the class. "It was just luck," Tom later reported.
After orthodontic specialty education, Tom and his wife, Doris, a political scientist, planned to move to the Northwest where they had honeymooned, but Tom was invited by Dean Fred Noyes of the University of Illinois Dental School to come into his downtown Chicago orthodontic practice. Dean Noyes had taught with Edward Angle, the father of orthodontics, and he had written the first textbook on oral histology. Dr Noyes, also an Angle School graduate, provided a firsthand early history of the orthodontic specialty, a topic that in later years became the first chapter in Tom's undergraduate orthodontic textbook. In the Noyes orthodontic practice, he met B. Holly Broadbent, Silas Kloehn, and Bill Downs, all of whom made significant contributions to orthodontics.
After completing his specialty education, Tom served as a faculty member at Northwestern. There he had the opportunity to also work in the Medical School and made his first observations of children with craniofacial deformities. It piqued his interest as to what was happening with these children, especially the youngsters with cleft lip and palate who at that time were being operated on very early and had what seemed to him to be consequential facial deformities. Tom designed and built a baby cephalostat to evaluate the neonates and postsurgical growth changes. He went on to help form the Northwestern University Cleft Lip and Palate Institute, for which he was director of research ( Fig 2 ). His work resulted in a reevaluation of the surgical techniques for cleft patients and the influence of postsurgical scar tissue on facial growth and development.
In later years, Tom's research, writing, and lecture interests included dentofacial orthopedics, cephalometrics ( Fig 3 ), serial extractions, the influence of orofacial muscle balance on facial growth and development, the use of magnetic fields and forces, root resorption, temporomandibular joint management, panoramic radiography, diagnosis and treatment planning, functional jaw orthopedics, and a host of practice management and dental education topics.
Premium Wordpress Themes by UFO Themes
WordPress theme by UFO themes