Research-vested database
Input
Description
Use
Completion date of data collection
The length of time since the production of the data
Utility of data for CPG
Completion date of data management
The length of time from production to outcome derivation
Utility of data for CPG
Completion date of manuscript composition
The length of time from production of data to preparation of dissemination
Utility of data for CPG
Input date of non-published data
The length of time from production to input of data into system
Utility of data for CPG for non-filtered data
Input date of published data
The length of time from publication to input into system
Utility of data for CPG for filtered data
Expiration date of data significance
Researcher estimate of need to update data
Researcher utility of sensitivity and specificity of data
Population
Form input header
Form input header
Study N
Number of subjects
Systematic review
Analysis N
Number of subjects used for analysis, providing the number of subjects that were unavailable for analysis
Systematic review
Functional status
Functionally independent or dependent, or frail
CPG
Risk level
Low, equipoise, high
CPG
Age
Birth date preferred, specific, range
CPG and systematic review
Gender
Male, female
CPG and systematic review
Race/ethnicity
American-Indian/Alaska Native, Asian/Pacific Islander, Black/African-American, Latino/Hispanic, White, other
CPG and systematic review
Marital status
Single, married, widowed, single/divorced
CPG and systematic review
Educational status
Less than high school, some high school, high school graduate, some college, college graduate, graduate school
CPG and systematic review
Income level
Current societal levels defining poverty, low middle class, middle class, high middle class, highest income
CPG and systematic review
Medical diagnosis counts
Number of medical conditions
Systematic review
Specific medical condition
If applies, name of category of medical condition or specific reference
Systematic review
Medicines counts
Number of medications
Systematic review
Specific medicines
If applies, name of category of medicines or specific reference
Systematic review
Allergy counts
Number of allergies to drugs including environmental (counted as one)
Systematic review
Dental insurance status
With or without
Systematic review
Known previous insurance coverage
Number of years since last coverage
Systematic review
Intervention
Specific intervention
CPG and systematic review
Comparison interventions
Comparative interventions
CPG and systematic review
Outcome(s)
Specific intervention
CPG and systematic review
Comparison outcome(s)
Comparative intervention
CPG and systematic review
Probabilities
Estimates
CPG and systematic review
Odd ratios
Estimates
CPG and systematic review
Measure(s)
Amount or direction
CPG and systematic review
Cost schedule(s)
Specific costs to intervention
CPG and systematic review
Significant difference
P level
CPG and systematic review
Clinical significance
Ranking
CPG and systematic review
Utility ranking
Ranking
CPG and systematic review
Meaning in practice ranking
Ranking
CPG and systematic review
Utilizing the focus group methodology, the call is for future research to provide and validate with researchers definitive input templates for obtaining published and non-published data for information technology strategies within the central, research-vested database.
2.3.3

Clinical Practice

Clinical inputs are clinician-based rankings of clinical significance of CPGs developed by the translational researcher or those returned as products of shared decision-making or follow-up assessments at patient periodic dental examinations. Clinicians are provided a CPG with best evidence specific to a stated clinical question. Clinicians may include the dentist who initially posed the clinical question or a panel of dentist volunteers who have previously consented to rank CPGs for clinical significance.

The posed clinical question was created through a query submitted in which evidence could not be derived from the central, evidence-based database. In this scenario, the translational evidence researcher would access and utilize either the translational evidence research team or provide a call for data needed to vest the central, research-vested database. From these resources, best evidence is developed in response to the posed clinical question.

Once this data has been acquired and evidence systematically reviewed, best evidence is inputted into the central, evidence-based database. From there, a CPG is derived to respond and submitted for review of clinical significance by the clinician or clinician reviewer panel. A ranking is developed and inputted into the central, evidence-based database. From this point, a CPG is provided in response to the initial query or clinical question for shared decision-making. Now, what does the clinician do in the meantime?

The dentist does what clinicians have done years previously in uncertain clinical scenarios; clinicians use the precautionary principle (Fig.

2.1

). The precautionary principle directs the clinicians to gather the resources of intuitive knowledge along with clinical experience and expertise to either logically derived a commonsense approach to the clinical problem while minimizing the risk of harm (prevent harm) in delivering treatment or therapy options that meet the highest degree of safety, effectiveness, and long-term value. Then, the clinician may follow this process in shared decision-making or give it a run through with a clinician with specific clinical expertise in the discipline for which the uncertainty applies.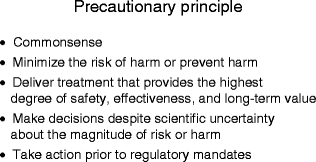 Fig. 2.1
Precautionary principle