Chapter 9
Paramedical Suites
Patients requiring physical therapy may need rehabilitation following surgery, stroke, trauma, or a work-related injury, ranging from carpal tunnel syndrome to cervical problems associated with lifting heavy items or frequent twisting or bending movements. Usually referred by a physician, patients arrive for an initial evaluation, followed by a series of visits that may range from one to three times per week. For each patient, a routine is established that quickly becomes familiar. Some patients have to warm up by riding an exercise bike for 10 minutes prior to starting therapy and, after checking in with the receptionist, they proceed to the gym and set themselves up on the bike, often without the therapist greeting them. First-time visitors will wait in the reception room until called by the therapist.
Patients are usually asked to wear shorts or other garments that expose the injured limb, which means that the therapist can often treat them in an open, nonprivate area, working on a massage table, bending or massaging a limb to achieve better flexibility or range of motion, perhaps applying electrical stimulation to a muscle and, at the end of the session, applying ice to reduce swelling.
The gym floor must have sufficient open space to be used as a gait lane to visualize patients' ambulation and also to provide room for patients to exercise with elastic ankle bands or straps or other devices. A quieter, or less active, part of the gym may have one or more small rectangular tables for a hand therapist who sits across from the patient (Figures 9-1 and 9-2). A nearby work area will provide space to fabricate braces to immobilize the hand. This requires storage for the Velcro® straps and other splint materials as well as a small device to heat the material so it can be molded.
Table 9-1. Analysis of Program Physical Therapy
| | | |
| --- | --- | --- |
| Waiting Room | | 16 × 20 = 320 |
| Business Office | | 10 × 16 = 160 |
| Supervisor's Office | | 10 × 12 = 120 |
| Tech Work Area/Charting | | 8 × 16 = 128 |
| Gym | | 20 × 40 = 800 |
| Speech Therapy | | 12 × 14 = 168 |
| Hand Therapy | | 10 × 12 = 120 |
| Treatment Rooms (open bay) | 5 @ | 8 × 10 = 400 |
| Treatment Rooms, Private | 2 @ | 10 × 12 = 240 |
| Toilet | 2 @ | 8 × 8 = 128 |
| Laundry & Equipment Room | | 12 × 16 = 192 |
| Break Room | | 10 × 10 = 100 |
| Storage | | 8 × 8 = 64 |
| Tel. Equip/Server Closet | | 4 × 5 = 20 |
| Subtotal | | 2,960 SF |
| 20% Circulation | | 592 |
| Total | | 3,552 SF |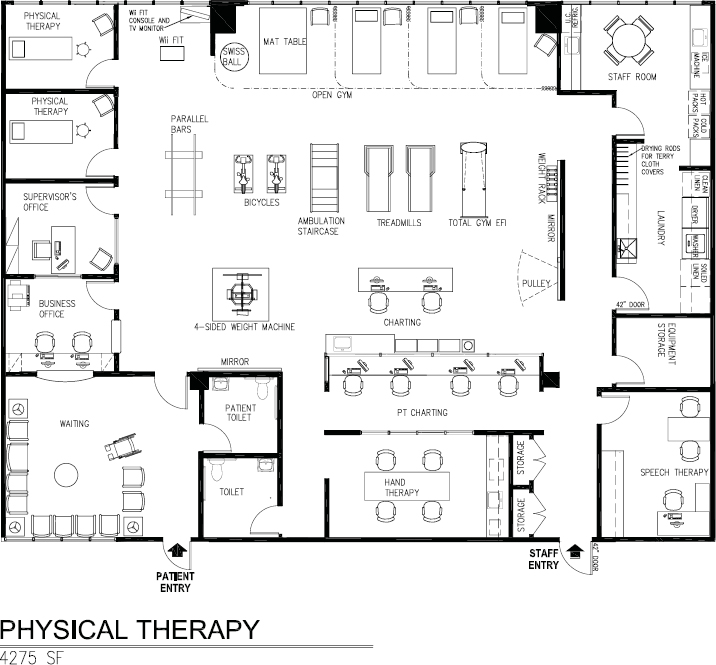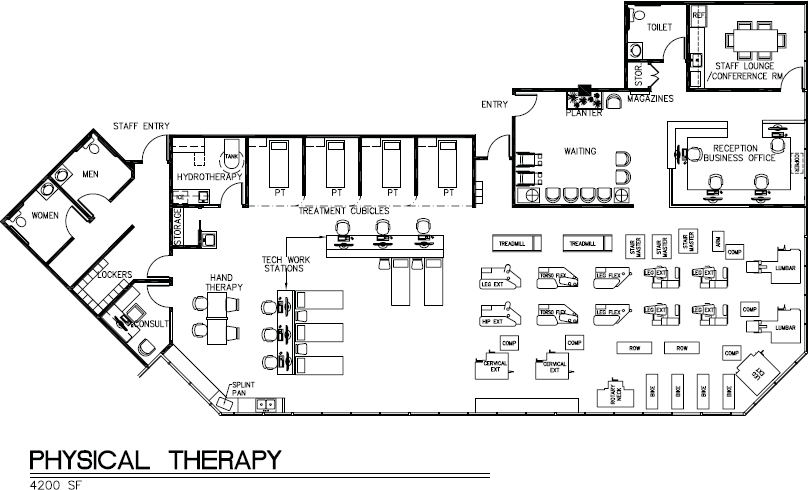 Visibility by staff is essential for safety and efficiency in the physical therapy area. Therapists may work with several patients, alternating between them. They may be applying an electrical muscle stimulator to one person for 10 minutes, cervical traction to another for 20 minutes, setting up a patient on an exercise machine, and placing another in a hydrotherapy tank for 20 minutes. Once set up, each of these patients needs no further assistance until the 10- to 20-minute cycle has ended. Therapists continually circulate among patients in an open plan arrangement set up with physical therapy tables, exercise bikes and other equipment, large mat tables, gait lanes, and private physical therapy rooms or cubicles partitioned by a curtain (see Figure 9-1). The many activities going on simultaneously can make the treatment area very hectic. For this reason, natural light, ample window area, and views of nature are essential to both the therapists' and the patients' well-being (Figure 9-3). The open-plan workstations in Figures 9-3 and 9-4 work well.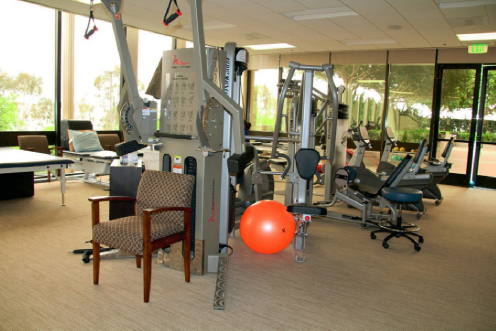 Physical Therapy Modalities
There are eleven basic modalities of physical therapy:
Hydrotherapy
Heat or cold
Massage
Exercise
Ultrasound
Traction
Electrical stimulation
Transcutaneous electrical nerve stimulation (TENS)
Iontophoresis
Continuous passive motion
Mobilization
Hydrotherapy
Hydrotherapy involves immersion of a limb in water. The tank may be a portable whirlpool (Figure 9-5) for extremities or, something relatively new, a "dry" method called Fluidotherapy® that uses a physical agent (fine particles that acquire the characteristics of fluid) to transfer energy in the form of heat to soft tissues by forced convection (Figure 9-6). It performs the functions of heat, massage, sensory stimulation, and pressure. Whirlpools are often used for wound care. Practices that see a lot of diabetic patients are likely to offer this modality. Mobile whirlpool tanks (Figure 9-5) may be filled and drained with a hose. The patient sits in a high chair, such as that shown in Figure 9-7, and swings a leg over into the whirlpool. If an immersion tank is used, the flooring under it needs to be appropriate for spills and dampness.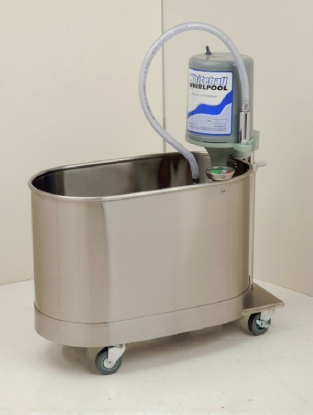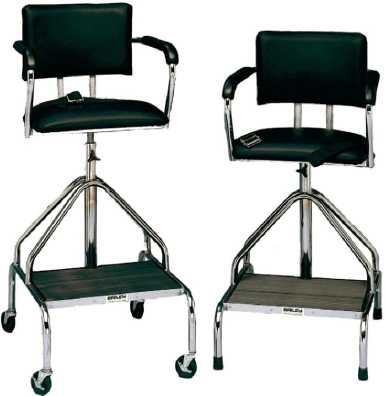 Floor sinks must be provided for portable tanks, which have to be drained and filled for each patient. A hose connection to a nearby tap may suffice for filling the tank. Whirlpool rooms or enclosures are usually 6 × 8 feet in size and may be closed off on the open side by a cubicle drape. Depending on the location of walls and circulation in order to accommodate ADA access, larger spaces may be needed.
Heat or Cold
Heat is produced by a variety of methods, ranging from a simple electric heating pad to hot steam packs to soaking the affected part of the body in hot water or placing it in hot paraffin. Figure 9-8 shows a hydrocollator (hot pack) unit that must occasionally have water added and at least once per month it needs to be drained and cleaned. It can be filled by a hose from a nearby faucet, but a floor sink is needed for draining. It plugs into a standard 120-volt AC grounded outlet. Figure 9-9 shows what the steam packs look like inserted in terrycloth covers. If these covers are not used, the steam packs must be wrapped in several layers of terrycloth towels.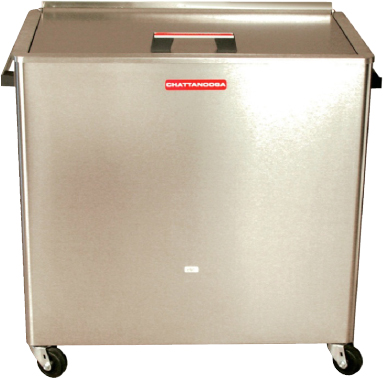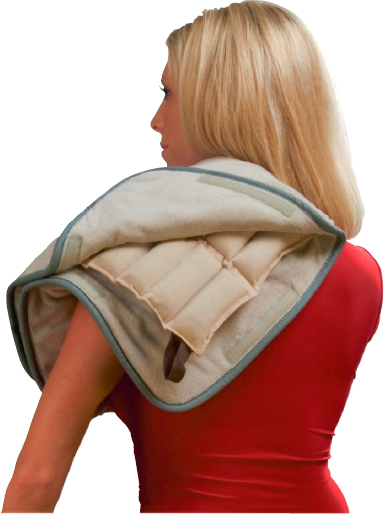 A good deal of laundry is generated here. Suitable storage must be provided for clean linen, a large hamper for soiled linen, and a drying rack in a ventilated louver-door closet for drying wet towels until the linen service picks them up. A note of caution: A busy clinic can generate enough soiled linen to necessitate a very large wheeled acrylic cart approximately 3 × 4 feet × 5 feet high. This needs a large storage room with a 42-inch-wide door near the service/staff entry where it can be held for pickup, generally twice per week. This closet should be ventilated due to the damp linen. Some facilities wash their linen in-house. The washer and dryer would go in the workroom with the hydrocollator (hot pack) and chiller (cold pack) units and the ice machine (Figure 9-10). Allow space for folding laundry.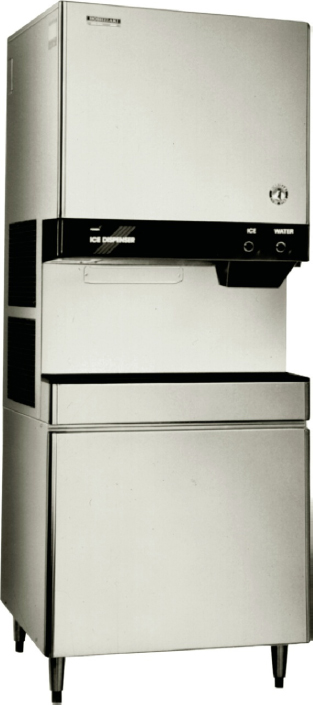 Cold is normally produced by cold packs or ice, which is applied to the affected part of the body. Figure 9-11 shows a chilling unit. There is often more than one of these. Figure 9-12 shows what the cold pack looks like. These units have the same electrical requirements as the steam pack units. Both the cold pack and the steam pack units may be positioned immediately adjacent to built-in cabinetry in order to provide a large countertop area for wrapping steam packs. The average height of these units is 33 inches. Some clinics use a large ice machine while others use a box freezer (Figure 9-13) for freezing gel packs instead of ice; some use a small ice maker in addition to the frozen gel packs. The placement of all these items in the workroom/equipment room needs to be carefully planned for efficiency and flow.