Fig. 8.1
Vertical ramus osteotomy is performed posterior to the mandibular foramen (lingula region) to avoid injury to the IAN
The SSRO divides the mandible in the angular region of the ramus and body of the mandible. Between a medial horizontal cut on the ramus and a lateral vertical cut in the molar region, the mandible is split sagitally, ideally along the inner surface of the lateral cortex (Fig.
8.2
). This osteotomy can be used for mandibular setback, advancement, and rotational movements. The proximal and distal bone fragments can be fixated with osteosynthesis of various types; therefore, IMF is not needed in the postoperative period. There are many possible risk factors for nerve injury resulting from orthognathic surgery, and these are summarized in Table
8.1
.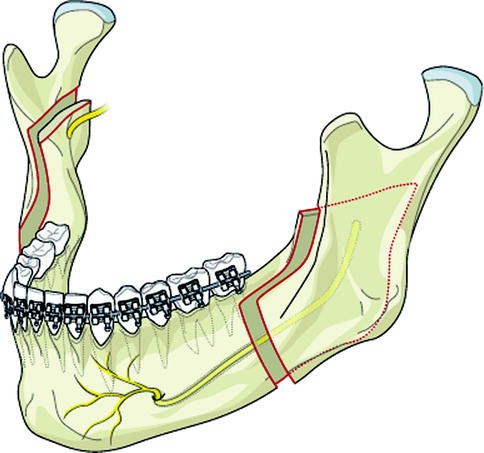 Fig. 8.2
Bilateral sagittal split ramus osteotomy places the IAN at risk for injury due to osteotomy design
Table 8.1
Risk factors for IAN injury during SSRO
Patient age
Patient gender
Type of surgical procedure
Type of mandibular deformity
Variation in nerve anatomy
Surgical technique
Nerve manipulation
Instrumentation
Nerve position (proximal/distal segment)
Method of fixation
Duration of surgery
Surgeon experience
Inadvertent osteotomies (bad splits)
Presence of third molars
In the genioplasty procedure, the anterior part of the mandible is cut more or less horizontally below and anterior to the mental foramen, and to a point approximately 1 cm above the symphyseal base (Fig.
8.3
). This chin segment of the mandible can then be mobilized and fixated in a new position. In addition, this osteotomy does not disrupt the mandibular continuity.
Fig. 8.3
Genioplasty procedure of the anterior mandible places the IAN and mental nerve terminal branches at risk for injury
Clearly, the SSRO, which splits the mandible along 2–3 cm of the mandibular body and ramus, must be considered as a high-risk procedure for the IAN coursing in the same bony structure, at least much more than the VRO and genioplasty, and this is also reflected in the literature.
8.2.1

Sagittal Split Ramus Osteotomy (SSRO)