James William Barnett died on Saturday, September 17, 2016. He was 93. Jay was born on September 30, 1922, in Groom, Texas, to Beulah and Ivan Barnett. He graduated from Phillips High School and Texas Tech University; he received a dental degree from University of Missouri at Kansas City and a graduate degree from the University of Texas School of Orthodontics in Houston. He served in the US Navy as the chief dental officer aboard the USS Doyen. He began his orthodontic practice in 1959 in Amarillo, Texas, and worked into his 80s, eventually selling his practice to Dr Steve Astuto. He loved young people and encouraged many to enter the dental profession. He was also a distinguished lecturer, past president of the Panhandle District Dental Society, past president of University of Texas School of Orthodontics alumni group, and past chairman of the Orthodontic Department of the Pankey Institute, Miami, Florida.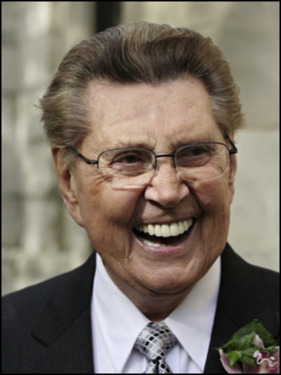 Jay loved tennis and, with others, helped to create the T Bar M Racquet Club, bringing in capable coaches for the players. He promoted fitness and the YMCA long before fitness was "cool." Friends and associates described him as "an inspiration with a passion for friends and work, always with a smile and a word of encouragement, one that brightens our day, when thinking of you causes us to smile, the million dollar smile, his great sense of humor, his energy, his desire to share, and his wonderful ability to communicate."
Jay is survived by his wife, Mary Lou, of Denver, and 3 sons: Dr Ron Barnett and wife Carrie of Austin, Texas; Shon Barnett and wife Cindy of Toronto, Ontario, Canada; and Kirk Barnett and wife Shannon of Amarillo. His first-born son, Dr James William Barnett, Jr., is deceased. He is also survived by his stepsons, Scott Laningham and wife Elizabeth of Austin, Texas; and Doug Laningham and wife Jill of Fort Worth, Texas; and his stepdaughter, Suzy Laningham Hamilton and husband, Rick, of Denver, as well as many grandchildren and great-grandchildren.
Jay had a remarkable interest in orthodontics and never diminished in his quest to know and practice more effectively. He had an intense fidelity to his profession, and his enthusiasm and engagement were models of professional commitment. He captured the friendship and allegiance of everyone he met because of his approachability, obvious enthusiasm, and authentic sense of humor. I have never known anyone who could deflect a personal insult with more irony and effectiveness; once he told an insulting friend that he had instructed his attorney to remove him from his list of pallbearers and not to allow him to sit with the Amarillo Dental Society at his funeral! For Jay, humor was like a rubber sword: he could make his point without drawing blood, and this allowed him to keep friendships.
Jay never flagged in his quest to provide patients with the best care possible. He had the mind of a sage, the imagination of an artist, and the eagerness of an explorer. No one is as interesting as a man who gives his soul to a great enterprise, and we find ourselves drawn to those who live with such intensity. Jay was like a bright light we could always trust in the dark, and we often hastened to him with our problems because we knew he could and would help. The passion, pleasure, and power Jay brought to his friends, family, and patients leave us greatly in his debt. Friends like Jay may have left life, but their spirits remain. Jay hasn't left our lives. We continue as his great debtors, even for the quality of pain that we now feel at his death.