Little did contemporary orthodontists expect when his warm and inspiring valedictory appeared in the Journal in August, 1968, under caption of "Adios, Amigos," that the distinguished leader of organized American orthodontics, Harvey Carlyle Pollock, would in a relatively few months pass from mortal eye.
The man who became a highly influential guiding force in the specialty—for nearly 60 years charting its literary course, helping to shape its destiny, and sharing in its achievements and disappointments—was seized with a stroke at his home in St. Louis County and died shortly thereafter at St. John's Mercy Hospital on Feb. 5, 1970, in his 86th year. Final respects were paid February 7 at the Lupton Chapel in University City; burial was at his well-loved boyhood home of Rocky Ford, Colorado.
Although Dr. Pollock was advanced in years, it was not his active longevity but, rather, his extraordinary contributions to dentistry and to orthodontics which assure that his name will be written large in the book of life's accomplishments.
Harvey Carlyle Pollock, known to his youthful world as "Kyle" and to his many friends of the days of maturity as "Polly," was born July 27, 1884, in the little farming community of Foosland, straddling the tracks of the old Toledo, Peoria and Western Railroad, later the Wabash, in the rich agricultural section of North Central Illinois. He was the son of Dr. Samuel H. Pollock and Janet Carlyle Pollock, recent settlers in this promising section of the state where the elder Pollock sought opportunities to serve the community as dentist, medical advisor, and merchant. But the "Far West" beckoned with ever greater promise, and a short time later the family moved to Rocky Ford, Colorado, where young Kyle received his education in the public elementary and high schools of the mountain settlement.
As all boys did in that rugged environment, Kyle enjoyed the outdoor life. Hunting was one of his greatest youthful sports and his adventures are attested to by many pictures of wagons (later, automobiles) covered with the successes of his hunting expeditions.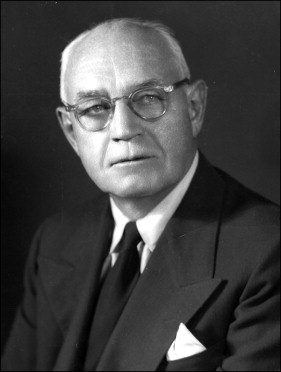 But all was not play; in 1903 he was sent off to attend Cutler Academy in Colorado Springs, and during summer vacations he would work sometimes as a farm hand. Meanwhile, his father was enjoying a profitable success in dental practice, a career that, at first, held little appeal for the son. As for orthodontics, it was completely remote from his mind. There are many living today who have heard Dr. Pollock's inimitable recollections of his early father-son association. He noted that his father, once a student of the pioneers, Calvin Case, C. N. Johnson, and Truman Brophy, had "regulated" Carlyle's teeth and how the youngster hated it! He was a most unappreciative patient; the cumbersome appliances always came off and he was generally unhappy.
As he grew older, attitudes changed. This was especially marked when, coming in tired from a day's work as a farm helper, with very little money to show for it, his father, sensing the right time for an object lesson, would flash a substantial roll of greenbacks which represented just one day's earnings as a dentist. The comparison was irresistible! Young Carlyle continued his education at Colorado College in Colorado Springs and then entered the dental school at the University of Michigan, from which he graduated in 1907.
A period of dental partnership with his father followed, and he was assigned the once despised "regulating" cases, together with those cases requiring treatment of "pyorrhea." As far as the orthodontic cases were concerned, young Pollock soon realized that he was doing little more than making a "bad situation worse" and that some means of help must be found from someone who knew more about it than he did.
With the advice of his father and others, he enrolled in Edward Angle's 1911 class at New London, Connecticut, an experience that made a lifelong impression on him, both personally and professionally. When the course was completed, he returned to his father's office for a short while and then became an associate of Albert Ketcham in Denver. Again, an inspiring influence shaped his future career, as those who knew him in later life can well attest.
Learning that William E. Wilson, who had taken over Dr. Angle's practice when the latter left St. Louis, was, in turn, about to vacate the city, Dr. Pollock moved to the Gateway City in 1912 to take his place and remain to make St. Louis his home for the rest of his life.
Here he met and married the former Miss Adele Nichols, who survives. Here, too, their two children were born and educated. The daughter, Miss Judith Janet Pollock, is a professional licensed dental hygienist; the son, Harvey Carlyle Pollock, Jr., entered his father's specialty and conducts an active orthodontic practice in Denver, Colorado.
In private practice, Dr Pollock adopted a conservative, middle-of-the-road rationale, accompanied by the sound contributions of an inventor and innovator to the orthodontic appliance inventory, one of which bears his name—the Pollock Appliance.
Corresponding with his progressive practice and its growing clientele, his contributions to the spiritual enrichment of his profession are reflected in the esteem of his colleagues and the honors they accorded him. The record is inspiring, and its impressive dimensions are quickly apparent when one reads his curriculum vitae:
Secretary and teacher, the Dewey School of Orthodontists, 1917-1919; secretary, the Missouri Dental Society, 1922; professor of orthodontics, Washington University School of Dentistry, 1930-1935; professor of orthodontics at St. Louis University School of Dentistry, 1944-1947; Fellow of the International College of Dentists; life member of the American Dental Association and the American Association of Orthodontists; member of the Delta Sigma Dental Fraternity, the Gavel Club of St. Louis Dental Society, the Optimist Club, and the Elks Lodge at Rocky Ford, Colorado.
He served orthodontics as president of the American Association of Orthodontists, 1936; was an original diplomate of the American Board of Orthodontics, a recipient of the Albert Ketcham Memorial Award in 1958, and the Martin Dewey Memorial Award in 1960. He was awarded honorary memberships in the Southwestern Society of Orthodontists, the Midwestern Society of Orthodontists, the Rocky Mountain Society of Orthodontists, the Mexican Society of Orthodontists and, of course, the American Association of Orthodontists.
Throughout this honor-filled career in the specialty, he was associated with the Association's journalism; served for 54 years, first as one of its founders and then, successively, as associate editor and editor in chief of the American Journal of Orthodontics and its predecessor, the International Journal of Orthodontia . In 1968, at the conclusion of this remarkable record of uninterrupted service, at the Golden Anniversary Luncheon at the annual meeting of the American Association of Orthodontists in San Francisco, he was presented with a first-time award by a grateful Association—a certificate bestowing the title of Editor Emeritus.
Of the just-stated record of accomplishments, two endeavors stand out as being of foremost importance to both the American Association of Orthodontists and the specialty. The first was his assumption of the presidency during the tumultuous events incident to the change-over reorganization of the American Society of Orthodontists into the present American Association of Orthodontists. To say the least, it was a time requiring the utmost in patient, sage, and conciliatory leadership. The heated debates of the transition called for delicate, temperate, low-key guidance; such and more were found in Dr. Pollock's direction of the Society's affairs. His course was sound and proved itself in the successful assimilation of argument and a resumption of progress leading to a stature in orthodontics that the American Association of Orthodontics now enjoys.
The importance of this contribution has been somewhat overlooked, due in large measure to the innate modesty of the man himself and the fact that so many participants in that crucial episode have since passed away. But history will record it as surmounting a crisis in which Harvey Carlyle Pollock participated with judicious finesse and quiet determination.
Inferring from his own infrequent references to the role he had personally played in the progress of the specialty, one may rightfully assume that Dr. Pollock judged his relationship to the Journal to be his greatest achievement. This intrinsic involvement with the Association's official organ is a story often told, and it need not be repeated now. Suffice it to say that for Dr. Pollock it began right at the start.
He, together with Charles V. Mosby, M.D., both men of perspicacity and with a vision of the ultimate destiny and fundamental position of orthodontics as an important health specialty, sat down in late 1914 in the old Beers Hotel in St. Louis and laid the groundwork for what has become a preeminent publication in modern health science literature.
Although Dr. Mosby carried the details of publishing and financing, and continued to publish the Journal for more than 50 years thereafter, it was Dr. Pollock who agreed to provide the contacts, ideas, and manuscripts and suggested Martin Dewey as the first editor after Dr. Angle had declined.
Beginning as editor of the Abstracts Department, for which he received no salary, in 1923 Dr. Pollock became associate editor of the Journal and at the beginning of 1932 he became editor in chief when Martin Dewey turned to other duties.
Contributions undersigned by the now familiar "H. C. P." reflected a consistent regard for practical techniques, eclecticism without favoritism, and a common sense evaluation of health measures in the light of advancement for the profession and for the public. It would appear that he measured relativities while watching the pendulum swing to and fro, thereby endowing his pen with a philosophic neutrality as regards dogmas and an acceptance of the inevitability of change that justified his warning that the specialty must respond in kind if it is to survive.
This does not mean that editorial serenity was altogether proverbial. At times indignation would be aroused and the sharp philippics from his pen moved to lay an argument low. Such was observed when, in the late 1930's, he reacted to a petty charge (now largely forgotten) that the Association's Journal was not technically meeting the standards of a professional publication. His masterful retort, given with unmistakable emphasis in the editorial "The Three Little Pigs," reveals a man who, when aroused, would not mince words in the face of what he considered to be an injustice.
Over the years he sought assistance from others in bringing tone and quality to the Journal . Many able and finished literary performers within the Association replied to his invitation to serve as sectional or assistant editors. Some of the first of these are recalled to be James D. McCoy, Oren Oliver, Frank M. Casto, Paul G. Spencer, Henry F. Hoffman, and Clinton Howard. More recently, J. A. Salzmann, who has conducted the Department of Reviews and Abstracts, Earl E. Shepard, assistant editor, and Charles R. Baker, Henry D. Cossitt, M. Duke Edwards, Stephen C. Hopkins, William R. Humphrey, John W. Richmond, Franklin Squires, and the late William Smith continued the tradition so well begun.
In his final editorial in August, 1968, Dr. Pollock gives a poignant summary of his guiding principle in the conduct of the publication over the span of these many years. He repeats the conclusion of Martin Dewey's first editorial in the infant Journal , a sentiment that might be called Dr. Pollock's own personal motto: "We hope through this policy to serve at all times the greatest number and help make orthodontia the science we have long hoped it would be."
That Harvey Carlyle Pollock has been faithful to this charge goes without question, and let no man say it nay! By like token, with hope undimmed and love of profession unweary, he served the specialty with unfailing devotion and lives a legend in the hearts of all who have known him. Adios, Amigo!
Editor's note: Read HCP's 1938 editorial, "Three little pigs," and his 1968 farewell, "Adios, Amigo," on our Blog.