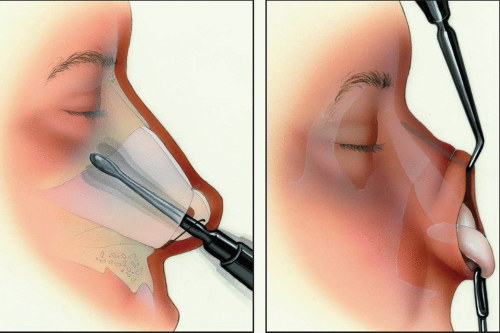 A myriad of surgical approaches have been described to expose the nasal skeleton. Two common basic surgical approaches are described here, each with its own set of incisions and modifications. The closed or endonasal approach places all incisions within the nasal cavity so that they are inconspicuous. The open or external approach combines internal and external incisions. This section is divided into two chapters on the basis of these two approaches. Surgical anatomy is discussed in
Chapter 13
.
The nasal skeleton is exposed during many procedures, such as rhinoplasty, septoplasty, fracture management, and reconstructive surgery. It is the only approach described in this book that involves a skeleton that is made of both bone and cartilage.
SURGICAL ANATOMY
The nose has the form of a triangular pyramid, with its summit corresponding to the root of the nose and a base into which the two nostrils open.
TECHNIQUE
The external approach to the nasal skeleton involves only one external incision placed across the columella. This approach consists of bilateral marginal incisions connected by a transcolumellar incision. The soft tissue is elevated off the cartilages and nasal bones, exposing the entire tip and dorsum.
▶ Step 1. Vasoconstriction and Preparation
The vibrissae within the vestibules are shaved with a no. 15 scalpel or scissors and the nasal cavity is cleaned with a povidone-iodine solution. A combination of intranasal packs and vasoconstrictor injections can help with hemostasis during the surgery. Nasal packing with a vasoconstrictor (4% cocaine, 0.05% oxymetazoline, etc.) is placed along the length of the nasal floor, against the turbinates and under the osteocartilaginous roof. Local infiltration of a vasoconstrictor induces hemostasis and assists dissection by separating tissue planes. The infiltration is carried out between the skin and the osteocartilaginous skeleton, trying to deform the overlying skin as little as possible, and submucosally (see
Fig. 13.5
). After infiltration, gentle external pressure applied over the nose for 1 to 2 minutes helps spread the vasoconstrictor homogeneously, thereby reducing the external deformity. The external structures are then prepared in a standard manner.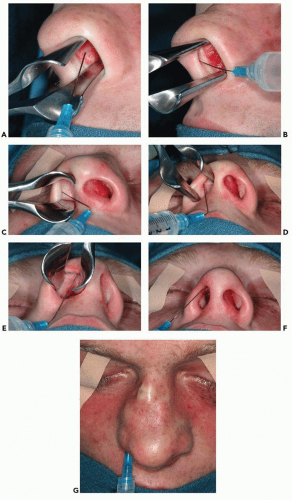 Figure 13.5
Photographs showing the injection of a vasoconstrictor to assist in hemostasis and develop a plane of dissection.
A:
Submucosal injection of the nasal septum;
(B),
injection of the membranous septum and along the medial crus of the lower lateral cartilage;
(C-E),
injection along the location of the marginal incision;
(F)
, injection of the nasal dome;
(G),
injection just superficial to the upper lateral cartilages and the nasal bones.
Premium Wordpress Themes by UFO Themes
WordPress theme by UFO themes