and Armin Segarra1
(1)
University of the Philippines Manila College of Dentistry, Paranaque, Philippines
3.1

Introduction

Resin cements are the newest types of cements used to lute and bond indirect restorations. They have higher compressive, tensile, and flexural strength and wear resistance compared to the conventional luting cements. They come in different shades and are virtually insoluble in oral fluids providing better marginal seal than any other cement types. These categories of cements can be used for all types of restorative materials (porcelain, metal, porcelain fused to metal, laboratory composites).

Resin cements should bond both to the tooth structure and the internal surface of the restoration. In the previous chapter, the bonding mechanism of the resin cement to the internal surface of the restoration was discussed in detail. This chapter focuses mainly on the adhesion of the resin cement to the tooth surface.

In current clinical practice, there are three available resin cements in the market classified according to their adhesive characteristics. These are the etch-and-rinse resin cements, also called total-etch cements, the self-etch resin cements, and the self-adhesive resin cements (Fig.

3.1

). Numerous terminologies pertaining to these three types of cements can be found in books and journals, which add to the confusion in classification. Some authors call the etch-and-rinse cements and self-etch cements conventional resin cements (CR cements) as they require adhesive pretreatment of the tooth surface, i.e., etching, priming, and bonding. The self-adhesive resin cements are sometimes referred to as simply adhesive resin cements (AR) or true adhesive cements as they can bond to the tooth surface on their own without the need for prior etching and bonding.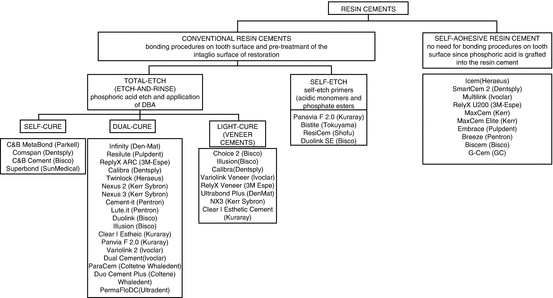 Fig. 3.1
Classification of resin cements and some representative brands
Generally, the etch and rinse resin cements yield the highest bond strengths to enamel, while self-etch resin cements show higher bond strengths to dentin. Self-adhesive resin cements have lower bond strengths than the total etch and self-etch resin cements (Sanvin and de Rijk
2006
).
3.2

The Etch-and-Rinse Cements (Total-Etch Cements)