Treatment of a partially edentulous patient with fixed and removable prostheses
CASE STORY
A 72-year-old Caucasian female presents with a chief complaint of: "I need new partial dentures and a new crown, so I can chew better." She is partially edentulous in the maxilla and the mandible and has multiple fixed partial dentures. The patient has been wearing partial dentures for about 19 years and has been visiting her dentist every 6 months for routine maintenance appointments. She has controlled elevated blood pressure as well, and prefers "less stressful" dental procedures.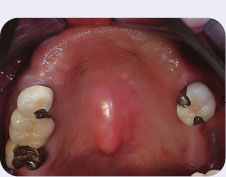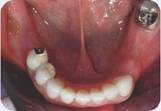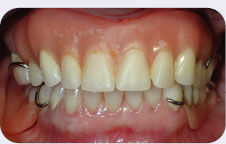 LEARNING GOALS AND OBJECTIVES
Sequence treatment of a patient requiring a combination of fixed and removable prostheses.
Discuss critical design elements for removable partial dentures.
Use a surveying instrument.
Understand parameters for abutment selection for removable partial dentures.
Recognize and treat common postinsertion sequelae.
Medical History
Less than favorable bone scan about 10 years ago requiring oral bisphosphonate therapy
Moderate hypertension
Dental History
Multiple extractions were done due to caries, periodontal disease, and failed endodontic treatment.
First maxillary and mandibular removable partial dentures were inserted 19 years ago.
Existing mandibular removable partial denture is uncomfortable.
Mandibular left canine (22) was diagnosed as necrotic, requiring endodontic therapy.
Medications and Allergies
Fosamax, 70 mg tablet once weekly
Lasix, 40 mg twice daily
Review of Systems
Controlled hypertension
Controlled osteoporosis
Vital signs:
Blood pressure: 130/88
Heart rate: 71 beats/minute
Respiratory rate: 14 breaths/minute
Social History
Smoking: former 1 pack a day cigarette smoker, stopped 15 years ago
Alcohol: occasional glass of wine
Recreational drugs: denies having ever used them
Significant Soft Tissue Examination Findings
Mucosa: irritated mandibular edentulous areas
Hard palate: torus
Charting
Clinical Findings/Problem List
Partial edentulism
Inadequate existing removable partial dentures
Inflamed/ irritated mucosa in the edentulous regions
Diagnosis
Partial edentulism
Ill-fitting removable partial dentures
Irreversible chronic periradicular periodontitis (mandibular left canine)
Clinical Decision-Making Determining Factors
Careful clinical and radiographic evaluation of the patient and her dentition includes periodontal assessment, crown-to-root ratio, and caries assessment. All restorations must be completed prior to making the final impression for the removable partial dentures. These include teeth requiring restorations due to caries or defective existing restorations, fractures or endodontic therapy, and recontouring or enameloplasty. The sequence of treatment should be such that in the initial phase of treatment planning, a survey and design of the planned removable partial denture should be performed on the diagnostic casts.
This patient had received endodontic therapy on the left mandibular canine (22). This tooth requires a cast post and core to reestablish the missing coronal tooth structures. The subsequent crown fabrication will have removable partial denture elements incorporated into its construction. This type of crown is called a survey crown and must be planned at the outset of treatment so that once the crown is delivered, it has the planned design elements incorporated into its fabrication (Kahn 1960; McCracken 1956; Mills 1960).
Critical steps in fabricating adequate removable partial dentures:
1. Select abutment—it should be based on periodontal and restorative prognosis of the tooth/teeth.
2. Survey and design the study cast.
a. Assess occlusion.
b. Identify a favorable tilt.
c. Identify the retentive undercuts on abutment teeth and clasp assembly design.
d. Evaluate soft tissue undercut/>