Management of a patient with bulimia
CASE STORY
A 42-year-old female patient presents with the chief complaint of "I'm not happy with the way my teeth look." The patient reports that she has neglected her teeth for the past 20 years and has not received dental treatment other than emergency dental care. The patient exhibits poor oral hygiene and reports that she brushes only occasionally.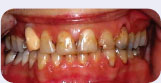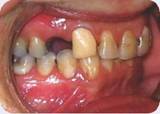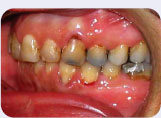 LEARNING GOALS AND OBJECTIVES
Identify signs of bulimia.
Understand treatment limitations in patients with bulimia.
Provide appropriate dental interventions to control future damage.
Medical History
Medications and Allergies
Methadone 30 mg: for management of previous drug addiction
Social History
Smoking: one pack of cigarettes per day, for the past 30 years
Alcohol: drinks alcohol occasionally
Recreational drugs: previous drug addiction and currently in drug rehabilitation program
Charting
(See Fig. 4 .)
Clinical Findings/Problem List
Generalized gingivitis, moderate localized calculus, mild localized periodontitis
Evidence of erosion
Caries: extensive decay in all four quadrants
Maxillary right second molar (2) DOL
Maxillary right first molar (3) MOD
Maxillary right canine (6) L
Maxillary lateral incisors (7-10) MD
Maxillary left canine (11) B, L
Maxillary left first premolar (12) MOD
Maxillary left second premolar (13) MOD
Maxillary left first molar (14) MODL
Mandibular left first molar (19) MO
Mandibular left second premolar (20) MOD
Mandibular left first premolar (21) MOD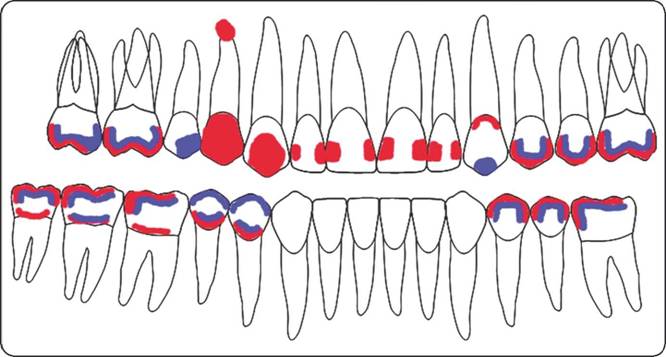 Mandibular right first premolar (28) B
Mandibular right second premolar (29) B
Mandibular right first molar (30) B, DO
Mandibular right second molar (31) B, DO o Mandibular right third molar (32) B, MOD
Missing teeth: Maxillary third molars (1, 16), maxillary left second molar (15), mandibular left second and third molars (17, 18)
Nonrestorable: Maxillary right second premolar (5)
Apical periodontitis: Maxillary right second premolar and canine (5, 6)
Radiographic Findings
(See Figs. 5 and 6 .)
Diagnosis
Generalized gingivitis, moderate localized calculus, mild localized periodontitis
Partial edentulism
Caries
Inadequate restorations
Apical periodontitis
Erosion
Clinical Decision-Making Determining Factors
Bulimia is an eating disorder in which the patient, typically female, is preoccupied with her weight and body image. The patient often goes through periods of consuming large amounts of food (bingeing) and then trying to rid herself of the food through self- induced vomiting or the use of laxatives (purging). The chronic exposure of the teeth to the gastrointestinal acid may result in damage, the severity of which depends on the />