Full mouth rehabilitation—implant-supported, cementable fixed prostheses
Implant placement with compromised angulations may necessitate the use of custom abutments with cementable metal superstructure for fabrication of implant-supported fixed prostheses. These prostheses require careful consideration to prevent mechanical failure and assure long-term success.
CASE STORY
A 55-year-old male with a history of extensive dental treatments presents to the clinic with multiple dental infections requiring immediate extractions. After urgent dental care, a comprehensive dental treatment plan was initiated to restore function and aesthetics.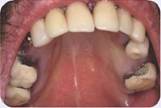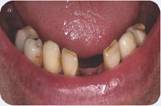 LEARNING GOALS AND OBJECTIVES
Recognize and understand the indications for the custom abutments and cementable implant-supported fixed prostheses.
Understand the importance of passive fit of framework design.
Understand the rationale for selecting luting agents for a cementable implant-supported fixed prosthesis.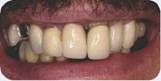 Medical History
Dental History
The presented patient previously received extensive dental treatments, and has neglected his oral hygiene for many years. The failing restorations and extensive decay have resulted in infection and loss of teeth. The inadequate occlusion and posterior support made it necessary for the patient to seek dental treatment.
Clinical Findings/Problem List
Supraerupted maxillary and mandibular anterior teeth
Missing maxillary right third molar, premolars, maxillary left second premolar, second and third molars, mandibular right and left molars, mandibular left first premolar (tooth numbers 1, 4, 5, 13, 15, 16, 17, 18, 19, 20, 24, 25, 30, 31, and 32)
Restorations with open margins
Radiographic Findings
(See Fig. .)
Diagnosis
Generalized chronic moderate adult periodontitis
Localized chronic severe adult periodontitis
Caries
Defective restorations
Occlusal plane discrepancy
Partial edentulism
Class II malocclusion
Clinical Decision-Making Determining Factors
The degree of implant misalignments can significantly influence the selection of prosthesis design for proper implant load distribution, aesthetics, and maintenance. In the presence of excessive misalignments, a screw-retained fixed complete denture prosthesis may not be an option due to the unfavorable positions of screw access channels. In such cases, the use of individual custom abutments and cementable metal superstructure may be an option (Lewis, Beumer et al. 1988; Preiskel and Tsolka 1997; Zitzmann and Marinello />