Full mouth rehabilitation—implant-supported prostheses II
CASE STORY
A 53-year-old partially edentulous male patient presents with a chief complaint of "I'm Tired Of Wearing Removable dentures and would really like to have something that doesn't come in and out of my mouth." The patient has been edentulous for 5 years, having lost his teeth mostly due to caries and neglect. After thorough diagnostic assessment, it was determined that this patient is a suitable candidate for fixed prostheses on endosseous implants. The decision was made to keep the patient's last remaining tooth (mandibular left 3rd molar, 17) because the patient was reluctant to allow its extraction for personal reasons.
Six implants were placed in each arch in locations determined in consultation with the oral surgeon. The definitive prostheses will be metal-resin implant fixed complete denture or sometimes known as implant-supported complete prosthesis. Treatment planning and sequencing will be discussed for this patient, including some laboratory procedures that are involved in planning complex treatments such as the one presented here.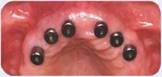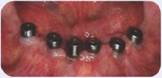 The figures above show the patient's clinical presentation after implant placement and second stage surgery.
LEARNING GOALS AND OBJECTIVES
Sequence of treatment planning for implant supported fixed complete denture
Diagnostic imaging and treatment planning for implant placement
Selection of appropriate impression technique
Discussion of possible posttreatment prosthetic complications
Medical History
Dental History
Multiple carious lesions requiring extensive restoration
Extraction of hopeless and unrestorable teeth
Medications and Allergies
No medications
No known drug allergies
Review of Systems
Vital signs:
Blood pressure: 120/80
Heart rate: 68 beats/minute
Respiration rate: 16 breaths/minute
Social History
Significant Soft Tissue Examination Findings
Significant Clinical Findings/Problem List
Partial edentulism
Unsatisfactory existing removable prostheses
Radiographs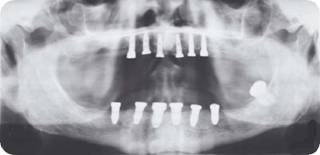 Diagnosis
Mandibular partial edentulism
Clinical Decision-Making Determining Factors
Maxillary complete edentulism
In preparation for surgical placement of endosseous implants, several diagnostic procedures must be completed. Two crucial procedures that will determine prosthetic and surgical outcomes are
Radiographic examination of the remaining residual ridges
Assessment of interarch space to determine whether adequate space exists for prostheses and implant components
Radiographic examination may include 2-dimensional assessment such as a panoramic radiograph or a 3-dimensional assessment with a computed tomography (CT). Conventional CT scans for use in treatment planning for dental implant placement are thought to be associated with excessive exposure to radiation. The recent development of cone beam volumetric tomography (CBVT) has alleviated concerns of excess exposure to radiation in implant treatment planning. The average exposure in CBVT is about 12.0 microsieverts as opposed to about 480-720 microsieverts in conventional CT scans and about 48 microsieverts in panoramic radiographs. Additionally, the CBVT machines are more convenient for in-office use and more affordable as compared to conventional CT machines. As there are many anatomic structures in both the maxilla and the mandible that should be considered in planning for placement of implants, it is recommended in this patient's particular situation that a CBVT scan be performed (Misch 1999; Harris, Buser et al. 2002; Ziegler, Woertche et al. 2002).
Assessment of interarch space is critical in order to make sure that there is adequate space for all prosthetic components. Patients who have been edentulous for a long time or who have suffered from severe periodontal bone loss typically have adequate interarch space because they have had significant ridge resorption. In patients who have recently become edentulous, a thorough evaluation of the interarch space is critical. This can be done with the aid of a diagnostic artificial tooth arrangement. The diagnostic arrangement is then indexed (shown in Figures 4 and 5 with a silicone putty material). The denture bases are then removed, the index is replaced onto the casts, and tooth position is evaluated relative to the location of the residual ridge (Sadowsky 1997; Filho, Mazaro et al. 2009). The same artificial tooth arrangement information in conjunction with the radiographic assessments will help determine the most suitable positions for implants.
After implants were placed, the following steps were taken in fabrication of the maxillary and mandibular prostheses:
Implant-level definitive impressions were made (see discussion below).
Implant-secured record bases were used for recording the centric relation at the appropriate vertical dimension of occlusion.
The casts were mounted in centric relation on a semiadjustable articulator.
Artificial tooth arrangement was reestablished and verified in the patient as being functional and acceptable.
Verification included vertical dimension of occlusion, centric relati/>