Management of endodontically treated teeth
CASE STORY
A 42-year-old male patient presents with a chief complaint of "I would like to finish a root canal on the lower left side and I need a general checkup." The patient had endodontic therapy started on the mandibular left second molar (18) about 3 years ago but did not return to his previous dentist to complete the procedure. The patient had regular dental care for the first 25 years of his life but has neglected his care for the past 17 years. His oral health is generally poor because he has not had any dental treatment for the past 3 years. The patient presents with xerostomia secondary to current medications.
Note:
To focus the case discussion, the emphasis on this case description will be on local treatment needs in the mandibular left region.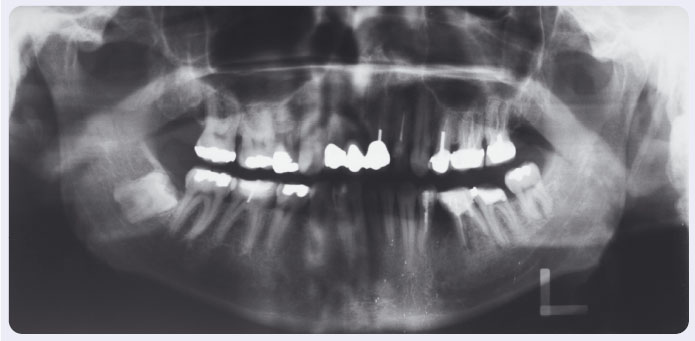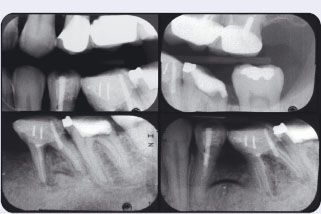 LEARNING GOALS AND OBJECTIVES
Identify the sequelae of xerostomia.
Understand treatment limitations due to xerostomia.
Understand preventive measures for patients with xerostomia.
Restore endodontically treated teeth.
Make treatment decisions regarding management of a limited edentulous area.
Medical History
Hepatitis C
Hypertension
Depression
Hypertriglyceridemia
Dental History
Extractions: maxillary third molars (1, 16) and all four first premolars (5, 12, 21, 28) for orthodontic treatment
Endodontic therapy: maxillary left central and lateral incisors (9, 10), left maxillary second premolar and first and second molars (13, 14, 15), and mandibular left first molar and second premolar (19, 20)
Restorative therapy: Fixed partial denture maxillary right lateral incisor through to left central incisor (7-9); most teeth have direct restorations.
Medications and Allergies
Lexapro: for treatment of hepatitis C (side effect-xerostomia)
Lipitor: for treatment of hypertriglyceridemia
Atenolol: for treatment of hypertension (side effect-xerostomia)
Wellbutrin: for treatment of depression (side effect-xerostomia)
Review of Systems
Vital signs:
Blood pressure: 130/84
Heart rate: 68 beats/minute
Respiratory rate: 19 breaths/minute
Social History
Smoking: 1 pack per day for 25 years
Recreational drugs: marijuana
Significant Extraoral Examination Findings
Significant Soft Tissue Examination Findings
Saliva: decreased flow, thick consistency
Charting Clinical Findings/Problem List (list limited to mandibular left quadrant)
Poor oral hygiene
Xerostomia
Plaque-induced gingivitis
Localized chronic periodontal disease: mandibular left first molar (19)
I ncomplete endodontic therapy: mandibular left second molar (18)
Caries: mandibular left third molar (17MO), mandibular left first molar (19DO)
I nadequate endodontic therapy: mandibular left first molar and first premolar (19, 21)
Diagnosis
Caries
I nadequate/defective restorations
I nadequate endodontic therapy
Plaque-induced gingivitis and localized chronic periodontal disease
Clinical Decision-Making Determining Factors
Prognosis of endodontic retreatment is of major concern when treatment planning. Other factors that influence restorability of a tooth are periodontal condition, crown-to-root ratio, and the amount of remaining tooth structure. The prognosis of endosseous implants offers a favorable treatment option for cases with poor prognosis following endodontic and periodontal therapy (Kao 2008; Sjogren, Hagglund et al. 1990).
Xerostomia has a significantly negative effect on prognosis of restorations and the general oral health of the patient. Xerostomia-inducing medications necessitate development of a treatment plan that includes provisions for management of xerostomia as well as incorporation of hygienic restorations that allow for easy home care and maintenance (Ship, Pillemer et al. 2002).
The common sequela of xerostomia is the development of caries on the root surfaces of teeth. Control of the caries process can consist of reinforcement of oral hygiene, fluoride-releasing restorative materials, use of fluoride, and xylitol- containing products. It is imperative that a caries control protocol be instituted for this patient (Burgess and Gallo 2002).
Periodontal disease has been associated with cardiovascular disease, therefore making its treatment of paramount importance—especially in a patient with existi/>