Treatment of an edentulous patient with two- implant- retained mandibular overdenture
CASE STORY
A 65-year-old male patient presents to the dental office with a chief complaint of: "My lower denture is loose and I can't eat with them." He has been edentulous for over 25 years and has been wearing his current dentures for 8 years. The patient claims that he was never very comfortable with his ability to function with the dentures. He has limited himself to a soft diet and primarily relies on supplemental drinks for nutrition. His mandibular edentulous ridge exhibits severe ridge resorption and he presents with angular cheilitis bilaterally.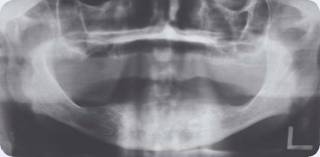 LEARNING GOALS AND OBJECTIVES
Understand advantages of a mandibular implant-retained complete overdenture.
Sequence treatment.
Understand treatment limitations related to the number of implants.
Manage and maintain patients with implant- retained overdentures (short- and long-term).
Medical History
Hypertension
Hypertriglyceridemia
Dental History
Patient's teeth have been extracted over a period of 40 years due to decay and periodontal disease.
Patient has been completely edentulous for 25 years.
Patient relies on denture adhesives to retain his mandibular denture.
His current dentures are 8 years old, and he cleans the dentures every night and soaks them in water overnight.
Patient cleans his mouth with a rinse in the evening and the morning before using his dentures.
Medications and Allergies
Atenolol—50 mg per day
Lipitor—20 mg per day
No known drug allergies
Review of Systems
Vital signs:
Blood pressure: 120/82
Heart rate: 70 beats/minute
Respiratory rate: 17 breaths/minute
Social History
No history of smoking or drug abuse
Significant Soft Tissue Examination Findings
Lips: appear moist, symmetrical, and normal shape, size, and color
Angular cheilitis noted bilaterally, more pronounced on the patient's left side
Clinical Findings/Problem List
Complete edentulism
Inadequate existing complete dentures
Compromised chewing function
Diagnosis
Complete edentulism
Residual ridge resorption that is pronounced in the mandible
Angular cheilitis
Clinical Decision-Making Determining Factors
Residual ridge remodeling is a chronic condition that affects different people at different rates. The amount of remaining residual ridge as well as the ridge morphology and height should be taken into consideration when planning the surgical and restorative treatment with overdentures (Jahangiri, Devlin et al. 1998).
Adequate amount of bone for implant placement should be available. The bone height should be a minimum of 10-12 mm, and the bone width at the crest of the ridge should be at least 5-6 mm. Success of osseointegration is highly dependent on bone type. Bone type is classified as type I—IV based on the amount of cortical layer and the density of trabecular bone. The success rate of osseointegration in the anterior mandible is the highest of all sites due to the favorable type II bone. Proper diagnostic imaging should be obtained to ensure adequate bone volume as an aid in treatment planning. Adequate imaging often can be achieved with a panoramic radiograph, or it may be necessary to use computerized tomography (CT) (Misch 1999).
Determination of appropriate vertical dimension of occlusion is critical in fabricating complete dentures. Several methods can be used to determine the proper vertical dimension of rest and occlusion. A prosthesis at a reduced vertical dimension may sometimes lead to the development of angular cheilitis, which is a local infection at the corners of the mouth presumably due to the pooling of saliva that occurs as a result of a loss of vertical dimension of occlusion. Restoring the vertical dimension should help alleviate this situation (Turrell 1972; Davies, Gray et al. 2001; Zarb, Bolender et al. 2004).
Studies have shown that a patient's nutritional intake diminishes as his/her number of teeth decreases. The impact of this on the general health of the elderly patient can be devastating. Implant-retained overdenture therapy may increase comfort and compliance of use in the elderly population who are more susceptible to malnutrition (Feine and Carlsson 2003; Sheiham, Steele et al. 2001).
Multi/>