Rehabilitation of anterior teeth II—partial coverage restorations
This case discusses replacing failing composite veneer restorations with porcelain laminate veneers for maxillary central and lateral incisors.
CASE STORY
A 44-year-old male presents to the dental office with a chief complaint of "I want porcelain veneers to replace my bonding." The patient had been going to the same dentist since he was about 10 years old and he has had the current restorations for over 20 years. His dentist recently passed away, and the patient is now seeking treatment. He was just promoted in his job and is "very visible" in his new position. He was never really happy with his resin restorations, but he liked his dentist so much that he was uncomfortable telling him. He also did not have the financial means previously. He is asking for "new materials" to give him a more "natural look." For more information regarding anterior restorations, refer to Cases 11-14.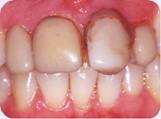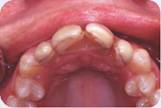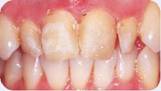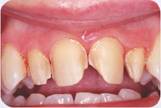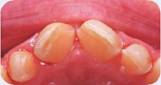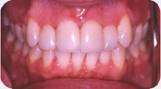 LEARNING GOALS AND OBJECTIVES
Provide an aesthetic result using minimally invasive techniques and contemporary restorative materials.
I dealize arch form.
Critical color matching
Restoring form, function, and aesthetics
Care and maintenance for a porcelain laminate veneer
Medical History
Dental History
Regular dental visits since youth
Multiple fillings and resin veneers placed over the past 30 years
Medications and Allergies
25 mcg l-thyroxine
No known drug allergies
Review of Systems
Vital signs:
Blood pressure: 130/88
Heart rate: 68 beats/minute
Respiration rate: 20 breaths/minute
Social History
Smoking: never smoked
Alcohol: social drinker
Recreational drugs: denies any recreational drug use
Significant Extraoral Findings
Significant Soft Tissue Findings
Clinical Findings/Problem List
Anterior aesthetics, due to failing and mismatched composite resin restorations
Misaligned maxillary incisors
Diagnosis
Failing resin restorations
Misaligned maxillary teeth
Clinical Decision- Making Determining Factors
This clinical case report describes the replacement of composite resin veneers to porcelain laminate veneers (PLV) to address the management of a patient's aesthetic concerns, while achieving an ideal arch form, a better shade match, and a more predictable long term aesthetic result (Magne and Belser 2004).
A diagnostic/mock-up can assist in the success of the final outcome of the case. The mock-up should be mounted on a semi-adjustable articulator to aid in the evaluation of occlusion, as well as ideal tooth size/contour, and assist the patient with treatment understanding and acceptance (Magne and Belser 2004).
Proper diagnosis, thorough evaluation, and a comprehensive treatment plan are fundamental to restoring each patient's oral health and aesthetic concerns. This case report presents a strategy of comprehensive evaluation, diagnosis, and treatment focusing on the patient's compromised teeth positions and discoloration of the maxillary anterior dentition. Orthodontic treatment to align teeth is often not a viable option for the adult patient, due to a variety of reasons. Restorative and preventive protocols were utilized to achieve optimal form, function, and aesthetic results (Terry and McGuire 2002; Sarver and Ackerman 2003a,b).
The current evidence is that the veneered porcelain etched to intact and prepared enamel offers the advantages of increased strength, color/>