Management of a fractured central i ncisor III—severe
A case of traumatic multiple anterior teeth fractures, involving a lateral incisor and a central incisor requiring endodontics, dowel/core buildup, and all-ceramic crowns is presented.
CASE STORY
A 30-year-old male presents to the prosthodontist's office with the following chief complaint: "I was in a fight and got my two front teeth broken and need them fixed." He was referred to the prosthodontist after his primary/general dentist performed root endodontic treatment on both the lateral incisor (7) and the central incisor (8). He had had regular dental treatment since childhood. His oral hygiene is fair and his caries index is low.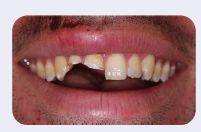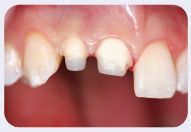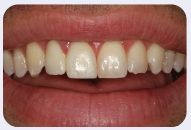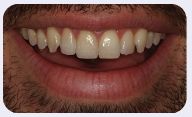 For more information regarding anterior restorations, refer to Cases 11-15.
LEARNING GOALS AND OBJECTIVES
Provide an aesthetic result using contemporary restorative materials and techniques.
Critical color matching
Discussion of tooth whitening techniques
Care and maintenance for all-ceramic, full-coverage restorations
Medical History
Peptic ulcer disease (PUD) treated and in remission
Dental History
Fair to good oral hygiene
Routine nonsignificant dental treatment
Low caries index
Medications and Allergies
Antacid-Mylanta (as needed)
Multivitamin
Review of Systems
Vital signs:
Blood pressure: 110/78
Heart rate: 68 beats/minute
Respiration rate: 18 breaths/minute
Social History
Smoking: quit smoking 6 months ago—1 pack/day history
Alcohol: drinks alcohol, 3-5 beers weekly
Significant Extraoral Findings
Significant Soft Tissue Findings
Lips: healing laceration above the area of 7 and 8
Clinical Findings/Problem List
Anterior aesthetics
Coronal fractures of the right lateral and central incisors (7 and 8)
Long-term discoloration of endodontically treated teeth
Diagnosis
Nonvital and fractured right lateral and central incisors (7 and 8)
Clinical Decision-Making Determining Factors
In a highly visible area—"The Aesthetic Zone"—the literature points to the following factors in the treatment planning phase of dental reconstruction: preparation design, location of the finish line, color matching of tooth structure to the shade of porcelain, the optical affects of porcelain thickness and the optical effects that may occur as a result of the luting cement. It is especially important to understand the optical effects of the luting agent chosen when cementing all-ceramic partial or full-coverage restorations (Koutayas, Kakaboura et al. 2003; Federlin, Schmidt et al. 2004; Chang, Da Silva et al. 2009; Terzioglu, Yilmaz et al. 2009).
Consideration of future discoloration of endodontically treated teeth and available tooth whitening techniques to be performed, prior to final color matching of all ceramic crowns and/ or porcelain laminate veneers is a factor that has to be considered in all aesthetic restorations.
The causes for the discoloration can vary in etiology, clinical presentation, localization, and severity. It can be defined as being extrinsic or intrinsic on the basis of clinical presentation and etiology. Different whitening materials and techniques to lighten discolored endodontically treated teeth have been described in the dental literature. An effective initial method to address intrinsic staining is commonly known as a "walking" whitening technique. In this method, the endodontic treatment should be completed first; and a cervical seal, usually with a glass ionomer cement, must be established. The thermocatalytic technique involves placement of a whitening agent (superoxyl in 30-35% concentration, H202 and heat) into the pulp chamber and then application of heat using a heated metal instrument. Additional whitening agent is then placed on a cotton pellet and left in the core structure of the tooth area for 2-7 days. External whitening of endodontically treated teeth with an in-office technique requires the use of a higher hydrogen peroxide concentration gel. It might be a supplement to the walking whitening technique, and/or a/>