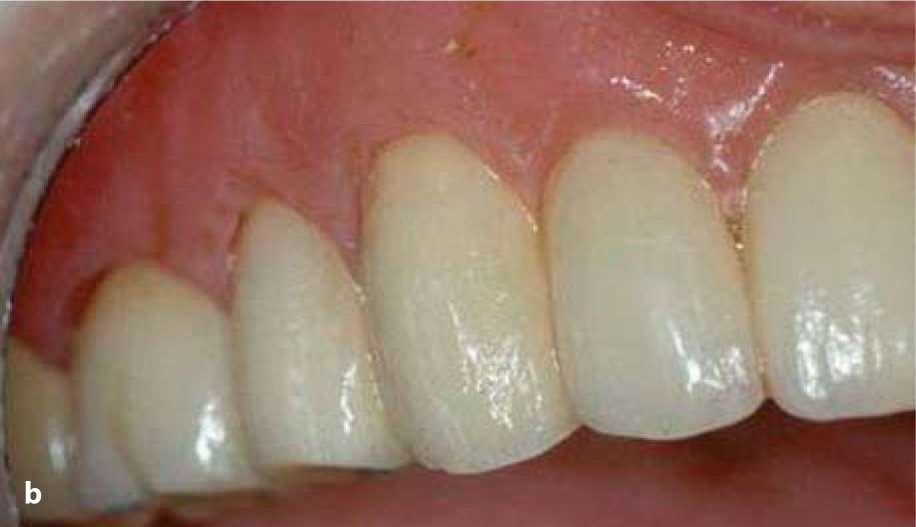 Fig. 20.1.
a, b
Aesthetically pleasing gingival epithesis before and after insertion.
c
Cartridge-based Synsil 70 system (Dr. Hinz Dental, Herne) with colours for staining
20.2

Case Studies Illustrating the Use of Gingival Epitheses

Some phonetic problems can also be treated with a special type of palatal epithesis, which typically extends over the positions 15–25, compensates for differences in bone height, and covers the gap at the bridge margin. These devices require firm mechanical anchorage. Used in the right way, they are an extremely simple and effective way to deal with irregular vertical and horizontal bone levels.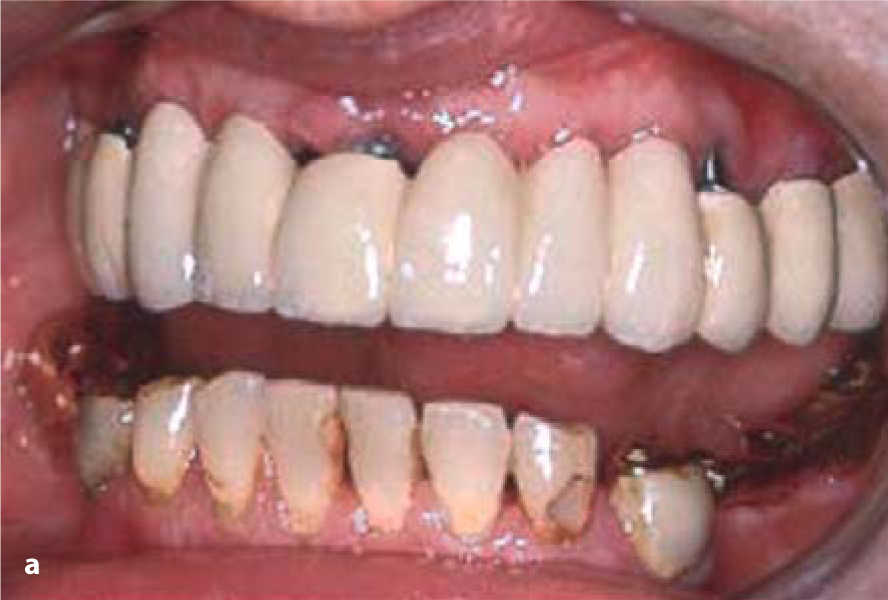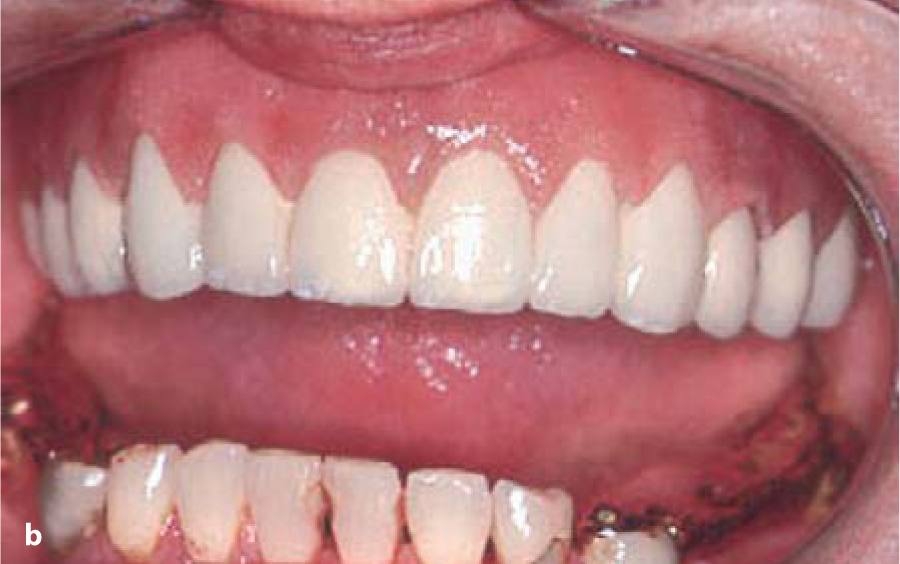 Fig. 20.2.
a
This partially implant-supported maxillary bridge is associated with a very unsightly irregular bone level. Correcting the bone level would have involved additional augmentative or subtractive measures. The latter would have overly reduced the vertical implant length.
b
Epithesis for soft-tissue adjustment. Numerous invasive procedures on soft- and hard-tissue structures would have been required to obtain a similar aesthetic outcome
Unfortunately, most dental laboratories are not well-versed in fabricating epitheses. Technicians with this ability are hard to come by. The process of impression-taking for an epithesis and its insertion requires considerable experience, which may be one of the reasons why this technique is today scarcely taught and applied at the universities.
Gingival epitheses are well accepted by patients, since they solve major problems. The teeth are firmly in place, and the palate is free. In other words, the tongue will once again rest on the palate, so that the senses of taste and smell are not impaired. Older patients are not only less concerned about aesthetic factors, but many of them have trouble coping with the technical requirements of oral hygiene. A fixed implant-supported bridge combined with a removable epithesis will offer distinct advantages in this respect as well. As a matter of fact, inflammations are virtually never observed with solutions of this type, since they are extremely well accessible for oral hygiene and cleaning (even with the epithesis inserted). Therefore, the described approach offers crucial advantages particularly in geriatric patients. In other words, even older patients can be confidently treated with implants and fixed bridges in this way. Epitheses must be renewed after about 2 years. If they are not renewed, the inner surface (i.e. the surface in contact with the peri-implant mucosa) will become filthy and will cause damage by creating an occlusive reservoir of debris and bacteria.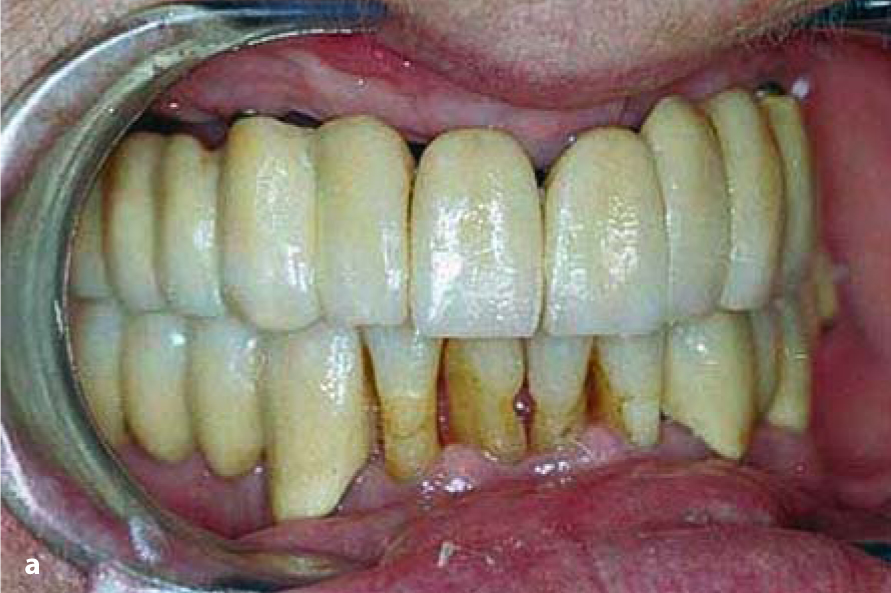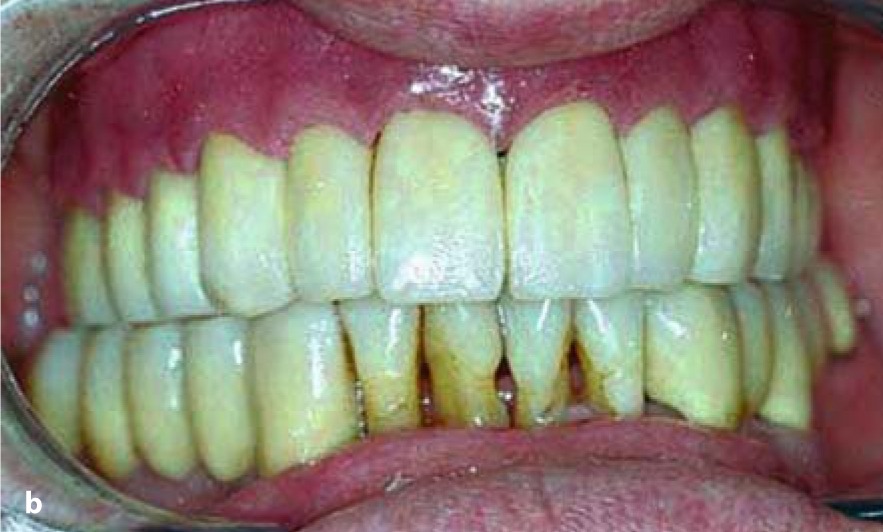 Fig. 20.3a,b.
Nicely cleanable bridgework on BOI and epithesis to cover the gap between bridge and soft tissue. The 70-year-old female patient initially demanded the epithesis but stopped wearing it after 12 months. The epithesis has made it easier to adapt to the new prosthetical situation and eased initial speech problems
20.3

Gingival Volume Compensation by Pink Ceramics

Alternatively to an epithesis, it is also possible to bake pink ceramics onto the bridge. This option is preferable in situations where no soft-tissue support is left whatsoever, notably in the presence in class III relationships. The length of the upper lip is another important criterion on which to base the decision for or against pink ceramics.