5 Conclusions Regarding Loading Decisions for the Partially Dentate Maxilla or Mandible
D. Morton, D. Buser
There are many factors that influence the selection of appropriate loading protocols for partially dentate patients. The relative importance of these factors varies depending on the arch, whether the restoration is in the anterior or posterior region of the mouth, and the goals of therapy.
While implant survival and treatment success is considered well-documented for partially dentate patients, the body of scientific evidence supporting varying loading protocols is inconsistent. Conventional and early loading protocols for modern root-form, screw-type implants characterized by micro-rough surfaces are both well-documented and equally predictable with regard to treatment outcome. While immediate loading in partially dentate situations is possible, the body of existing evidence is less extensive, and as such, these procedures cannot yet be recommended with the same degree of confidence.
Treatment of this type should therefore be reserved for skilled and experienced clinicians or teams, with a thorough knowledge of possible risks and complications.
Conventional loading protocols (>3 months of undisturbed healing) may provide an advantage over early loading only in specific circumstances, including poor bone density (type 4 and/or grafted bone) or quantity. Conventional loading should also be considered when general health and healing is compromised. Such conditions may include controlled diabetes or steroid or bisphosphonate therapy. In the absence of such conditions, however, conventional loading protocols are associated with unnecessary delays in treatment and are therefore less beneficial than early loading protocols, which in most circumstances should be therefore considered routine.
The degree of treatment difficulty for implant patients was addressed in a consensus meeting of the International Team for Implantology in early 2007. For a range of clinical indications, treatment can be classified as straightforward, advanced, or complex (A. Dawson and S. Chen, The SAC Classification in Implant Dentistry, ITI SAC Consensus Conference 2007, in preparation).
The majority of patients who require the restoration of distal extension situations or single missing teeth in the posterior maxilla or mandible fall into the straightforward treatment category (Table 1).
Table 1 Treatment Difficulty: Posterior Extended Edentulous Spaces.

| | | | | |
| --- | --- | --- | --- | --- |
| Posterior extended edentulous spaces | Notes | Straightforward | Advanced | Complex |
| Esthetic risk | Refer to ITI Treatment Guide 1 for Esthetic Risk Assessment | Low | Moderate or high | |
| Access | | Good | Restricted | Poor access prevents implant therapy |
| Interarch distance | Refers to the distance from the proposed implant's restorative margin to the opposing occlusion | > 8 mm | ≤ 8 mm or > 16 mm | |
| Mesiodistal space | | From the anatomic space corresponding to the missing teeth ± 1 mm | From the anatomic space corresponding missing teeth varies by > 1 mm | Non-restorable without adjunctive preparatory therapy due to severe space discrepancy |
| Occlusion/articulation | | Harmonious | Irregular but with no need for correction | Changes to existing occlusion necessary |
| Provisional restorations during healing | | None needed | Removable or fixed | |
| Occlusal parafunction | Risk of complication to the restoration is high | Absent | | Present |
| Loading protocol | To date, immediate restoration and loading procedures lack long-term scientific documentation | Conventional or early | Immediate | |
| Cemented (Consensus Statement) | | Accessible restorative margin | Sub-mucosal location of restorative margin | |
| Screw-retained | | Multiple non-splinted implants | Multiple splinted implants | |
By selecting conventional or early loading protocols, clinicians can anticipate, for most patients, a reduced likelihood of complications during treatment and a positive outcome (Figs 1-4).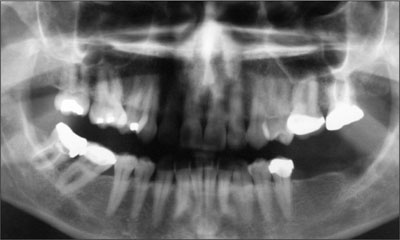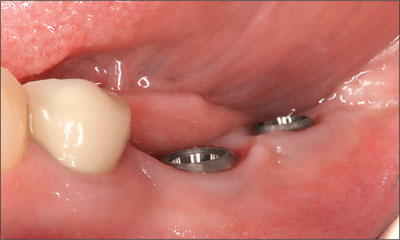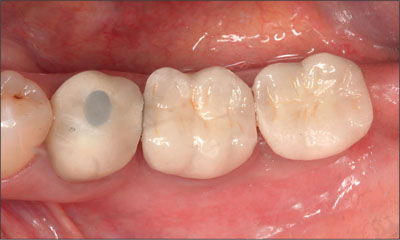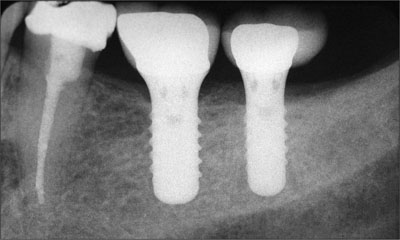 The replacement of single missing posterior teeth is, for the most part, also a straightforward therapy (Table 2). In-experienced clinicians, with appropriate implant-related education, should be encouraged to treat patients exhibiting distal extension situations and single missing posterior teeth, provided additional risk factors are not evident or are well-controlled. Access to more experienced mentors should be available as necessary.
Table 2 Treatment Difficulty: Posterior Single Missing Teeth.

| | | | | |
| --- | --- | --- | --- | --- |
| Posterior single tooth | Notes | Straightforward | Advanced | Complex |
| Inter-arch distance | Refers to the distance from the proposed implant's restorative margin to the opposing occlusion | Ideal tooth height up to ± 2 mm | Reduced tooth height ≥ 2 mm | Non-restorable without adjunctive preparatory therapy, due to severe overeruption of the opposing dentition |
| Mesiodistal space (premolar) | | Anatomic space corresponding to the missing tooth ± 1 mm | Anatomic space corresponding to the missing tooth plus 2 mm or more | Non-restorable without adjunctive preparatory therapy, due to severe space restriction (≤ 5 mm) |
| Mesiodistal space (molar) | | Anatomic space corresponding to the missing tooth ± 1 mm | Anatomic space corresponding to the missing tooth ± 2 mm or more | Non-restorable without adjunctive preparatory therapy, due to severe space restriction (≤ 5 mm) |
| Access | | Adequate | Restricted | Access prohibits implant therapy |
| Loading protocol | To date, immediate restoration and loading procedures lack long-term scientific documentation | Conventional or early | Immediate | |
| Esthetic risk | Refer to ITI Treatment Guide 1 for Esthetic Risk Assessment | Low | Moderate | Maxillary first premolars in with high estetic demands |
| Occlusal parafuntion | Risk of complication to the restoration is high | Absent | | Present |
| Provisional implant-supported restorations | Provisional restorations are recommended | Restorative margin ≤ 3 mm apical to mucosal crest | Restorative margin > 3 mm apical to mucosal crest | |
Immediate loading protocols for distal extension situations and posterior single missing teeth are associated with additional, technique-sensitive clinical procedures. As such, this treatment should be considered advanced. The benefit of reduced treatment time for patients receiving immediate loading for these indications should be carefully and accurately assessed against the increased risk of complication, particularly early implant los/>